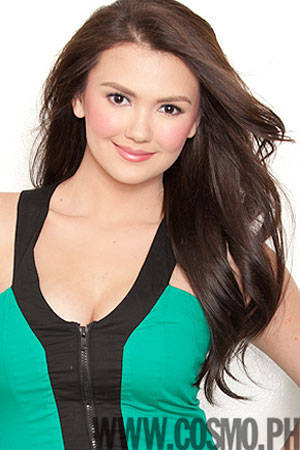 With Beauty, Breakups, and Bouncing Back as the theme of our August issue, Angelica Panganiban was the obvious choice for the cover--not just of the magazine, but also of the free Cosmopolitan Beauty supplement (which features the winners of the prestigious Cosmo Beauty Awards).

The concept of the shoot is to bring out our cover girl's natural beauty, which doesn't really take much, since Angel is simply gorgeous, even sans makeup. So we got makeup artist Krist Bansuelo to expertly enhance Angelica's features. "I just added more strong lashes, but [kept] the fresh look," Krist says.

We matched her fresh, glowing makeup with bouncy hair, styled by Kelly Weber. The trick? "I made it straight, [then] I added soft curls to make it sexy." As you saw in the behind-the-scenes gallery, the team attended to her hairstyle every step of the way to ensure that her crowning glory was just perfect.

While Krist and Kelly did a really great job, primping Angel was actually a breeze. As photographer Dix Perez said, "You [need] a good team of makeup artists and stylists but, aside from that, she just came as is." It looks like you can't go wrong with a naturally beautiful subject, can you?

Love her cover look? Launch the gallery to see step-by-step photos that will guide you in replicating Angelica's no-fuss cover makeup and hairstyle! You can also see portions of the makeup process on Cosmo TV. Be sure to check out the cosmetics Angelica carries in her purse, too--to see how she keeps that fresh look on a daily basis!
Continue reading below ↓
Recommended Videos
1451