Rookie actress Go Min Si is certainly now on every K-drama fan's radar, thanks to her standout supporting performance in two Netflix original series, Love Alarm and Sweet Home. She eventually landed her first-ever lead role in the internationally popular melodrama Youth Of May, cementing her status as a lead actress to watch for.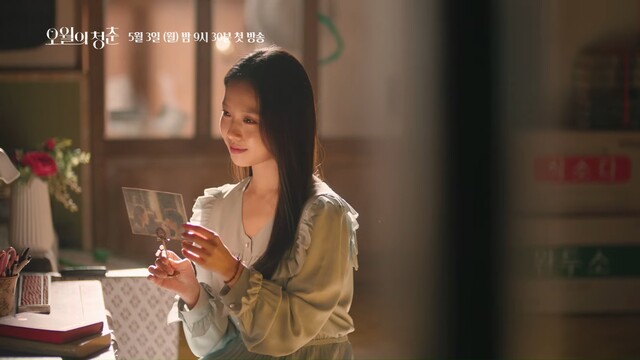 Here are nine things you need to know about Korean actress Go Min Si: 
1. Go Min Si was born on February 15, 1995.
Which makes her a 26-year-old Aquarius! Those born under this sign are known to be creative and unique: "Their eccentric and quirky ways are refreshing. Their brain simply runs on different tracks to everyone else's."
2. She was once a wedding planner. 
Yup, she actually had a *normal* job before becoming famous. For two years, she worked as a wedding planner but ultimately pursued her dream of being an actress. She moved to Seoul to make her dream a reality and even worked at a coffee shop early in her career.
ADVERTISMENT - CONTINUE READING BELOW ↓
3. Go Min Si debuted as an actress, director, and writer in 2016.
Talk about talent! She starred, wrote, and even directed the 2016 short film Parallel Novel. The film bagged the Grand Prize award in the Three-Minute Film Festival, marking the first of many awards she received after her debut.
4. That same year, she appeared in Thunder's music video. 
Go Min Si served some major girl crush looks as the muse in Thunder's "Sign" music video (MV). You might know Thunder or Park Sang Hyun as a former member of South Korean boy group MBLAQ and the younger brother of Sandara Park who makes a surprise appearance at the end of the MV.
5. Go Min Si is an award-winning actress.
2018 and 2019 were great for the budding actress! Aside from her growing popularity, her acting prowess was also recognized by a number of award-giving bodies. In 2018, she was nominated in the Best New Actress category at the prestigious Grand Bell Awards and won the Popular Star award at the Korea Best Star Awards for her role in the horror-thriller film The Witch: Part 1. The Subversion. The following year, she took home the Best New Actress award at the SBS Drama Awards for starring as an amateur baduk player Lee Hyun Ji in the revenge drama Secret Boutique.
6. Go Min Si had ballet lessons for seven months in preparation for her role in Sweet Home.
Min Si's character in the drama is a former ballerina so it's no wonder she dedicated a whopping seven months to prepare for the part. In an interview with Elle Korea, she shared she had a hard time learning ballet at the beginning but is now doing it as a hobby and exercise: "When I first started ballet, I found it to be so difficult that I thought it wasn't for me and the movements were difficult for me as well but as I practiced more, it suited me so well. The fact that I took up ballet even after the show finished is like destiny." 
7. Go Min Si is on Instagram and her IG bio has a pretty special meaning.
The actress has an Instagram account and if you've visited her account multiple times like we did (and know how to read Korean), you might have noticed "Yedam Go Min Si" written in her bio. She revealed the special meaning behind it in an interview with Esquire Korea: "Ye means move forward, Dam means flat ground, Go means high, Min means sky, and Si means see. It means not too high, not too low. Just move forward on a flat ground and always look up at the sky from a higher place." 
ADVERTISMENT - CONTINUE READING BELOW ↓
8. Go Min Si enjoys mountain hiking.
Aside from drama promotions and behind-the-scenes photos of her endorsement shoots, her Instagram is also filled with photos of her hiking. She even hiked with Sweet Home co-stars Lee Si Young and Park Gyu Young. This will definitely come in handy for her role as a park ranger in the highly-anticipated drama Mount Jiri.
9. Go Min Si is booked and busy with two new acting projects.
2021 is shaping up to be yet another busy year for Go Min Si. First, she'll reunite with her Sweet Home director Lee Eung Bok for Mount Jiri which also stars Jun Ji Hyun and Ju Ji Hoon. Second, she'll work alongside veteran actors Kim Hye Soo, Yeom Jung Ah, and Jo In Sung in the crime-action movie Smugglers. 
***
We're officially on Viber! Be part of our growing community and subscribe to Cosmopolitan Philippines now!