Imagine our delight when Heart Evangelista posted via Instagram stories a teaser of a video for her YouTube channel.
"One of my most requested vlogs, coming later!" Heart captioned the video, which she covered with heart stickers.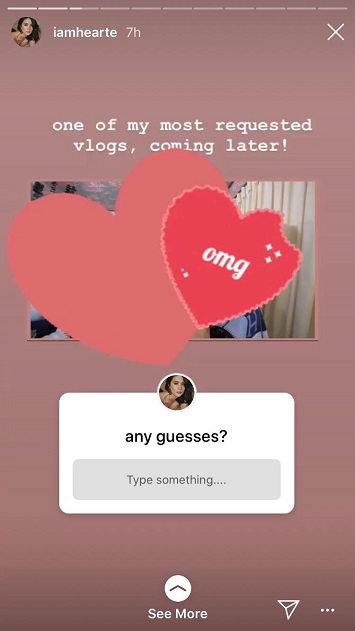 As it turns out, Heart has finally uploaded her closet tour! Walk-in closet, to be exact.
Heart starts off by climbing up a pink-carpeted staircase (she got the idea from a Gucci store), the walls lined with framed Hermès scarves. Her dog Panda happily trots up with her.
And then she steps into her walk-in closet. It is huge. It's actually made up of several rooms partitioned to contain and display her clothes, shoes, bags, accessories, and even a special room for her shampoo sink. We kid you not.
Continue reading below ↓
Recommended Videos
Heart is clearly super organized, sectioning the closet shelves by color and function. There's a section devoted to everyday wear, whites (which she says she's obsessed with and makes up most of her go-to outfits), shifting from blues, to blacks, to skirts, jackets, and dresses. She also has lots of drawers for her sunglasses and her "abubots." She mentions her favorite designers, talking about how she loves investing in some brands and quality clothes because they will last forever, also because she can use these over and over again. 
At some point, Heart reveals she even has a secret compartment where she keeps a lot of her stuffed toys. How cute! She's such a sentimental girl at heart. A rack is devoted to clothes she hasn't worn yet and super special designer items that she's waiting for the right event to wear to, followed by shelves for her skirts and shorts. 
The best part, we have to say, is seeing her massive shoe collection, which she says she's built for 21 years. Let's not forget that Heart received a belated birthday present from Christian Louboutin himself. She also makes sure to joke about a pair of super comfy platform shoes which she can even do "grocery shopping" in. LOL.
Why does she love wearing heels so much? "Because I'm 5'2!" she says. "I love wearing high heels and nudes because it gives the illusion that you look taller, and it matches everything." You have to see those quirky shoes with the lip details!
Heart goes on and shows her living room. This is where she has "Coffee ganyan, namomroblema, ganon," she jokes.
We also get to see where she does a lot of her OOTD shots, including the "grass" wall. Next, she shows us her bags, including the first bag she painted, and the infamous Hermès Birkin with its own custom denim jacket.
The walk-in closet isn't just all about her clothes, though. It's also Heart's "happy place," where she gets creative and surrounds herself with things that inspire her. She has a desk where she has framed photos of her loved ones and even letters for her future self.
Heart couldn't have described it better: "This is my closet, my office, my space, my little corner of the world." 
Watch Heart's closet tour here: