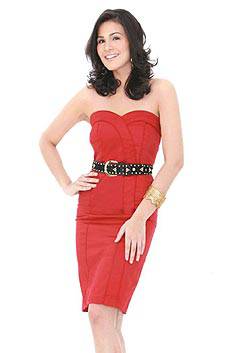 Iza Calzado
is not a stranger to body issues. At 27, she has come a long way from
her 216 lbs
. Still, she admits she's not perfect.
"I'm a normal woman. I think it's just a matter trying to get over the issues or doing something about them so that you always think you're a work in progress," she tells Cosmo.
Body issues or none, Iza always exudes a sexy vibe that nobody fails to notice. We at Cosmo saw that for ourselves when we sat down with the actress for a quick chat. In this exclusive interview, she reveals she's just like any girl who can't give up sweets, and tells us how a bit of cheating sometimes goes a long way.
Do you believe in crash diets?
Crash diets, I do not believe in. I stuck with South Beach strictly for a week. But after that I looked anorexic, I had to eat carbs and sugar. I've tried a lot of things, diets. But I guess at the end of the day, you just have to keep everything in moderation. You really have to search what is good for your body. And then research on how to keep a healthy lifestyle. Always it's about the choices, when you're eating, when you're dieting. I actually tried to keep my carbs down, white rice would always be for weekends. I actually like brown rice better. I take a lot of vegetables. I was a vegetarian for five years. But then I started eating chicken a month ago, 'cause I figured, you need protein. If you cut something, don't deprive yourself so much. It doesn't have to taste yucky.
What about cheat days?
Yes! Oh yeah, I am a fan of cheat days. I have a sweet tooth. I like to eat cake or something sweet. Milo nuggets. Halo-halo. Bread. Just one day a week. I like roti, I like Indian food. But then I work hard the next day. I can't overdo the cheat days, like go all out,
kasi meron naman
next week
pa e
. Because what happens is when I eat so much, the next few days I will be craving--semi-cheats! I keep it to a minimum, like eating popcorn when watching movies.
Alam mo, dapat lang din. Ang hirap kasi prenuhan ang sarili mo e
.
Do you go to the gym regularly?
I really haven't had the chance to hit the gym. I used to. But I do keep an active lifestyle, exercise, I run a lot or whenever I can. The best thing that I do now, which I've been doing most of the time for the past couple of months, is go to Marie France, which is pretty much, you know, a blessing. Though actually lately, for the past couple of weeks
hindi ako nakakapunta
for treatments,
kasi
my schedule is packed then.
How do you pamper yourself?

I hardly go to spas. I was able to go to The Spa recently in Boracay. That's one of the rare occasions, but sometimes, on sets they have
masahistas, kaya 'yun nagpapamasahe kami
.
What's the best compliment you've ever received for your body?
Lately
lang,
people have been saying this has been the best shape they have seen me in. I think I said this in the Marie France article that came out. When Randy Ortiz, when he was signing, he told me,
"Ang payat mo na ha, ang sarap mo na bihisan!"
Parang narinig ko 'yung mga anghel sa langit.
Hallelujah!
Continue reading below ↓
Recommended Videos
EXPLORE COSMO