John Lloyd Cruz and Ellen Adarna are like that couple from high school that nobody ever thought would end up together but after a while, it just somehow… made sense? Their relationship came out of nowhere but in ~*true Pinoy showbiz*~ fashion, we have to admit that we were hooked and they managed to keep everyone on the edge of their seats—from their Cebu trip to JLC'S *sobs* indefinite leave from showbiz to Ellen's you "pap me, I pap you" scandal, and eventually to the alleged birth of their first child. Trust me, you better sit tight because this is going to be one hell of a ride:
October 8, 2016
Ellen posted a photo of her and John Lloyd on her now-deactivated Instagram with the caption: "'Ako na lang' Ahhahahahahah 'you had me at my...' #JLC #popoy&bashta lol." In case you didn't notice, she was making a One More Chance reference. At the time, she was still romantically-involved with President Rodrigo Duterte's son, Sebastian "Baste" Duterte.
November 2016
Ellen began appearing as a guest star in JLC's ABS-CBN weekend sitcom, Home Sweetie Home, as Tanya.
January 31, 2017
Ellen was officially launched as a mainstay for Home Sweetie Home and joined the third-anniversary press con. She denied the rumors that she and John Lloyd were an item, and said that JLC never made a move on her.
Continue reading below ↓
Recommended Videos
March 22, 2017
Both John Lloyd and Ellen attended the christening of Ellen's BFF Beauty Gonzalez's daughter, Olivia, as godparents of the child. 
September 1, 2017
For six months, there was no additional tea spilled about John Lloyd and Ellen's relationship—not until they were spotted along the seaside area of Sofitel Philippine Plaza Manila. They were seen waiting for the sunset with a non-showbiz friend.
September 8, 2017
OK, SO THIS IS WHERE IT GETS WILD. John Lloyd and Ellen's Bantayan Island trip.
Together with their close friends, JLC and Ellen went to Bantayan Island in Santa Fe, Cebu. Their trip went viral because of several reasons:
First, their cute and cozy photos.
Then, the Instagram videos that reveal their term of endearment, "baby."
JLC even had a Miggy Montenegro moment where he serenaded Ellen with the song "Kailan." which he sang to Laida Magtalas (played by Sarah Geronimo) in A Very Special Love (2009).
People also started to get surprised with JLC's sudden change in character and started to question whether if it was a good thing or a bad thing.
September 11, 2017
To go along with his sudden change in behavior, John Lloyd posted a seemingly unapologetic statement on his Instagram that says, "diz iz mi lerning [sic]. very humbling but i do apologize to the little boys & girls. no regrets babies just life revealing its raw beauty."
On the same day, Star Magic's Johnny Manahan, also known as Mr. M, announced that John Lloyd was taking a much-deserved break from work.
September 16, 2017
Just a week after their infamous Bantayan trip, John Lloyd and Ellen went on another vacation in Cebu.
September 19, 2017
While they still haven't officially announced their relationship status, they seem to have made it apparent by the terms of endearment that they use for each other. After calling each other "baby" during their Bantayan trip, this time, Ellen called John Lloyd her "baby love" during their chess games with their friend, Erwin Romulo.
September 21, 2017
John Lloyd seems to have forged a bond with Ellen's group of friends because, in the photo below, we can see Doreen Ting, Ellen's close friend, thanking the couple for bringing her to the airport. Her caption read: "Un-breakable bond! Thizzzz izzz it! No goodbyes but just see you again. IN 3 WEEKS! LOVE LOVE LOVE these 2 @maria.elena.adarna @ekomsi"
September 24, 2017
John Lloyd posted a sweet photo of him and Ellen while lying down on a white bed (which has made rounds all over the internet). He captioned the photo: "Sobrang baduy neto pero this girl really did something good to my soul. I'll always be grateful."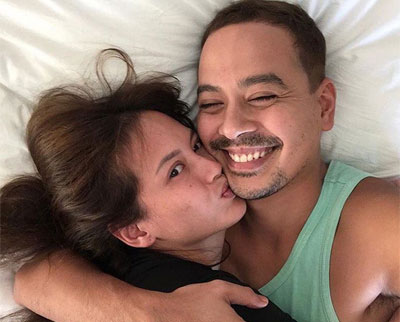 Just goes to show how comfortable John Lloyd is around Ellen!
Side note: he even posted photos of Ellen's kalat on his Instagram!
September 28, 2017
But four days after posting their kissing photos, John Lloyd deleted all visible posts of him and Ellen on his Instagram. Ellen did the same thing, including the ones from their earlier trips.
This sparked speculations that the two broke up (when in fact, they never really established that they were together in the first place).
October 1, 2017
However, less than a week later, JLC posted photos of Ellen during their morning walk. The photos were taken the morning after the annual Star Magic Ball which John Lloyd attended solo, and where he avoided media interviews. Ellen, on the other hand, didn't attend.
October 6, 2017
John Lloyd's talent management, Star Magic, officially announced that he was taking an "indefinite leave of absence" to attend to personal matters.
October 8, 2017
The couple was seen vacationing in Casablanca, Morroco where they posted updates via their Instagram accounts. Ellen even posted a video of her and John Lloyd cooking adobo and rice in their hotel room.
October 12 to 13, 2017
The couple traveled to Paris to witness the union of Rex Atienza, JLC's longtime friend and stylist, and Jay Sarmiento.
During the wedding reception on October 13, John Lloyd was seen giving Ellen a kiss and slight hug while she was reading the menu.
The couple also posted sweet photos of them on their own Instagram accounts.
October 17, 2017
For the next country on their itinerary, the couple flew to Switzerland.
To celebrate their arrival, Ellen posted a photo of John Lloyd hugging her tight with the caption: "Squishy Mashhhh and eating Mashhhhh #mood switzerland"
October 21, 2017
And of course, they went skiing in the Swiss Alps.
Ellen was there "four years ago" and joked she was John Lloyd's "ski instructor." She even documented his skiing skills in one of her Instagram posts.
After a day in the snow, they took a selfie which Ellen captioned with: "Today's [skiing emojis] sesh @ekomsi my [baby love emoji] is a fast learner I took him to the intermediate slope without him knowing... #justdoit we both had our ups and downs [emojis]."
November 13, 2017
John Lloyd and Ellen visited the wake of Lupe Romulo, the daughter of former senator and Department of Foreign Affairs Secretary Alberto Romulo. The couple visiting the wake stirred some commotion online because it was also the same night wherein JLC met President Rodrigo Duterte, who is the father of Ellen's ex-boyfriend, Baste.
November 18, 2017
On this day, PEP.ph broke and confirmed the news that Ellen was pregnant with John Lloyd's child.
This was said to be the reason their Europe trip was cut short and also why Ellen didn't walk the runway during the Bench Under the Stars denim and underwear fashion show.
John Lloyd, on the other hand, was in the US to attend his cousin's wedding.
December 5, 2017
Ellen and John Lloyd trended online because people speculated that they were already engaged. It was seen on Ellen's Instagram Story that she was wearing what seemed to be an engagement ring. She posted a video of her playing with her dog, but netizens couldn't take their eyes off of the princess-cut diamond ring.
A few days after the speculations, showbiz reporter and talent manager Lolit Solis posted a screenshot of the supposed engagement ring on her Instagram page. She claimed that the ring was worth around "P3 million."
January 3, 2018
After months of not really confirming their relationship, Ellen FINALLY confirmed that she and John Lloyd are in a relationship. She announced it on the same day she posted a photo of John Lloyd with her family in their family home in Cebu.
John Lloyd, on the other hand, posted a pic of Ellen's childhood photos.
February 1, 2018
John Lloyd and Ellen both posted photos of the same view of a property overlooking mountains and trees. This immediately set off speculations that the couple may be buying a lot for their future home. John Lloyd captioned his photo with: "mine. yours," while Ellen captioned hers with something a bit more straightforward, "Our Future view," followed by house emojis.
February 15 to 26, 2018
Rumor has it that the couple secretly tied the knot in Quezon City on February 15. Without confirming or denying their said secret marriage, the couple flew to Japan.
Photos also show Ellen trying to hide her baby bump with an oversized black shirt.
On February 22, Ellen posted a photo of her and John Lloyd at Kobe-shi, Hyogo, Japan.
March 25, 2018
John Lloyd threw a surprise party for Ellen's 30th birthday. Netizens were quick to notice her growing baby bump despite her attempts of concealing it with an oversized button-down shirt.
April 7, 2018
As if to confirm the pregnancy news, John Lloyd posted a photo of a crib near a stairway. He captioned it with "guada" and this started speculations that their child was a girl. However, the couple has yet to confirm Ellen's pregnancy.
May 4 to 7, 2018
On May 4, both Ellen and John Lloyd posted videos of people taking stolen photos of them. Ellen posted a photo of a 17-year-old girl who was allegedly trying to take a photo of her. She embedded the text, "When you pap us, we pap you. It's a tie. #PAParazziMoves."
On the same day, the girl, Eleila Santos, took to Twitter to explain her side of the story. She explained that she was taking a photo of her companion and food.  
At 2 a.m. on May 5, Ellen posted a series of videos of her reaction to Eleila's tweets. She said that the video explains it all and Eleila not knowing what to do next after getting caught was enough proof that she was taking videos of Ellen on purpose.
On May 7, Eleila's mom, Myra Santos posted an open letter addressed to Ellen. She asked the actress to post a public apology to her daughter.
People also started speculating that John Lloyd left his sitcom, Home Sweetie Home, for good. On the show, his on-screen wife, Julie (played by Toni Gonzaga) started thinking about getting their marriage annulled. 
This didn't come as a shock to the viewers because JLC had been MIA for at least seven months then. Toni even acknowledged that she was not hopeful but was still open to John Lloyd's return to the sitcom.
May 15, 2018
Eleila Santos' parents filed a case against Ellen for child abuse, cybercrime, and libel at the office of the city prosecutor of the Pasig City Hall. 
May 19, 2018
Even if they still haven't confirmed it themselves, photos from Ellen and JLC's Amanpulo may have confirmed her pregnancy. She has been spotted with her baby bump before, but this is the first time that she was seen flaunting it.
June 3 to 4, 2018
On June 3, Ellen's father, Alan Modesto Adarna, passed away due to cardiac arrest. 
Because of this, Ellen was a no-show at the first hearing of the case filed against her.
She also posted a photo of her hand wearing two big diamond rings, one of which is around her ring finger. The actress deleted the post after an hour but netizens still had ample time to form speculations that this was a confirmation of their engagement.
June 11, 2018
While Ellen was still a no-show at her hearing, John Lloyd attended on her behalf. It lasted for less than 30 minutes and was rescheduled to June 25 as requested by the respondent's camp.
June 25, 2018
Ellen surprised her three million Instagram followers by suddenly deactivating her account.
June 27, 2018
There has been no confirmation on this, but Ellen allegedly delivered her baby boy at Chong Hua Hospital in Cebu. There were also a few netizens who posted several tweets that she did give birth in the hospital.
July 2, 2018
Though there have been numerous confirmations that Ellen has given birth, John Lloyd posted a photo of a headline about this on his Instagram account, declaring that this was fake news. He captioned the photo: "FUCK FAKE NEWS"
Well, that's all for now. This wild love story still has some loose ends, and we're still here to see how this all ties up.