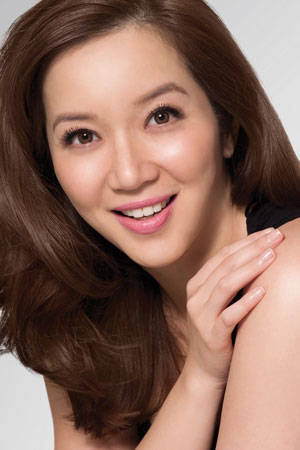 The first thing people notice about you is your face, most especially the state of your skin. A recent Taylor Nelson Sofres (TNS) survey revealed that 52% of Pinays believe that fair skin is an important factor when it comes to ideal beauty. But, ladies, being fair isn't enough. Skin has to be healthy, blemish-free, and youthful-looking. And who better to represent perfect skin up close than The Queen of All Media herself?

At a recent press launch, Kris Aquino was introduced as the newest brand ambassador of Olay Total Effects. Kris says she's a fan of the popular beauty product--which delivers seven skin benefits, including anti-aging and whitening. "I thought I already knew everything—that all you needed to be was maputi. But when I took a closer look into the mirror and saw that first wrinkle, nag-panic ako!...Hindi pala enough ang whitening cream."

After we heard her talk about the importance of proper skin care, we got a chance to chat with Kris at the Mandarin Oriental Hotel. Read on for her advice to Cosmo girls on beauty, life, and love!

Tell us about your daily skin care regimen.

During the day, I moisturize my skin using the Gentle variant of Olay Total Effects with SPF 15. If I have an outdoor shoot, I slather on additional SPF 50 Lotion. When I shower, I use Olay Body Wash. At night naman, I use the Olay Booster Serum and Night Cream, plus the Eye Gel. Everything I use for my skin is Olay talaga because I get whitening, anti-aging, and SPF benefits in one product. Bongga!

What keeps you looking young?

Everyday, I drink at least five to six liters of water, so that's around 10 to 12 water bottles. I always eat fruits for breakfast, and I have six to eight servings a day because cancer runs in our family. I wish I had time to go to the gym, but I work seven days a week! I only eat white rice twice a week. I'm trying to cut down on pork and beef, so I eat a lot of steamed fish with tofu and mushrooms. And good sleep. I'm in bed by 9PM, snoring by 10, and up by 6:30AM.

Who is your mentor or icon?

I really look up to Oprah Winfrey. Locally, si Ate Vi (Vilma Santos). Vilmanian talaga ko. We're all looking for that second act. Kung meron man sana akong pwedeng masundan na yapak, sana sa kanya. Politics is destiny, so we'll see. And I'm a mom, so mahirap to take on too much.

What's the greatest relationship lesson you've learned that you'd like to share with Cosmo readers?

Huwag magmadali. You're prepared for marriage and motherhood when you're in your 30s because you've lived life. [By the age of] 30 to 34, na-establish mo na who you are, who you need to be. You know yourself enough. My three sisters all got married at 28 and they were ready na talaga. So don't be in a hurry.


Launch the gallery to view photos of Kris at the Olay press event!
Continue reading below ↓
Recommended Videos
1551