Today, Kylie Padilla announced on Instagram that she has a new place for her and her sons Alas and Axl. She posted a photo of herself sitting in front of a sofa and captioned it, "Our new place is almost ready for my boys and [me] to move in, and I'm so excited." Kylie also shared pictures of a few carpets and a mattress.
On her Instagram stories, the actress shared the floorplan of a section in her new place. "It's coming true [crying emoji]. My dream home. My gosh, soooo happy."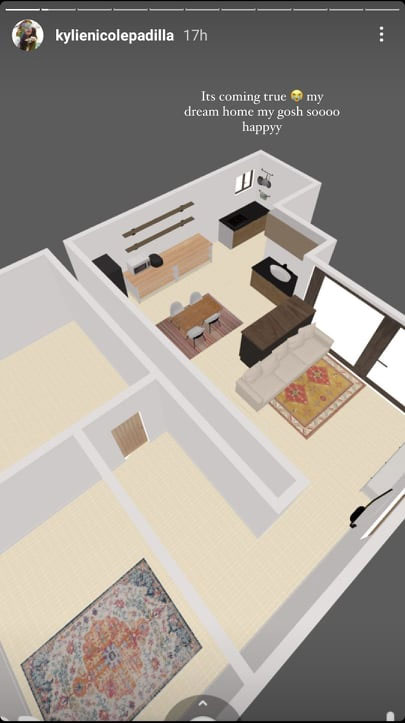 Kylie's home update comes a few days after she confirmed that she and Aljur Abrenica have split. While she didn't reveal the reason for the breakup, her dad Robin Padilla said there was a third party in their marriage, prompting Kylie to end it.
Continue reading below ↓
Recommended Videos
On July 8, the same day Kylie confirmed the separation, Aljur took to Facebook to share that he reunited with his sons at his parents' home in Batangas. Before he walked up to his kids, he said on an FB live, "Ang tagal ko na rin silang hindi nakikita. Excited na akong makita sila."
According to PEP, after the split, Kylie went to Fairview, Quezon City, to live with her family; while Aljur went to Batangas.
Kylie's official statement regarding the split includes both her and Aljur parenting Alas and Axl together. "Aljur and I are working on a healthy co-parenting relationship together for our boys' sake. We pray and hope that we will become better persons through this experience and [it] will bring out the best in all of us."
Kylie and Aljur got married on December 11, 2018. Their firstborn Alas turns four next month, while their secondborn Axl turns two this December.