Imagine this: A K-drama with an unusual love triangle between a lonely guy, an ~equally lonely~ girl, and an AI hologram. The girl suffers from Prosopagnosia (face blindness), and the guy looks EXACTLY like the hologram. All this—and more—takes place in My Holo Love, which is currently streaming on Netflix. 
My Holo Love was created after director Lee Sang Yeop and writer Ryu Yong Jae had a conversation about the 2013 movie Her, which featured Joaquin Phoenix and the voice of Scarlett Johansson. According to Netflix, the two were intrigued and had a long conversation about a charming story involving AI. Several months later, their idea materialized into reality when Ryu Yong Jae handed Lee Sang Yeop a unique story about "Holo."
Yoon Hyun Min, in his first-ever dual role, portrays a super-serious software developer named Nando and the high-tech AI assistant he created, whom he names Holo. Holo *comes alive* through a pair of specially made glasses.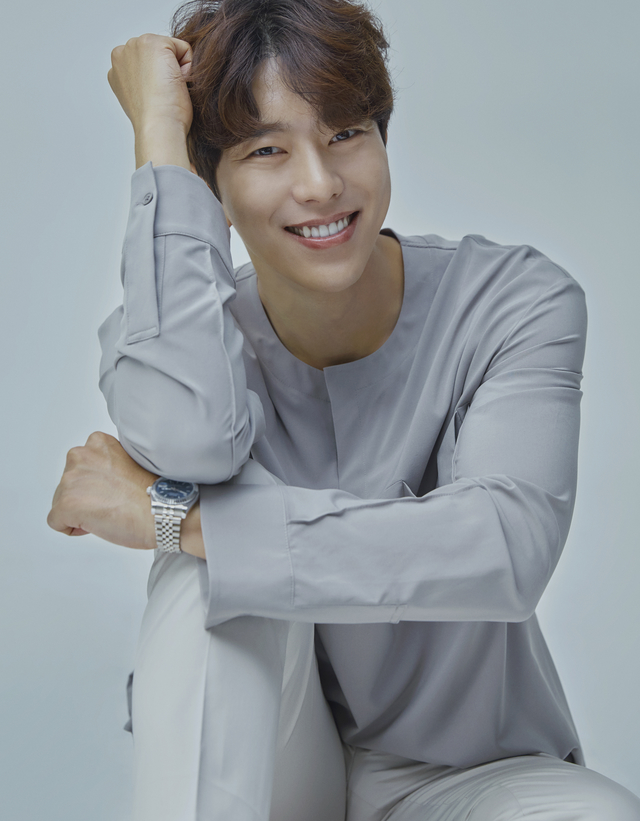 Continue reading below ↓
Recommended Videos
Ko Sung Hee plays the role of So-hyeon, a woman who has face blindness. She keeps it a secret from her colleagues and ends up leading a lonely, "friendless" life as a result. She also ends up being the "beta tester" for Holo.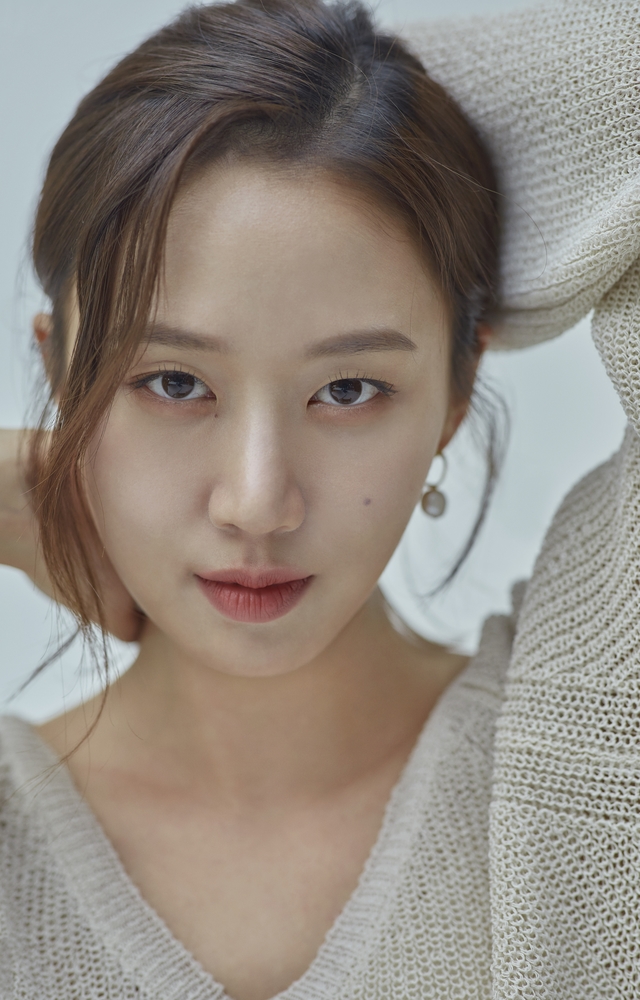 We got to interview Hyun Min and Sung Hee through a video conference call, and they shared their thoughts on the hardest My Holo Love scenes to film, falling in love with a hologram, and more: 
Personality-wise, are you more like Holo or Nando? 
Hyun Min: Holo as an AI is always sweet and kind, [while] Nando is a developer who, due to his childhood trauma, builds walls around himself. He has a hard time being kind at all times, and he has a hard time expressing himself. Personally, I feel for Nando more out of the two, because I can't always be kind and gentle when I'm working or when I'm outside of my home. However, upon returning home...there's that sense of emptiness and depression sometimes. So I think the imperfect human being that is Nando really draws me to this character, and I think that's why I feel more for him.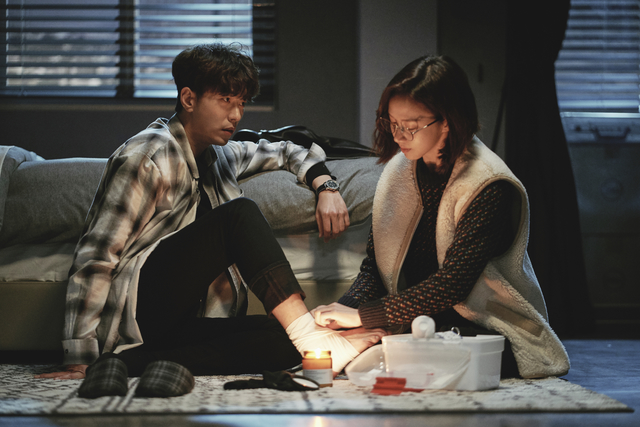 Do you think it's possible for a human to develop feelings for a robot or an AI like Holo?
Sung Hee: In the show, there is a point in time where So-hyeon starts to develop feelings for Holo and she is very confused. I think it was when I had to act that particular part that I really had to think a lot about that issue, and obviously, it's not very easy. However, you can see that the character Holo in the show is very lovable and extremely charming. 
Hyun Min: I don't think it's something that is completely implausible. Just the fact that we are holding this press conference with us being here [in Korea] and you all the way in your respective countries. This is something that I couldn't even imagine when I was a child, but here we are. This is our reality today. The world is changing at such a rapid pace. I feel that in the near future, maybe a human being can have a relationship with an AI. Who knows? I am open to all possibilities.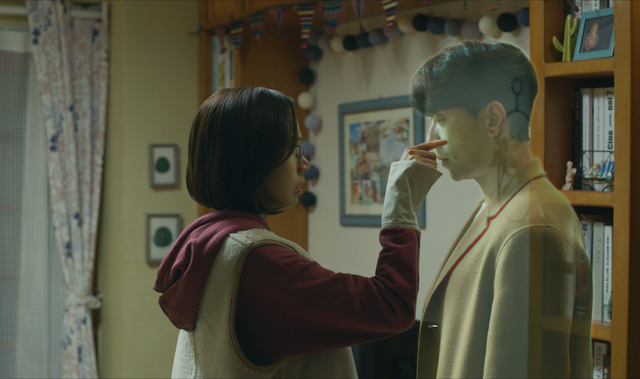 What scene from the show were you most nervous to shoot? 
Sung Hee: There is a scene where I'm drenched in the rain, crying by myself, and that's the point in time when Holo appears and comforts me. And this is quite an important scene, because it's kind of like the turning point for the character Sohyeon. That is when she begins to accept Holo as an actual being in her life up until that point. It was a very important scene, and then there was the water, and then there was the need to really bring out the maximum amount of emotions. So that was a scene that was very difficult and also it took quite a long time to shoot.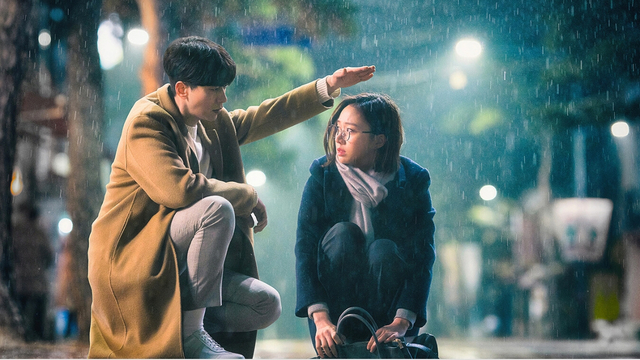 Hyun Min: Towards the end of the series, there is this scene where Holo and Nando have a conversation, just between the two of them. They talk about what they hadn't been able to express until that point...They have to smile and say goodbye.
When I was acting as Nando, of course, Holo wasn't there. And then I would have to go through a wardrobe change and then come back. And I think it's because I spent so much time as both of these characters that it was a scene where I really shed a lot of tears, both as Holo and as Nando. Because of that emotional intensity, it's a scene that I really remember very clearly to this day.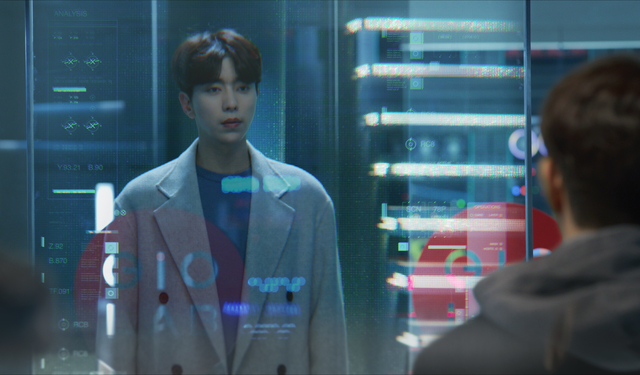 Do you have a favorite behind-the-scenes anecdote from My Holo Love? 
Hyun Min: When I was playing both roles [in the scene I just described], I couldn't hold back tears. Because Holo is an AI, he's not supposed to shed a tear. I couldn't hold back the tears, so I talked to the director and I asked, "You know, shouldn't Holo be able to shed at least one tear?" He actually agreed...so I was happy to act that. But the problem was, me being a human being, the tears actually fall out of the corner of my eyes, right? But the director was like, "That's too human-like. Can you make it so that your teardrop falls at the center?" It was quite demanding acting and I had to act for two hours trying to really get that tear to fall from the center of my eye.
***Answers have been edited for clarity. 
Follow Lily on Instagram.