Trigger warning: This is the story behind Twitter trending topic #SuicideIsNotAJokeJobert.
After Nadine Lustre called out Philippine Star columnist Ricky Lo for an article about her alleged breakup with James Reid, radio host Jobert Sucaldito spoke out against Nadine and defended Ricky.
In what seems to be a recording of his radio show, Jobert talked about Nadine's posts that supposedly confirm the breakup. "May mga labas ang puwet, naka-t-back pa doon sa building. May mga nakalagay pang caption na parang gustong tumalon. Sana tumalon na lang kung ganoon din lang naman pala."
Nadine's most recent Instagram photos taken in a building only state "I can't be who you want" and "For good reason, lost all of my love."
Continue reading below ↓
Recommended Videos
Jobert's remarks have prompted Nadine's fans to fire back and demand an apology. #SuicideIsNotAJokeJobert and #ApologizeToNadine became trending topics on Twitter.
You'll recall that Nadine said Ricky's article, where he referenced her depression and her brother's suicide, was "so low" and denied everything that he wrote. "It's never okay to use someone's mental situation or tragic past just to prove a point. Mental illness is a very sensitive matter," she posted on IG Story.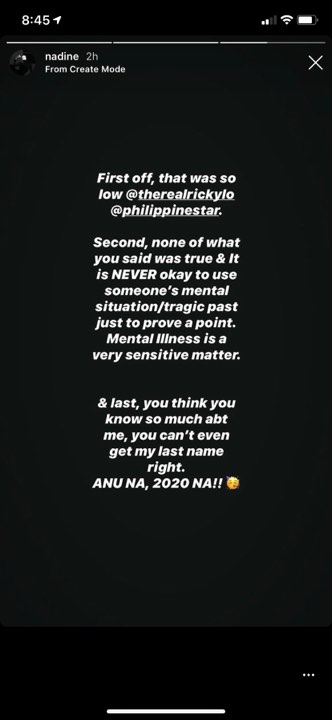 "You think you know so much [about] me, [but] you can't even get my last name right. Ano na, 2020 na!" she said in reference to being wrongly identified as Nadine Samonte in the photo caption of the newspaper edition of the article.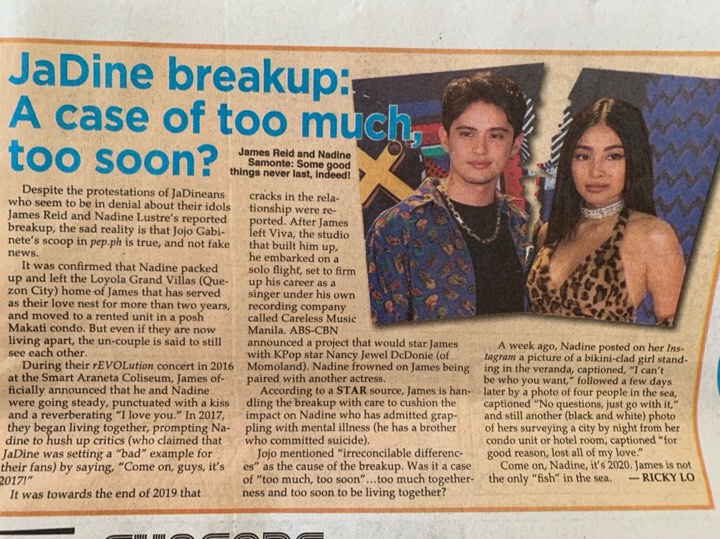 Below is a longer recording where Jobert speaks against Nadine's IG Story about Ricky's article:
Fans have also called out what seems to be Jobert's lengthy Facebook post about the issue. He claimed that Ricky's article was well-researched and said that the columnist deserved an apology from Nadine. "Kung nagawa mo ngang bastusin ang isang Ricky Lo, the more na puwede mong gawin to any of us. Tama, ining? Bawas lang ng yabang bago pa mahuli ang lahat. Hindi kami makapapayag na mabastos ng kahit sinong celebrity sa mundong ito 'pag wala sa katwiran."
What hotlines can I call for help for myself or a loved one?
Here are some of the hotlines you can call if you or someone you know needs help. Please share the numbers with your loved ones as well.
Where can I go for psychological/mental health services or support groups?

Some places you can go for psychiatric or psychological services include:
In Touch Community Services (Crisis Line)
Offers counseling services for adults, children and families, plus training for their Crisis Line volunteers
Address: 2/F Holy Trinity Church Offices, 48 McKinley Road, Makati City, Metro Manila
Phone: (02) 893-1893 / (0917) 863-1136
Email: intouch@in-touch.org
Counseling Hours: 8:00 a.m. to 8:00 p.m. on Mondays to Fridays / 8:00 a.m. to 5:00 p.m. on Saturdays
UST Graduate School Psychotrauma Clinic
Free psychological services, including assessment, evaluation, counseling, and psychotherapy
Address: Room 104, G/F Thomas Aquinas Research Complex, University of Santo Tomas, España Boulevard, Sampaloc, Manila
Email: ustgsptc@yahoo.com
Psychiatry and Behavioral Medicine Department, Philippine General Hospital
Offers free psychological consultation
Address: Ward 7, 2/F Philippine General Hospital, Taft Avenue, Ermita, Manila
Phone: (02) 554-8400 local 2436 and 2440 / (02) 554-8469
Ateneo Center for Family Ministries Foundation (CEFAM)
Offers free consultation, family and individual psycho-spiritual counseling
Address: Spiritual-Pastoral Center, Ateneo de Manila University Campus, Katipunan Avenue, Quezon City
Phone: (02) 426-4289 to 92
Amang Rodriguez Memorial Medical Center
Offers basic consulting and teaches some psychotherapeutic techniques
Address: Sumolong Highway, Sto. Niño, Marikina City
Phone: (02) 941-6289
Consulting hours: 8:00 a.m. to 5:00 p.m. Mondays to Fridays (registration hours: 8:00 to 10:00 a.m., 1:00 to 2:00 p.m.)
Center for Behavioral Sciences—Vicente Sotto Memorial Center
Provides consultation and treatment for different psychiatric and mood problems, sleep problems, anxiety, and substance-abuse related problems
Address: Vicente Sotto Memorial Center, B. Rodriguez Extension, Cebu City
Clinic Hours: 8:00 a.m. to 5:00 p.m.
A few Philippine-based mental health support groups include:
Mental Health Hour

Cebu (meeting every Saturday at 3:00 to 5:00 p.m. at Books & Brews Café)
Manila (meeting every Saturday 3:00 to 6:00 p.m. at Grow Ubelt Student Center)
Cagayan de Oro (meeting every Saturday 3:00 to 5:00 p.m. at Kagay-an Coffee Cartel)
For a more complete list of mental health service providers, check out the list crowd-sourced by #MentalHealthPH. The directory is also available as an Android app.
Follow Dyan on Instagram.