Nadine Lustre has been living in Siargao for a while now, and it seems like it has made a big impact on her life. The 28-year-old actress previously shared how moving there has made her feel more "grounded" as a person. Just recently, she also talked about how the island life has influenced her diet, too!
In her latest interview with dermatologist Dr. Aivee Teo, Nadine revealed that she's considering becoming a pescatarian—a type of vegetarian diet that includes seafood. 
"Now, I'm focusing on health and fitness, and I'm eating more healthy food," she shared. "Hopefully, I'm successful [in] becoming a full-on pescatarian and vegetarian. That's my plan."
As a self-confessed "foodie" and a steak-lover, Nadine admitted that switching to a pescatarian diet can be quite challenging. "I love meat," she shared. "So far, I've been a pescatarian for a week pa lang naman, but I'm not craving for [meat] which is good." 
"You really have to dive into it like you can't be half-assed," she added. "I'm such a foodie so it's difficult, but I'm willing to try."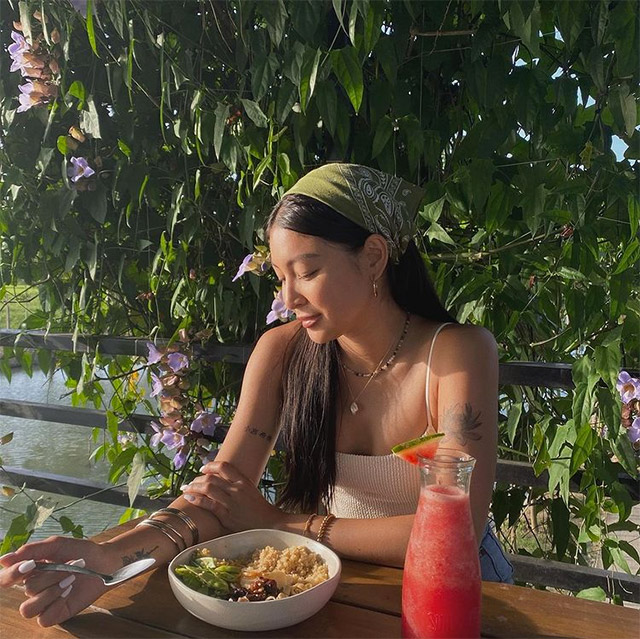 According to Nadine, living by the beach also makes it easy for her to eat healthier. "In Siargao, it's not really hard to be a vegetarian or vegan. It's much harder here [in Manila.] There's just a lot of options like lutong bahay. My friend would always cook, and she makes kangkong, itlog na pula with kamatis, sinigang na bangus," she shared. "Plus, the seafood is good. It's fresh." 
Continue reading below ↓
Recommended Videos
Aside from slowly changing her diet, the actress-singer said that she's been taking more time off social media, too. "I'm just enjoying the present," she told Dr. Aivee. 
Watch the full video below: 
EXPLORE COSMO