The 12th of December marked a momentous occasion for geeks and thirsty Henry Cavill fans alike as Netflix brought the actor to our shores (and into our personal area of responsibility) to promote the new fantasy series, The Witcher. As Geralt of Rivia, Henry plays the ultimate medieval silver daddy of the Continent. A media press conference was held at Conrad Manila where the actor was joined by crazy talented showrunner Lauren Schmidt Hissrich (you may recognize her work in shows such as Daredevil, The Defenders, and Umbrella Academy). But the main event took place later in the day where a grand fan meet was held at Ayala Malls Manila Bay. Spoiler alert: The meet-and-greet interaction took a lot longer than the actual stage program because Henry and Lauren are awesome human beings who care about the fans.
Curious about the series? We serve the real tea (with receipts) on everything you can expect from The Witcher!
1. Lauren Schmidt Hissrich and Henry Cavill were already fans of The Witcher before they worked on the series.
Lauren is an avid reader who loved the books written by Andrzej Sapkowski, while Henry is a hardcore PC gamer who played the video game adaptation and happens to like fantasy books as well. So, when the two started working together on The Witcher, Lauren introduced Henry to the original source material and immediately got him hooked. As Lauren says of the opportunity to work on the series during the press conference, "This has been a dream come true and it's so much bigger than what I thought it was going to be! I never expected to come to the Philippines, that's for sure!"
Continue reading below ↓
Recommended Videos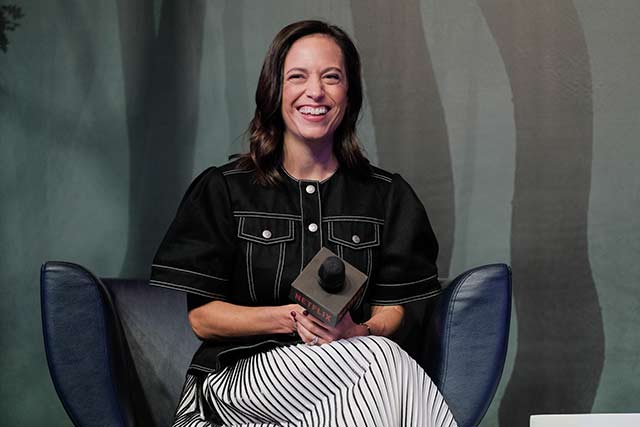 2. The main female characters, Yennefer and Ciri are given a more extensive backstory compared to the books.
We are living for showing more fleshed-out females instead of just, well, showing flesh (not that there is anything wrong with the latter, of course, but there should always be a purpose behind the action). The women of The Witcher were already powerful ballbusters in their own right. However, Lauren wanted to really go in-depth into how Yennefer and Ciri achieved that level of badassery by explaining their origins. She discusses her decision in detail, "I never think of myself as a female writer. I'm just a writer trying to tell good stories. What's important for me is to make sure that the stories that we're telling about women are as dimensional and interesting as the ones about the men. It's about making sure that all these characters [regardless of gender identity] are fully fleshed out. If we wanna make that collision course for them [the main characters: Geralt, Yennefer, and Ciri] coming together [in the] most interesting [way possible], then they all have to be interesting characters!" Hear, hear!
3. Henry Cavill performed his own stunts as Geralt of Rivia!
Henry Cavill had to undergo rigorous training and explains this further, "Geralt's fighting style [has a lot of] pirouettes and explosive movements. [There's a lot of] uneven ground. You're not fighting in the gym you're fighting on a slope with cobbles. [You could also be moving around on] a dusty floor or [while] it's raining. Whatever the case may be, you have to make sure that you build up the right muscle groups to protect knee joints, head, elbows, shoulders, [and more]. That's what my trainer and I focused on aside from the aesthetic and we had to make sure that my body could keep up with the schedule and the fights."
4. The author, Andrzej Sapkowski, has tears in his eyes upon visiting the set.
If the guy who created the whole universe of The Witcher has given his seal of approval, then we can only expect great things from the series. Lauren enthuses, "[Andrzej] just walked around and I think he was really blown away by how his world has come to life." Henry also shares his amusing interaction with the renowned fantasy book author, "I was obviously very nervous to meet him [because it would be the] first time ever. I was in full Geralt costume, makeup, and hair, wondering what he was gonna think [about me]! I'm about to do this stunt, which is a [backward fall] from the ceiling to the floor [at 18 feet] and the first thing he says is, 'I didn't write this! It's not my fault, so you can't blame me!'"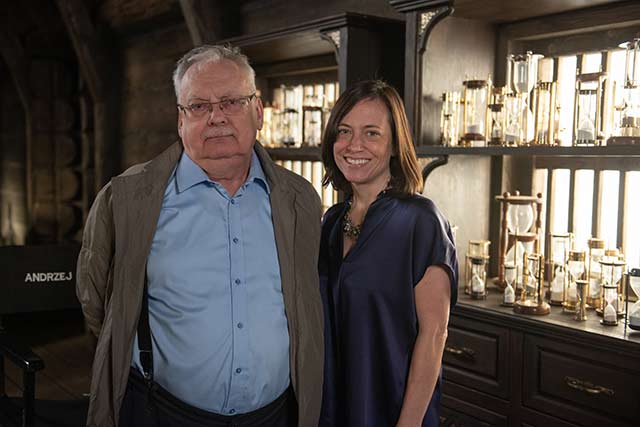 5. The Witcher books collectively have about 3,000 pages of content!
Unlike other book adaptations, Lauren won't have to worry about running out of material to sustain the series. "It was really challenging at first. We have eight hours to tell a chapter basically out of Geralt's, Yennefer's, and Ciri's journey. I went back to the short stories, which were the first books. We wanted to do cool monsters but also wanted to appropriately build up the Continent and make sure that we understand the people, the politics, society, and the hierarchy, specifically, where Witchers fit into that. Geralt's journey is one of loneliness and about being on the outside. We needed to understand what the world was to really set that up."
6. The Witcher was filmed in different places across Europe with visuals inspired by the popular video game series.
Looks like production went on an epic European trip! They filmed at Budapest (Hungary), Vienna (Austria), Canary Islands (Spain), and of course, Poland. As Lauren explains, "The books are Polish so it was really important for us to actually go back to where it came from." Although nothing was directly pulled from the video games, the showrunner took inspiration from the brilliant graphics. Lauren shared her exposure to the video game adaptation, "I tried [to play the game but] I was horrible so [I ended up] watching someone else play. I was really stunned by the visuals [of Witcher III and] how beautiful the world was. There are some amazing sunrises, sunsets, and fields of flowers. I thought [that was] really important [to include] in the show—the beauty that still exists even if there are really bad things happening next door."
7. Henry Cavill was very, very persistent in nabbing the main role.
As a self-confessed The Witcher fanboy, he wasn't about to let this role go to a normie. Upon learning that Netflix was going to adapt it into a series, he was totally on it like, uh, a Witcher on a monster! Henry immediately asked his agents to call the streaming service and kept following up for days. The actor jokingly shares, "When Lauren was ready to take on meetings, [the agents] must have said, 'You gotta meet this guy otherwise, he's gonna turn up at the door and it will be embarrassing!" He continues, "I have been preparing for this my entire life. This was just the final upgrade." Now that is a passionate man with a plan! (Let's be real, we kinda wish Henry was that dedicated in pursuing us!)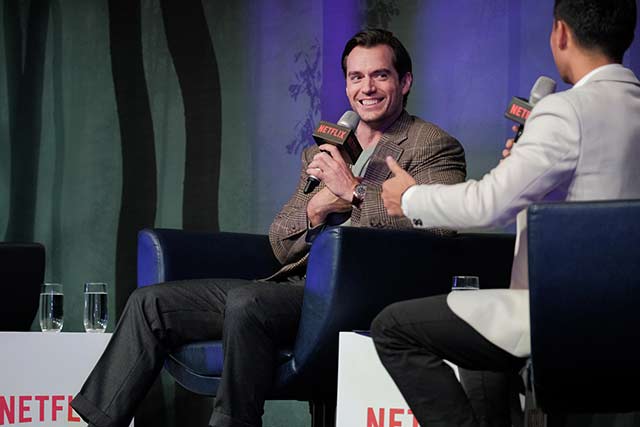 8. The Witcher series deals with extremely relevant and relatable content that reflects the real world.
Henry Cavill explains the Continent, the setting of The Witcher series, and how xenophobia, misogyny, general discrimination, and corruption runs rampant. (Doesn't that sound familiar?) He continues, "Politically speaking, it's not a wonderful place to live in? There's a lot of tension between the species and even among the humans themselves. It's like a tinder box waiting for a spark to set it off!" Lauren adds, "The comparisons to our real world just come out naturally because, in any sort of story that we're telling, we should be able to relate to them [with not just their experiences but also how they respond to it]."
9. Henry Cavill spent more than an hour signing autographs and taking photos with everyone during the fan meet in the Philippines.
Because not all heroes wear capes (although, he did wear a red one in the past *hint, hint*)! Our main man signed everything from Funko Pops to even a heavy bust statue. After a long journey through the fan aisles, without missing a beat, he offers an impassioned speech of gratitude, "Thank you all for your patience and dedication to something that we worked very hard to create." The crowd goes wild and proceeds to chant his name. With his signature Brit charm, he flashes a smile and replies, "Mahal ko kayo," which was understandably met with deafening screams. He even made a surprise appearance alongside Lauren during the special fan screening of The Witcher's first episode because that's how much these international guests love the fandom.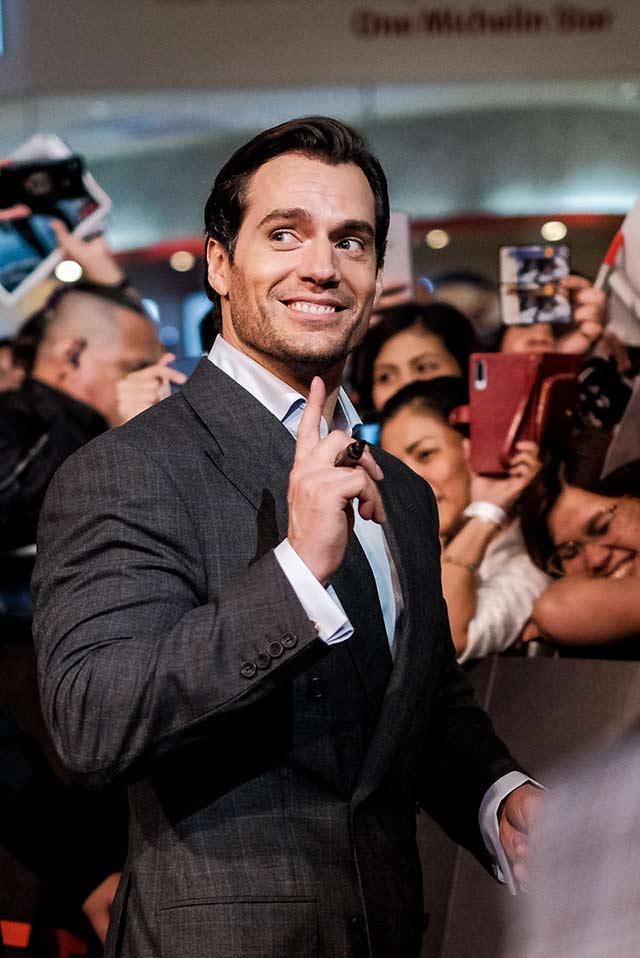 10. Have we mentioned that The Witcher women are #goals for the modern era?
Lauren talks about what CGs can learn from the show, "[Personally,] I learned a lot watching [the actresses, Anya Chalotra (Yennefer) and Freya Allan (Ciri)] portray these characters. Yennefer is a fighter who is determined to find her place in the world. Ciri is a survivor who keeps going even though it's easier to just curl up into a ball and give up. Strength comes from a lot of different places and takes on a lot of different forms. There's not just one way to be strong and powerful." So basically, we officially stan a new iconic showrunning queen!
Follow Karen on Instagram.