Warning! This story has minor spoilers for Bridgerton Season 2! Enter at your own risk.
We all had our favorites when Bridgerton came out on Christmas day almost two years ago—the silver lining of an otherwise horrible 2020. For the Internet, the obvious choice was the Duke, Simon Basset, and we totally get it.
But for me, it was and still is Penelope Featherington played by Nicola Coughlan. As someone with really solid female friendships, I can relate to her bond with Eloise Bridgerton (Claudia Jessie). The fact that Pen is in love with El's older brother, Colin (Luke Newton), was the cherry on top of this very delicious cake, lol! Their storyline is actually the reason I decided to read the books—starting with the fourth one in the series, Romancing Mister Bridgerton. And just like that, I became a certified #Polin girl.
At the end of season one, it's revealed that sweet, innocent Pen is actually Lady Whistledown. This, as you can imagine, threw everyone for a loop—myself included! Lucky for us, we at Cosmopolitan Philippines got the chance to talk to Nicola and unpack the duality of her character, Polin moments, and more!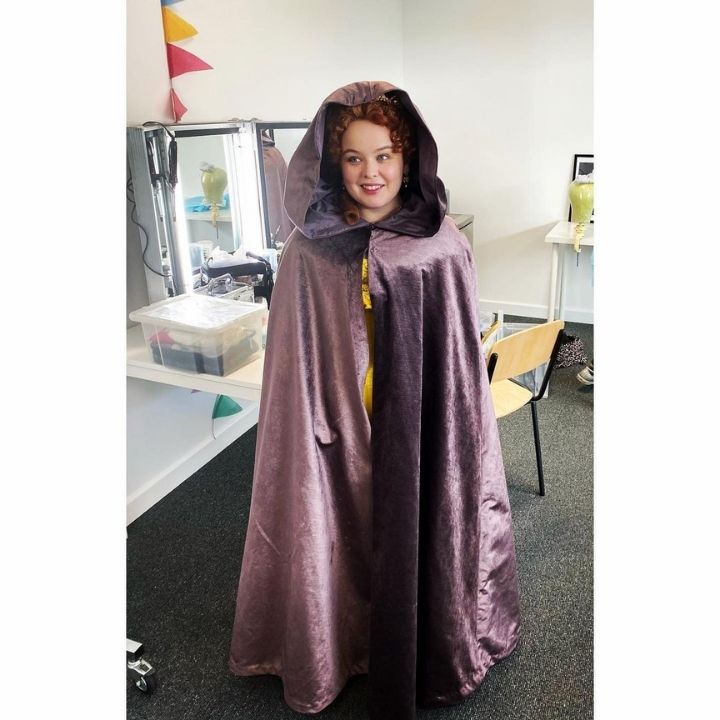 What's it like to finally play both Penelope and Lady Whistledown?
Nicola: It was so much fun. I think I always knew from season one that there was that side to her. It was so under wraps, but it was always ticking away in my head, so it felt quite natural…I didn't know that she was going to have this Irish alter ego, so that was definitely a surprise. When I got the script, it said she speaks in a perfect Irish accent, and I was like, "Okay, sure." To have that reveal and share with the audience how she's doing it [as Lady Whistledown]. It adds an extra level of fun at the balls, to see her there watching everything, taking everything in, how she's getting this information, and what she's doing with it. 
Continue reading below ↓
Recommended Videos
I always think of it as her drag persona, it's the way drag queens talk about themselves in the third person. She sees this alter ego as someone different to her that she can feel more confident in and be a bit more sassy. 
In this season, we see more of Colin and Penelope's friendship, but with hints of what's to come. I love that they're pen pals! But also, we see a big moment from the books, which is when Colin says he will never court Penelope. It's sort of a reminder that their love doesn't happen instantly. Working closely with Luke Newton, do you have a favorite Polin scene? 
Nicola: I love shooting with Luke. He's such a sweet person. When you have long days on set, to be with someone as nice as [he is], it makes it so much easier. I loved dancing with him. He's a fantastic dancer! He did musical theater, so he nails it instantly. But he's such a great partner to have in that because he's very supportive. I loved having that dance because it's such a nice progression from season one. They're not quite there yet, but it felt much more grownup. They were seeing each other in a different way.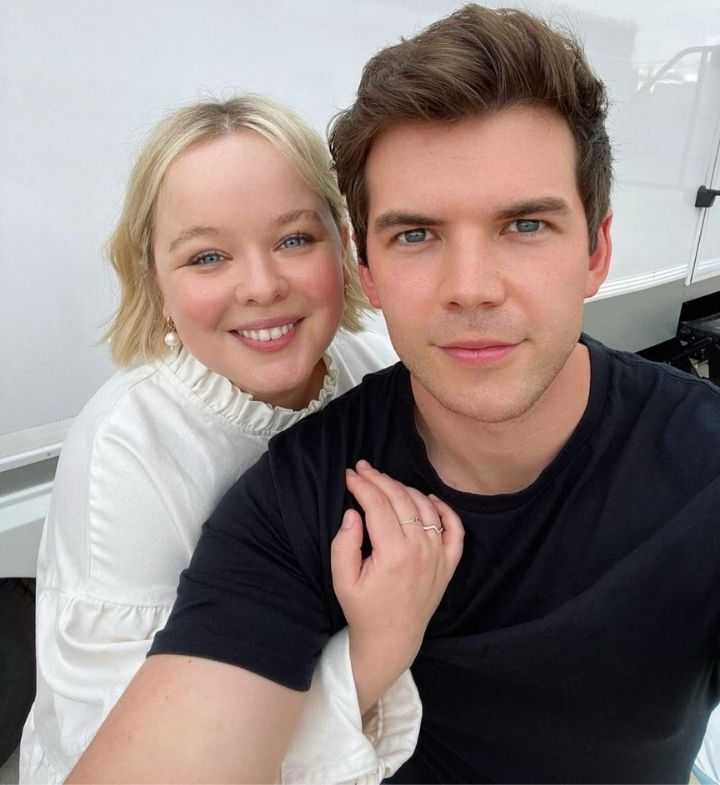 What are some memorable or funny moments you shared with other cast members? 
Nicola: I never get to shoot with Luke Thompson and I love him. He's great. We share the same hair and makeup artist this season, and we always compete to be her favorite. At one point, they pretended that they shaved a spot at the back of his hair. They didn't but he was very nice about it! He's such a brilliant actor. I don't know in what world Penelope and Benedict would need to have a chat, but I would love to have it. 
In the set tour with Claudia Jessie, you mentioned that you hope Penelope marries Colin. Is there anything from their love story in Romancing Mister Bridgerton that you wish makes it to the show?
Nicola: Weirdly, I really wanted that moment when he said he wouldn't court her to be in there. 'Cause I feel like it's very important for their relationship. Luke and I had a Zoom with our showrunner Chris Van Dusen, and I asked him, "Is it gonna happen?" He said it was in there and they took it out and they flip-flopped about it. But I think it's important because it brings [Colin] down a bit, which it kind of has to because she thinks he's perfect. And she needs to realize that he's not. He's human. And she's human, too. Their relationship is like this [right now] but it needs to be here before anything can happen.
I just want to see them fall in love. I want to see her accept his love. When she's like, "Am I a mess?" and he says, "You're my mess." I think it's so lovely.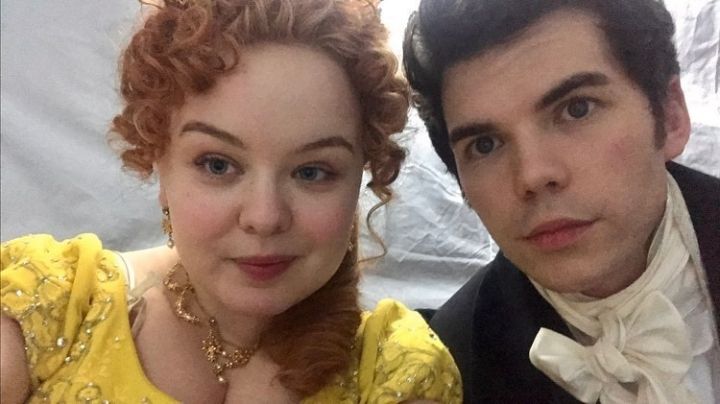 The show is known for their music covers! What songs would you pick for Colin and Pen?
Nicola: There's so many. I have a secret playlist of ones I've put together. And they stole a song off it 'cause I had "Dancing On My Own" by Robyn. I thought it was the perfect Penelope song and they used it. There's a beautiful version of "The Luckiest" by Ben Folds.
You've mentioned in a couple of interviews that you were happy to have Claudia by your side during the ball scenes because those take days to shoot. And obviously, you two have gotten closer IRL as well. Can you talk about how you and Claudia worked on bringing Penelope and Eloise's friendship to life?
Nicola: Claudia is so wonderful, and I was really looking forward to spending time with her in those ball scenes because in season one, I was alone a lot. There are long days, and I just wished I had a buddy with me. As an actor, I was really happy, but as the character, it actually presents a lot of issues for her. You know, trying to get this information and she can't go wherever she wants and sneak around. I think that relationship between the two of them–it developed naturally for us. We love talking about the characters and talking about their dynamic. I think having a partner like that onscreen is really brilliant.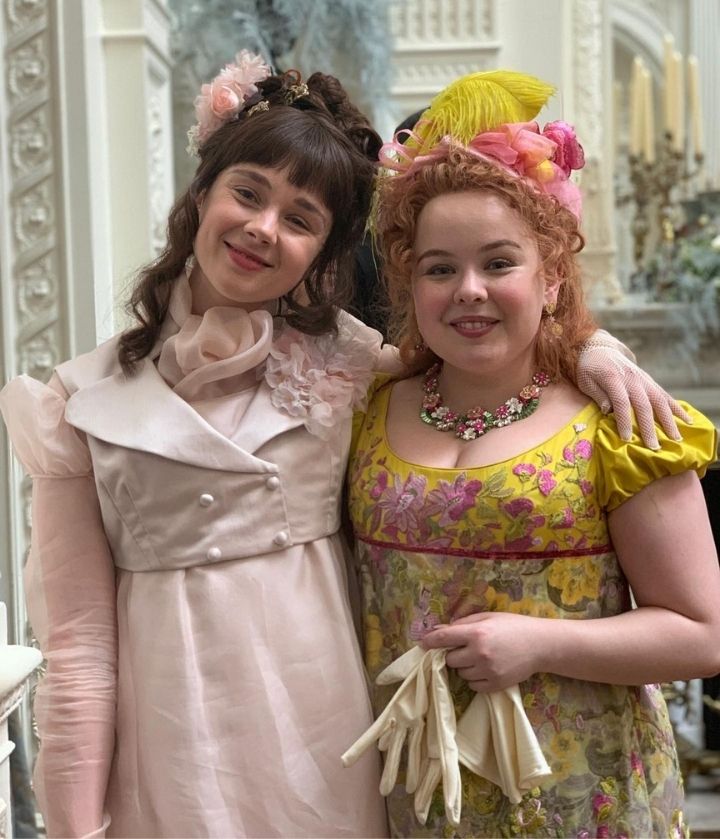 What do you want people to take away from your portrayal of Penelope this season?
Nicola: I hope people see that she's someone who's very complex, and she's very young. She still doesn't fully know who she really is, and she's figuring it out. She's making a lot of mistakes. I think she is still this shy girl, but she has sides to her that are strong, questionable, and kind. But I feel like she's in the middle of a journey. I'm excited to be able to continue it.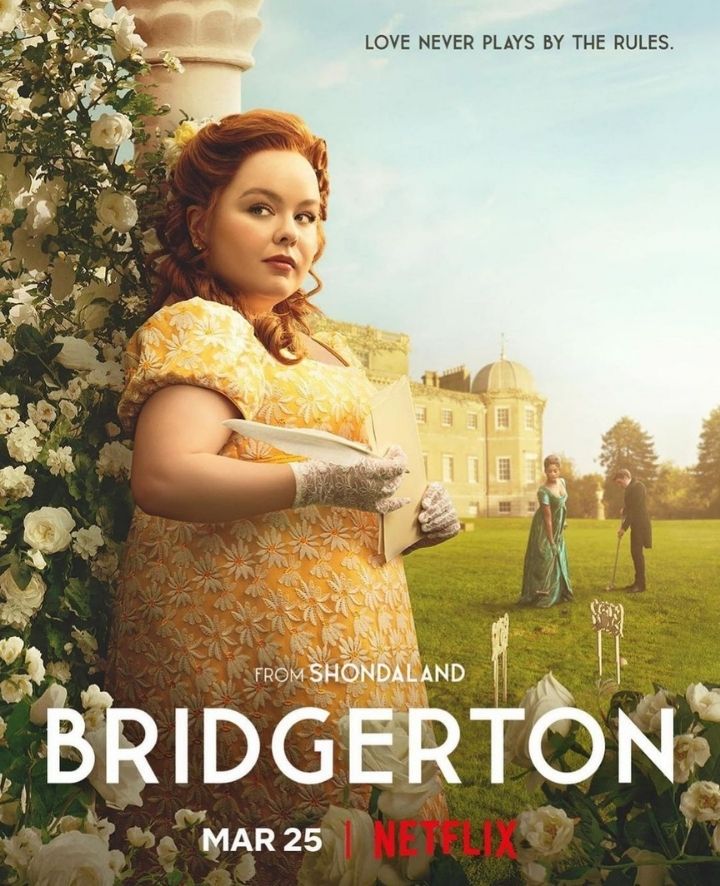 Bridgerton is currently streaming on Netflix. 
MORE ON BRIDGERTON
Here's *Everything* You Need To Know About 'Bridgerton' Season 2
You Guys, 'Bridgerton' Has Been Renewed For Seasons Three And Four!
6 New Characters We Can't Wait To Meet In 'Bridgerton' Season 2
EXPLORE COSMO