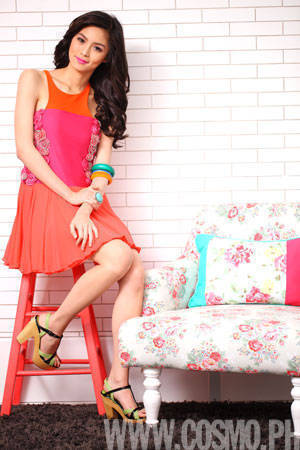 Fashion is not about following strict rules or being dictated by trends. As this month's issue of Cosmo will show you, it's all about having fun with your own style. And that was the concept behind the outfits we picked out for our Chinita cover girl, Kim Chiu.

Cosmo art director Red de Leon explained that the theme this month "is bright and young. We wanted something fun and colorful for Kim, since she's going through a lot right now. We wanted to show that she's still a vibrant, fun, fearless female."

So Cosmo got stylist Bea Constantino to dress the young actress in bright, colorful outfits, and just dared her to have fun with colors and styles. "We tried to veer from her usual tweetums appeal. So we went for bright colors that weren't kiddie, in tight silhouettes [done in] pinks, greens, yellows. We just went all out and said 'Let's just pair orange with green, yellow with fuchsia, and so on,'" said Bea.

Regardless of what Kim is going through right now, she shows us, Cosmo chicks, that we can remain calm, composed, and ever beautiful, even in the toughest challenges. That's really where fashion can become one of our best allies. Ever heard of dressing your best at the worst of times?

Launch the gallery by clicking the button below to see the clothes we used for the shoot. Grab some fun styling ideas for looking fun and fearless to your upcoming holiday parties.


Get the latest issue of Cosmopolitan, with Kim Chiu on the cover, in stands now! Watch behind-the-scenes footage of Kim's shoot when you click on this link.
ADVERTISMENT - CONTINUE READING BELOW ↓
781