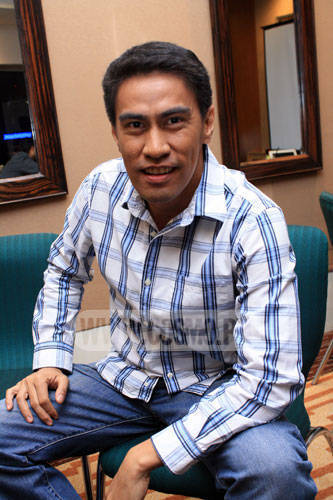 Ramon Bautista has been on our radar all month, what with his modeling debut in our January 2012 "Mod About You" fashion editorial and the behind-the-scenes videos and photo galleries online that left you in stitches. We know you can't get enough of his addictive humor, so we just had to interview him again.

He's always making quips about snagging a "chick," so we really wanted to know what he's up to this upcoming Valentine season. We caught up with him at the Sarap At Home set to ask him about his V-Day wish list and advice for girls. Ramon's Twitter followers know that he has a knack for giving sound, succinct, sensible pieces of advice in the most hilarious way possible. Read his witty answers to our V-Day questions below, and launch the gallery to view more photos of Ramon.

What's on your V-Day wish list this year?

Maybe a girl? A girl would be nice. Maybe a trip to a foreign land that requires an airplane. Maybe I'll just wish for world peace, and end of hunger and poverty in the world.

What's the best V-Day gift you've ever received from a girl?

That's hard! Will you be able to print that? If this was FHM I could tell you, but this is Cosmo, right? Okay, I'll think of something wholesome, okay? Paano ba. Teka lang, 'yung mga chicks ko, puro ako 'yung nagreregalo ah. Hindi, joke lang. Um, I think it's love. It's very invaluable. Yeah, the gift of love, how about that? Yeah, you print that na lang.

Has anyone ever cooked for you as their gift? What do you think a girl should learn to cook for her man?

It doesn't matter, as long as they love their man, so it's not really the food; it's the things they do while eating--before, during, and after eating.

What's your favorite dish to eat and to cook?

Spaghetti--spaghetti that I cook, 'cause it's special, because I did it myself. 

What's the sweetest thing you've ever given or done for a girl on Valentine's Day?

You should ask them, because if I tell you, that'd be pagbubuhat ng bangko, so you ask them. I just do these things even if there's no occasion, whether it's Christmas, Valentine's, Holy Week. I just do sweet stuff for them. I don't wanna make myself pasikat, make myself bida. I don't know. I gave away lots of expensive stuff. I know it's expensive, that doesn't necessarily equate to sweet, right? Thirty pesos load, how about that?


Launch the gallery to view more photos of Ramon Bautista.
Continue reading below ↓
Recommended Videos
1709