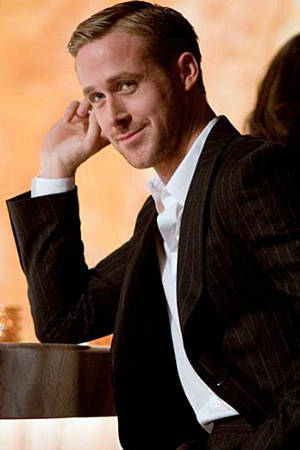 When you think Ryan Gosling, you probably have a picture of a sweet, old-fashioned country boy kissing his long-lost first love in the pouring rain. Well, aside from that unforgettable role in The Notebook, Ryan has been in dramas like Blue Valentine and Half Nelson--for which he was nominated for a Best Actor Oscar! But now, the Hollywood hunk is about to step out of drama and into comedy--playing ladies' man Jacob Palmer in Warner Bros.' new romantic comedy Crazy, Stupid, Love, opening August 17. (For more movies opening this month, click here.)

Crazy, Stupid, Love follows the troubles of Cal (played by Steve Carrell)--a man whose perfect world falls apart when his marriage crumbles. Cal doesn't have a clue how to be single after decades of marriage--he spends his nights sulking at a local bar. And that's where he meets Jacob. Taking pity on the middle-aged guy, Jacob decides to teach him a thing or two about being on the market again: starting with a decent haircut and new wardrobe. Later on, however, Jacob is caught off-guard by feelings he develops for a feisty girl (played by Emma Stone).

Ryan describes his character Jacob as a "guy who haunts this bar, and then he notices that Cal is being even creepier than he is, so he figures he can teach him to be a Lothario. But the truth is--Jacob's at the end of his heyday. He's lost his luster and he's...trying to pass on the baton."

To play Jacob, Ryan did his homework. "He's really kind of a jackass," he shares, "a knucklehead with a heart of gold who has this sort of twisted wisdom he thinks he should pass on. So I watched this TV show about a pick-up artist and read a couple of books about foolproof strategies for hitting on women. They are kind of terrifying, but I did manage to get some inspiration from them for Jacob."

Ryan says that doing comedy across from Steve "was just easy. There's not much you can throw at him that he won't hit. But he's also very gracious. He finds out where your strengths are and then finds a way to play to them. I mean, Steve makes you funny… He doesn't have that in mind, but he finds out what you can do and then he gives you opportunities to highlight that, to feature it."

Producer of Crazy, Stupid, Love Denise Di Novi says, "Our first order of business was casting Jacob, because the Cal-Jacob relationship is pivotal to the film. We didn't necessarily associate Ryan with comedy...[although] there are dramatic elements to the story as well. [Ryan] thought he could really sink his teeth into it. And then, of course, we realized how funny he is."

Commenting on his co-star, the funny Steve Carrell says, "Ryan is so fantastic, and it struck me from day one how comedically gifted he is. And as funny as he could be, he also made a character that was cocky and arrogant so endearing."

"We were awed by Ryan," co-director John Requa says. "His insights into the character and the story were remarkable, and the interplay between him and Steve was just perfect."

"Ryan also brings an intelligence and a back story to it," adds Requa. "He sets this character apart from being just some typical womanizer. He makes it much more complex than that."

Co-director Glenn Ficarra says, "They had a definite chemistry and really enjoyed working together, so for us it was just a matter of capturing that."

"Ryan is just an amazing actor, one of the smartest I've ever worked with," says Ficarra. "His character, Jacob, is just this guy who's become the perfect ladies' man. It's like he's honed it down over the years to such an art form that it's become almost scientific, like a calculation. That's where we needed him in the story. And he plays it perfectly."

Make sure you gather up the girls (or take along your man) to catch the funny side of Ryan in Crazy, Stupid, Love, opening August 17!
Continue reading below ↓
Recommended Videos