Article updated: May 17, 2021, 9:00 p.m.
After YG Entertainment's statement about her departure, Sandara Park posted a letter on her Instagram account and shared her unforgettable stay in the agency. She highlighted her love for her 2NE1 members as they celebrate their 12th anniversary today. Read Dara's letter right here: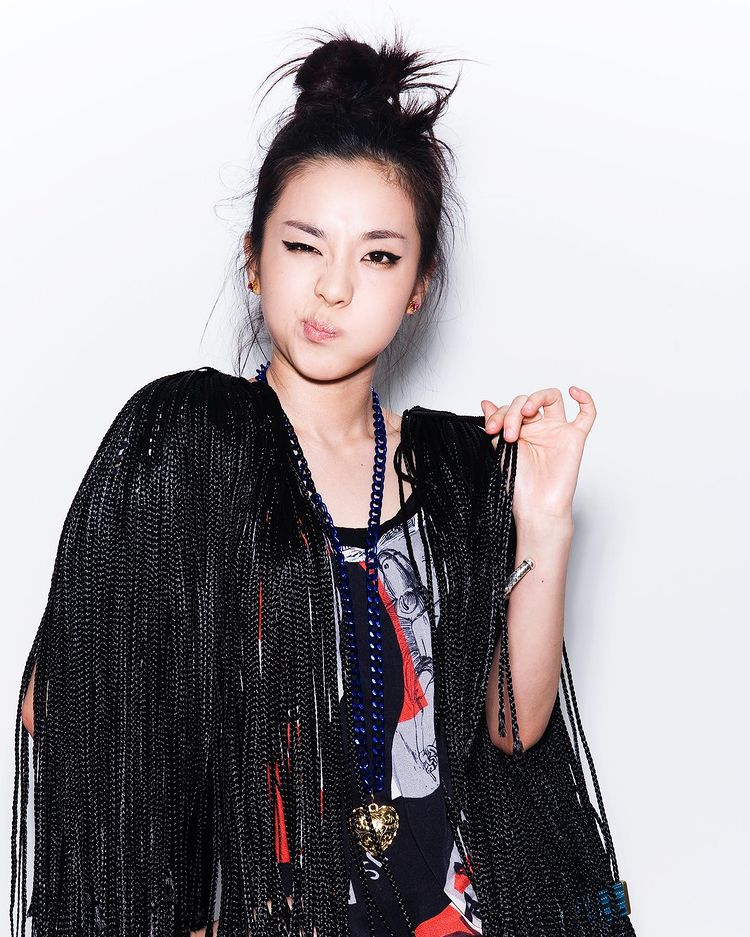 ADVERTISMENT - CONTINUE READING BELOW ↓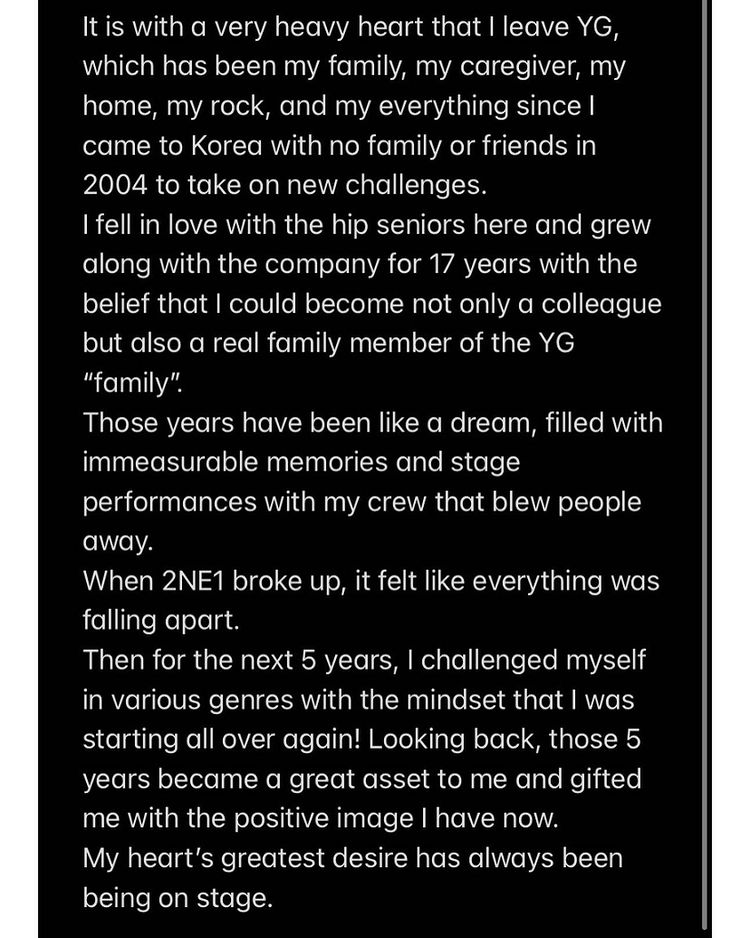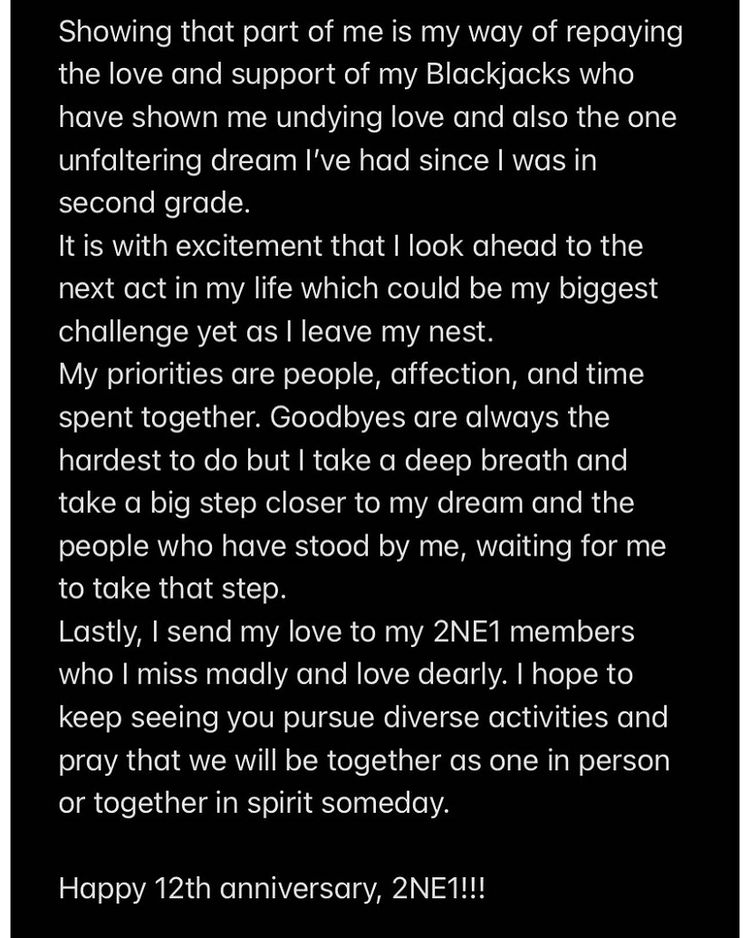 ADVERTISMENT - CONTINUE READING BELOW ↓
Recommended Videos
***
Hallyu superstar Sandara Park has officially left YG Entertainment, her agency of 17 years.
In 2004, Yang Hyun Suk, YG Entertainment's then CEO, scouted Sandara when she appeared in the KBS documentary, Human Theater. After pursuing a career in the Philippines in 2007, she kickstarted her idol life as a trainee under the said label, where she spent two years polishing her idol skills. By 2009, Sandara became Dara and debuted as a member of 2NE1. 
The record-breaking K-pop girl group disbanded in 2016 and Dara is the only member who remained as an artist under YG Entertainment. During her stay in the agency, she took on various roles apart from performing—this includes acting, hosting variety shows, becoming a YouTuber, and showcasing her style in different fashion events.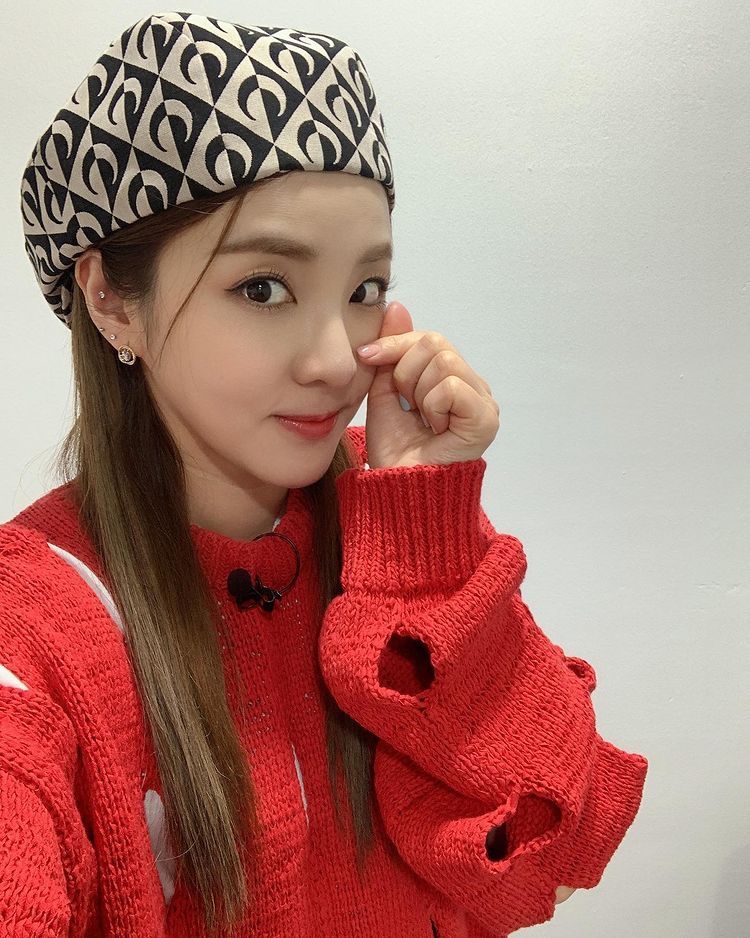 ADVERTISMENT - CONTINUE READING BELOW ↓
Today, May 14, YG Entertainment has released a statement regarding Dara's departure from their company:
"This is an announcement that YG Entertainment and Sandara Park's exclusive contract has expired.
We express sincere gratitude to Sandara Park, who has been together with YG with special trust and affection. YG will always cheer on the challenges that Sandara Park takes on, and we will continuously help her until she completes preparation for her new start.
Sandara Park joined YG in 2004, and after debuting with 2NE1 in 2009, she has shown impressive performance not only in music but also in various areas such as acting, fashion, beauty, and as an MC.
We ask for much interest and support from fans so her positive energy can shine even further. We once again sincerely thank the fans who have loved Sandara Park as an artist of YG until now."
We wish you the best in your new journey, Dara!
ADVERTISMENT - CONTINUE READING BELOW ↓
Follow Hanna on Instagram.
K-UPDATES