Shay Mitchell's latest show, You, is a psychological thriller (based on the book by Caroline Kepner) that tells the story of a bookstore manager named Joe Goldberg (played by Penn Badgley) who falls in love with an aspiring writer named Guinevere Beck (Elizabeth Lail). Joe's little crush on "Beck" leads him to stalk, attack, and eventually kill other people. Shay plays Peach Salinger, Beck's manipulative socialite best friend who's secretly *obsessed* with her, too. 
Seeing Shay in person during her international tour with Penn did not prepare me for how beautiful and amazing she is! During a roundtable interview with the press, Shay talked about how much she loves Peach (God knows we all do), people's obsession with finding "The One," and what we can look forward to in You's second season.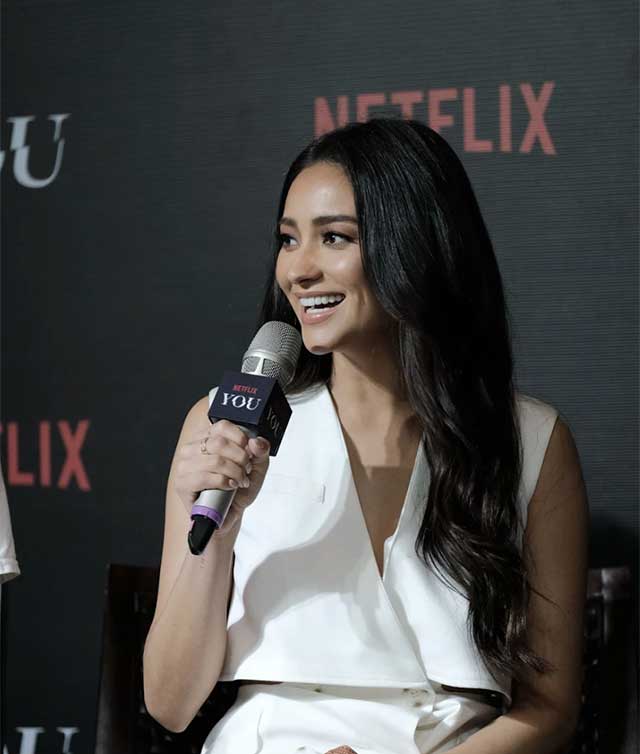 ADVERTISMENT - CONTINUE READING BELOW ↓
Would you be friends with Peach IRL? 
I think I would be friends with her because I would want to be honest with her. I think nobody else was. And I'd want to tell her, "You know, you're mean, and it's not nice, and you should go to therapy and work out your issues instead of taking it out on other people." I'd want to be friends with her for that reason. 
How did you channel that darkness in Peach? What drew you to the role? 
I think I just understood her [experience] growing up, and her life before. I think that there were many different layers to Peach, but they weren't just because she wanted to be mean, they came out of insecurity, and I can understand that. I think being in high school with the mean girls, I really did understand that they were just very insecure and that's why they were mean. I had experience with Peaches in my life. 
I wanted to play the opposite of what I played before. I think it was fun to play the mean girl, and she just had really fun one-liners and she's just funny in her own way. 
Is it more fun for you to portray darker characters? 
I think so, yes. Because to be honest, it's really different from who I am. I would like to think that I'm a really nice person—follow the rules and always see the good in people. I think it's fun to play the opposite of who you are. And playing someone who's nasty and that can say things without being worried sometimes, it's fun! I think anybody who's played a "bad" character would agree that it's fun because you don't want to play that person in real life.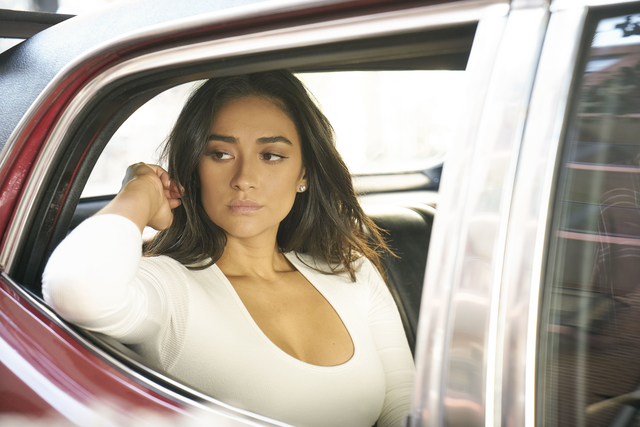 ADVERTISMENT - CONTINUE READING BELOW ↓
What's your favorite scene from the series? 
I loved the ending with Joe, that whole situation where I ran after him with a gun. But I would have to say it was the one with Beck, right when Beck leaves her house. Because that's when you see the switch in Peach...you start to see that craziness in her. I really had fun playing that scene. 
What's your opinion on people romanticizing Penn's character in You? 
I think that they're just romanticizing Penn Badgley. People are just fascinated with Penn, and they know he's not creepy in real life. It's all in their imagination, and he's a made-up character. Joe Goldberg is made up. But if there was a creepy real-life stalker, you wouldn't want that. And if you did, then you need some help. 
What's the craziest thing you did for love? 
I don't know! It makes me feel like a bad person when I haven't done anything crazy like throw a surprise party, even though I've had them thrown for me. I think, being thoughtful, like showing up at the airport? There's really nothing crazy! I mean, I've done crazy things in my own life, but for somebody else? Just being an honest and good companion, and someone who's trustworthy, I think that's good enough. And I've been that. 
ADVERTISMENT - CONTINUE READING BELOW ↓
What can you say about people's obsession with finding "The One" and going to great lengths for them, like Joe?
It's everybody's goal, for some reason. I was raised so differently. My parents are still together and they have an amazing love story, but for some reason, they also really instilled in me that the end goal personally isn't to find that one other person: It's to live the best life that I can. And if I find a partner who I can enjoy my life with and enhance my life, then great! But I would never have a life where I'm just trying to find the one to complete it. Like, I'm already complete. 
ADVERTISMENT - CONTINUE READING BELOW ↓
I think that people have an obsession with it, because to other people that's like their goal: To find that person, have that wedding and all that. I don't understand it, because that's not my goal. It's like a whole other conversation, but I'm just not very traditional like that. 
Will we see more of Peach in Season 2? 
The reason why people want there to be more Peach is because they empathize with her, and they see this softer side of her. They even understand why she is the way she is, to a certain degree.
You'll be seeing her twin sister Leachy. You never know! I just keep saying that. We could have a flashback, I mean, there's many different ways. We definitely did that a lot on Pretty Little Liars. And even on this show, Candace was in flashbacks. So, you never know. It'll be really fun. 
ADVERTISMENT - CONTINUE READING BELOW ↓
*Answers have been edited for clarity.
Follow Lily on Instagram.