Imagine watching your favorite Korean actor's movie in the cinemas, crying your eyes out from all the ~feels, not knowing that he's secretly in the audience watching how you react to the film. OMG, right?! That's exactly what our OG oppa Song Joong Ki did when his 2012 film A Werewolf Boy premiered.
In a video uploaded on YouTube by MMTG, the actor was interviewed along with the other cast members of the popular Netflix movie, Space Sweepers. There was a part when the award-winning director Jo Sung Hee was mentioned, and Joong Ki reminisced about his movie with him from years ago. ICYDK, Jo Sung Hee also led A Werewolf Boy!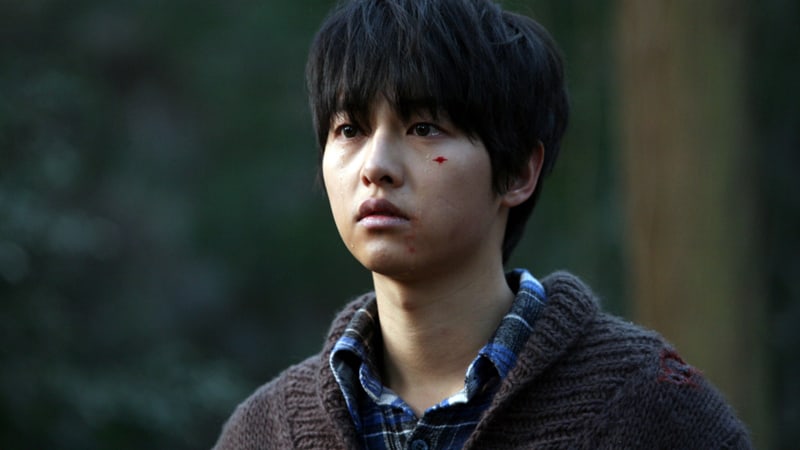 In the film A Werewolf Boy, Joong Ki plays the role of Chul Soo, a half-human and half-beast who was discovered by a girl named Suni (Park Bo Young) after she moved to the countryside. Suni was able to teach Chul Soo how to behave and communicate with people. He falls in love with her but like a lot of love stories—A Werewolf Boy will also break your heart. 
ADVERTISMENT - CONTINUE READING BELOW ↓
According to Joong Ki, he initially thought that it would be easy to portray the character of a werewolf because there were no lines involved but it turned out to be a complete struggle: "Since I had no lines, I thought it'd be very easy but actually, it was really hard. Taking away lines from an actor is very uncomfortable. It's like a soldier without a gun."
However, Joong Ki and the rest of the cast's efforts paid off because A Werewolf Boy did not just rake in awards, it was also a blockbuster hit! The movie garnered more than one million moviegoers five days after it was released, and eventually sold seven million tickets in the following days. Daebak. 
Joong Ki shared that he was so surprised about the film's success. He also revealed that while A Werewolf Boy was still out in cinemas, he went to movie houses to see how the audience would react to it: "I wanted to know the real response of the people watching A Werewolf Boy. So, I went to watch it like seven or eight times, disguising myself. Throughout the movie, I looked around to see their response. I felt a sense of satisfaction when I saw them crying." Awwww!
You can watch the entire video right here:
Apart from Space Sweepers, Song Joong Ki's latest project is the K-drama Vincenzo, which airs on Netflix every Saturday and Sunday.
Follow Hanna on Instagram