Taylor Swift is currently dating actor Joe Alwyn and the couple have done a very good job of keeping their relationship shrouded in mystery. But here's a timeline with as much information as we could find. It's been tricky, mind you.
May 3, 2016
So where Joe and Tay met isn't 100 percent clear, which makes the start date to this timeline a tad tricky, but, bear with us.
It's May 2016 and both attend the Met Gala. I know what you're thinking, this link may seem tenuous but Swift's new song "Dress"—where she sings: Flashback to when you met me/ Your buzz cut/ And my hair bleached—has provided some fans with the theory that the 2016 event could be significant.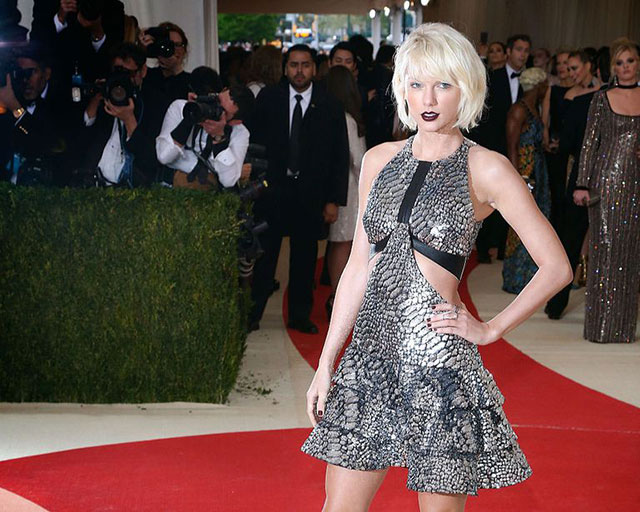 At the gala, Joe's hair is certainly shorter and Taylor sports a bleached blonde bob. However, this Met Gala is also full of other Taylor-related events like this video of her and soon-to-be boyfriend Tom Hiddleston having a dance-off to Beyonce's Crazy in Love.
Just a month later, she announces she has broken up with boyfriend of one year Calvin Harris, and weeks later she's pictured kissing Tom Hiddleston. Hiddleswift, as they came to be known, break up in September, 2016.
October 12, 2016
Taylor and a whole load of squad members (Is the squad still a thing?) including Lorde, Cara Delevingne, Dakota Johnson, and Martha Hunt attend a secret Kings of Leon concert in New York City. It's widely reported that Joe was also there and this is the place where the couple meet.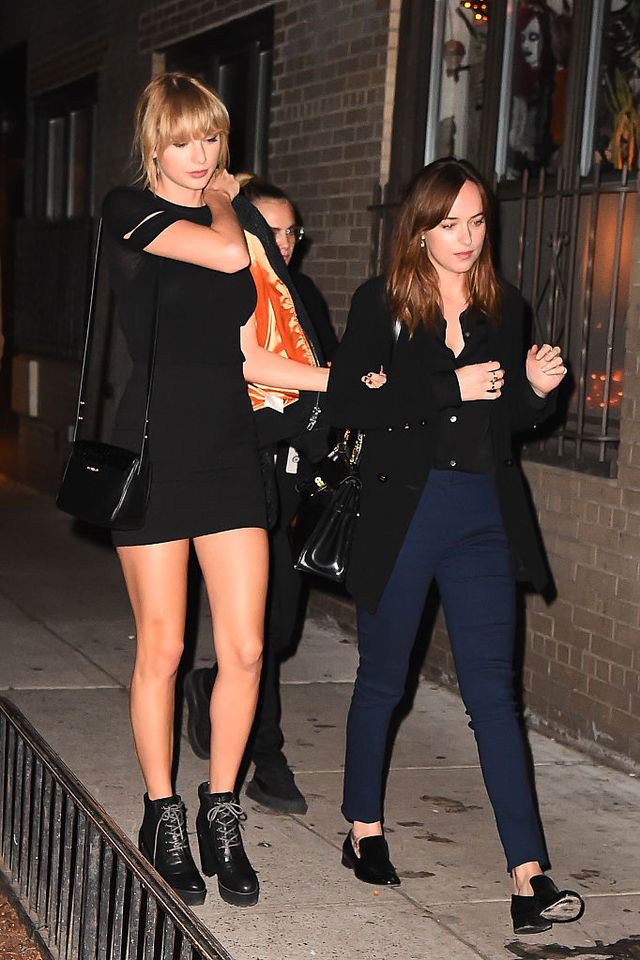 November 12, 2016
Taylor is papped going to watch a film with her mother and two of the Haim sisters, Este and Alana, in Los Angeles. And what film is this? Only Joe Alwyn's film Billy Lynn's Long Halftime Walk.
Coincidence orrrrr?
May 16, 2017
Unfortunately, we can't fill you in on what specifically happened over the six months between November 2016 and May 2017 because the couple were so darn good at hiding their relationship.
In May, the story of their relationship finally breaks. The Sun reports that the pair have been dating in secret for months (seems about right) and that Taylor is "besotted" with him.
They add that she's been spending lots of time in London with him, using wigs, scarves and hats as a disguise. "Taylor and Joe are the real deal, this is a very serious relationship," a source tells the newspaper. "Taylor has flown in via private jets and her security has made it a military-like mission to prevent her from being seen."
June 1, 2017
Aside from Taylor's Mission Impossible-style visits to the UK, Joe also flies to see Taylor in New York, according to E! News.
"Taylor and Joe have really tried to be on lockdown and have spent most of their time together in private locations where they could get to know each other without the pressure of a public relationship and people making judgement calls," a source tells the outlet.
June 2, 2017
E! News covers the story a day later, reporting that Joe has finally met ~the squad~.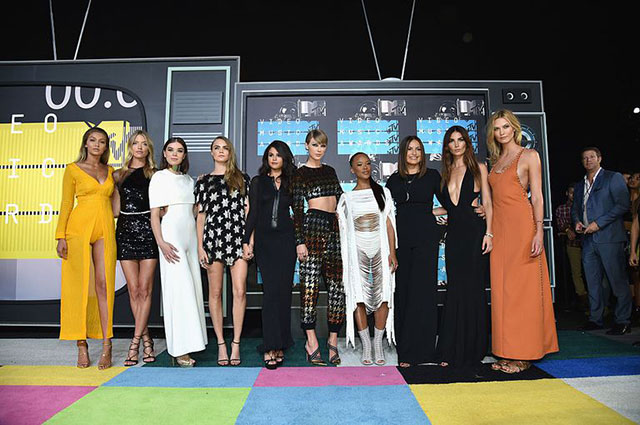 Apparently, Selena Gomez and Gigi Hadid, as well as other "close friends," had the pleasure of meeting and getting to know their pals' new beau.
June 5, 2017
Taylor and Joe are pictured together for the first time in a paparazzi shot. The two are seen enjoying coffee on a balcony in Nashville, Tennessee and Taylor is smiling. Cute! It's reported that Joe is there to meet the parents. Dun dun dunnnn.
Reports that Taylor is house-hunting in London—the city where none other than bloomin' Joe lives—also do the rounds.
July 26, 2017
Taylor and Joe are photographed again, however, this time they're really trying not to be. Pictures in the The Daily Mail show the couple wearing hoodies and keeping their eyes to the ground as they leave the singer's New York City apartment.
September 5, 2017
Taylor is back with new music and everyone is freaking out trying to guess who and what all the songs are about. After all, she's had a fairly eventful couple of years since her last album.
One song, "Ready for It," has fans divided over whether it's about Joe or her former love interest Harry Styles. But then according to Buzzfeed, Taylor reportedly likes a Tumblr post breaking down the lyrics, with all signs pointing to them being about Joe.
September 21, 2017
The secret transatlantic visits show no slowing down and they've reportedly been made easier by Taylor's famous mates.
According to The Sun, Cara Delevingne hosted the couple at her house in west London so that they could continue to keep the whole thing on the DL while visiting Joe's family and friends.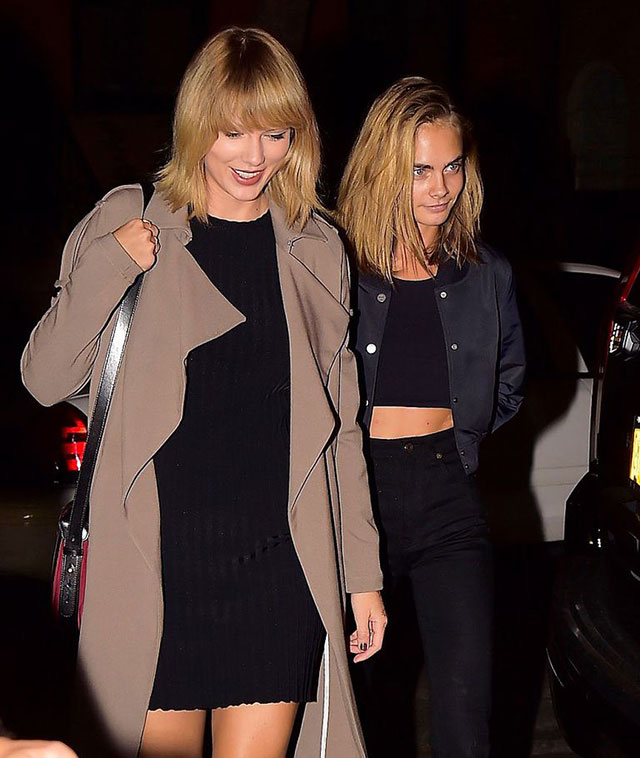 "She's trying to keep a low profile with Joe and staying with Cara has let her do that," a source told the tabloid. "They can even walk Cara's dog around the local park without anyone batting an eyelid."
October 20, 2017
Another song from Taylor's forthcoming album Reputation drops and it's called "Gorgeous." According to fans, Taylor told them the song was about Joe, not Calvin or Tom, during one of her secret listening sessions.
Lyrics include: "You should take it as a compliment / That I got drunk and made fun of the way you talk / You should think about the consequence / Of your magnetic field being a little too strong /And I got a boyfriend, he's older than us."
Firstly, Joe is British and Taylor is American which could explain the whole making fun of the way you talk thing. Secondly, her two previous boyfriends have been in their 30s and therefore older than Joe.
October 26, 2017
Taylor's BFF Ed Sheeran pipes up, telling a radio station he thinks Joe is a "good dude".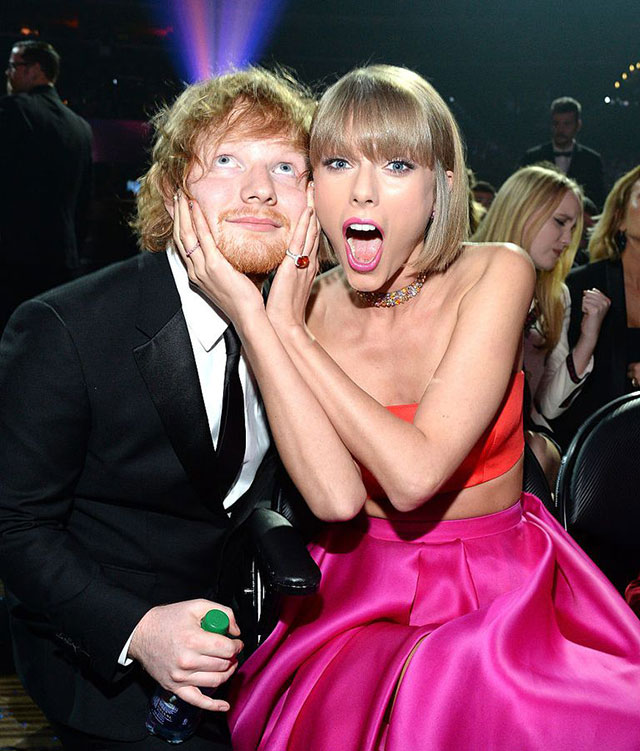 Giving the seal of approval, the "Shape of You" singer tells Capital London's Breakfast Show: "He's really nice. Really, really friendly, really good dude."
November 3, 2017
The fourth song from Reputation drops and this time it's "Call It What You Want," which fans think seems to include a mix of references about both the Kimye feud and Joe.
Here are the lyrics which might be about Joe: "My baby's fly like a jet stream/ High above the whole scene," potentially referencing that Joe is not as famous as some of Swift's previous love interests.
November 10, 2017
Taylor's 15-track album is released in full, proving plenty more lyrics for us to try and dissect. Among the many fan theories pointing to lines about Joe are a couple:
"Don't Blame Me:" "I've been breaking hearts a long time, and toying with them older guys just to play things for me to use / Don't blame me, your love made me crazy / My drug is my baby / I'll be using for the rest of my life"
The fact that Taylor seems to talk about the future in the last line indicates she's singing about a current relationship, i.e. her and Joe.
"Delicate:" "My reputation's never been worse, so you must like me for me / Dark jeans and your Nikes, look at you / Oh damn, never seen that color blue."
It's fair to say Taylor's public reputation took a beating during the time she met Joe, which she could be hinting at when she describes how the mysterious subject of the song was into her regardless. He also has very blue eyes, we might add.
April 6, 2018
Taylor is reportedly keen to buy a £30m (P2 billion) house in north London's Crouch End, so she can "set down roots" near where Joe and his family live.
A source told The Sun: "Taylor loves the UK and how she can live a relatively normal life without being disturbed," the source said. "Setting down roots is something she's thought long and hard about. She's set aside £30million (P2 billion) to find the house of her dreams, which she hopes to one day settle down in with Joe if their relationship continues to grow."
September 29, 2018
Taylor and Joe are spotted hand-in-hand heading towards the singer's New York City apartment together.
November 22, 2018
Would you believe it? Taylor is actually tagging Joe in a post on Instagram! It's all to promote his new movie The Favourite, which he stars in with Olivia Coleman, Emma Stone, and Nicholas Hoult. Taylor calls the film "phenomenal" and tells her followers to go see it.
December 11, 2018
Taylor managed to slip into the London premiere of Joe's move Mary Queen Of Scots, and no one noticed. 
While fans are desperate for their first official red carpet moment, a source told The Sun the singer didn't want to distract from her boyfriend's achievements. "Taylor didn't want to draw attention to herself because it was really Joe's night," the insider commented. "But she did want to support him and knew he would appreciate her being there, so she took steps to try and prevent anyone knowing she was there. It worked in the dark of the cinema but by the time they made it to the party afterwards her cover was blown."
***
This article originally appeared on Cosmopolitan.com/uk. Minor edits have been made by the Cosmo.ph editors.