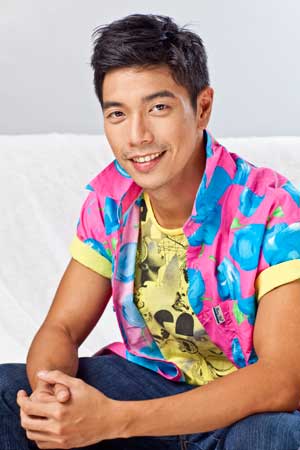 What really goes on in a typical guy's head? Well, we know you've been trying to figure that out for the longest time--what his mixed signals mean, why he won't make a move, and why he won't commit, among other stuff. Especially with Valentine's Day fast approaching, we know that those of you who are in an "It's Complicated" relationship status can't help but think about these things.

To give us some answers, that's what we talked to theater actor Reuben Uy about when we attended the media preview of Upstart Productions' Breakups And Breakdowns, where he plays Derek, a notorious playboy (the exact opposite of the character Mark, played by Joel Trinidad). The rom-com stage musical explores not only the heartaches that come with breaking up, but also the complications and intricacies that arise at the first stages of dating--the part where men, women, or both are known to play games.

While the now coupled-up Reuben isn't a playboy in real life (we hope!), he admits to having played "The Game," back when he was heartbroken.

We actually learned a lot about men and dating just by talking to this charming and eloquent thespian. We hope you would, too, so go ahead and read the interview. Don't forget to check out his photos with the rest of the cast of Breakups And Breakdowns after.

Cosmo: What is Breakups And Breakdowns all about?

Reuben: Basically it's about love and relationships and how we're all trying to deal with it. In my point of view, I think there's a magazine culture. I mean, you probably read magazines...

C: Yes. Cosmo, of course.

R: Yeah, Cosmo! There you go, you have your quizzes every issue, there's always a question [or article] on how to treat a guy or how to get a guy. Before, magazines used to be a girl thing. And now, there are men's magazines. So basically, everyone's trying to figure out how to fall in love! Right?

So, basically this play is a bit of a commentary [on love], and at the same time, it pokes fun at it. And it also appeals to you, to your own feelings about love. Because I think it's universal for us nowadays. It's harder than it was before. Before, it was arranged. Now, we all have to go out there and fight for it! And so, this play is all about that. The musical is all about that.

C: Could you tell us about Derek, the character that you play?

R: I play the playboy; the player who plays games until he finds the girl who can actually play the game better than he does. And then what happens is, at the end, they both decide [to stop playing games]. I [play] a guy who's pretending to be this macho, super whatever. But deep inside, I just want to fall in love. And the girl is pretending to play the slutty type but [she just wants] to have a boyfriend. And at the end of the day, we just want something simple and when you like someone, you just go for it. But the game is complicated and you have to play it in a certain way.

C: Do you see any similarities betwen you and the character that you play?

R: Oh yes, very much. I'm in a relationship now, but when I was heartbroken, I started playing the game. [That's] because I wanted to protect myself. And I think everyone's like that. When you want to protect yourself, you put up all these walls in the form of games. Like, I wanna test if you're really into me, if you're just here to get something that you want. Wink, wink; nudge, nudge.

And so, yeah, I think we've all been there. I think you've been there. I think no matter how much we deny it because of our Catholic upbringing, we're all face to face with it. Eventually,we're here to find the love of our lives. And in order to do that, we need to go out there and fight in the jungle.

C: What's the best lesson that you learned from the play that you could apply to your own relationship?

R: I actually didn't learn the lesson much [from the play], but more of, I learned more from life that I will apply to the play. And that's what I told you--that at the end of the day, we don't need the game. Or, fine, you play the game, if you're only "in like." But when you're in love, finally, you need to trust that person, you're gonna need to live a life with that person. Eventually, you're gonna need to put in your real self and not some fabrication of your imagination. Like, you're trying to imagine you're some star, you'll copy Brad Pitt's style. But you're gonna want to find someone who'll love you for you, and not someone who loves you for your appearance or for who you seem to be.

C: Do you have any dating advice for single Cosmo ladies out there?

R: When you're just dating, and you're still "in like"--and when you're "in like" you're still playing the game, right?--don't be too much into him. Leave [room for] mystery. It goes for both sexes. You have to leave [room for] some mystery because you wouldn't want to finish the whole book in one sitting. You want to enjoy it. Just enjoy the experience.

Catch "Breakups And Breakdowns" at Teatrino at The Promenade, Greenhills, every Friday and Saturday from February 18 until March 12. Check out Upstart Productions' website for schedules and ticket info.
Continue reading below ↓
Recommended Videos
952