The film adaptation of Jenny Han's To All The Boys I've Loved Before has us all feeling like we're 16 again, thanks to actors Lana Condor (Lara Jean Song Covey) and the Internet's new boyfriend, Noah Centineo (Peter Kavinsky).
The Netflix film tells the story of a girl who discovers that the love letters she's written to boys she secretly had crushes on (five of them!) were mysteriously mailed out. Not knowing what to do, she starts a fake relationship with one of her recipients to throw someone else off. 
One particular detail from the film has had us stuck: a photo of Peter and Lara Jean sleeping on a couch which is seen on LJ's phone lock screen. 
Continue reading below ↓
Recommended Videos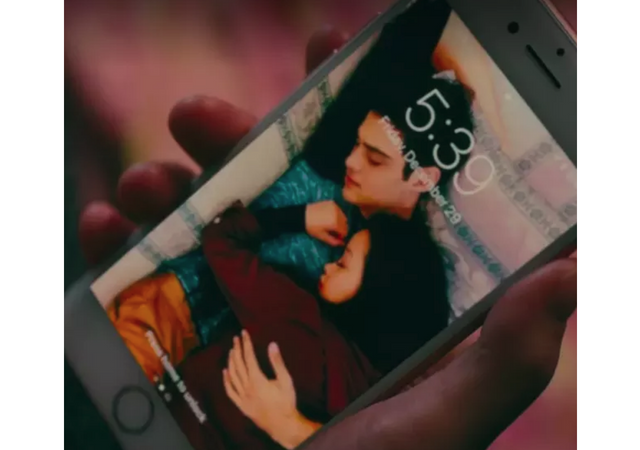 We first saw it on Jenny's Instagram when she announced the two leads: 
While this photo is totally adorable, we don't know where to place it in the film. What scene is it supposed to be from? Who took it? Was it Kitty? Maybe...Josh? LOL kidding. 
In an interview with ET Online, the film's director Susan Johnson revealed the cute story behind the pic and we're telling you, you won't be ready for this:  
"That was actually one of our crew members who took that photo. The two of them were in the green room on set at the high school location, in the area where we put the actors. They actually were sleeping on the couch in that room like that, so we just stood over them and took that picture and it's so friggin' cute." 
WHAT. They were actually sleeping. Like that. On the couch. Like that. And our whole world is jumping up and down and spinning the way Peter K did to Lara Jean in the cafeteria.
So do they really "hang out" in a hot tub like that? 
Does Noah also buy Lana her favorite yogurt drinks? Is everything from the film real? We can't wait to find out! 
Follow Lily on Instagram.