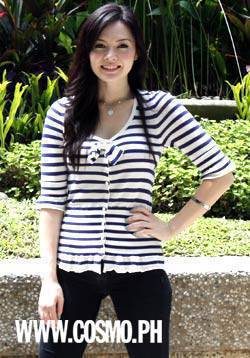 A long way from her
YouTube home videos
, Marie (pronounced Mah-ree-ay) Digby performed in Manila for the first time at the NBC Tent, The Fort last August 1. The YouTube sensation sang old hits like
"Say It Again"
and her cover of
"Umbrella,"
the song that shot her to fame, along with songs from her second album
Breathing Underwater
.
Just before her concert, Marie talked to Cosmo about shower songs, Tori Amos, and falling out of love.
1. Her pre-performance ritual
If my sisters are around, we like to pretend box and wrestle (laughs). That seems to get rid of the nerves. I like to watch other people's concerts before I go onstage. One time, I popped in an Incubus DVD and I was watching them literally moments before I went onstage. And of course, we huddle up with my musicians and hope for a good show.
2. Her inspiration for songs
When you're happy, the last thing you wanna do is sit down and grab a guitar. You wanna go out and celebrate. But when you're heartbroken, it kinda makes sense to turn off the lights and go to the piano and sob while you're writing the song. Definitely, heartbreak tends to be the more inspiring emotional state.
3. Songs she loves to sing while in the shower
(She recorded a song in her bathroom once.)
Probably songs that I would never sing in public like Whitney Houston and Christina Aguilera belter songs. You know, crazy vocal gymnastics which I don't have but it's fun to pretend. [nextpage]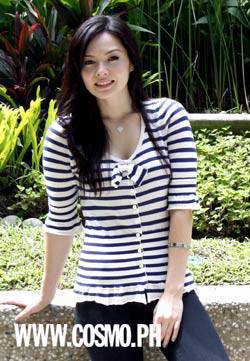 4. Her dream collaborations
I would really like to work with Tori Amos. Linkin Park would be cool; I dunno if they'd like me but I do like them very much.
5. What she would be doing if she wasn't in the music industry
Hmmm. Wow, I'd be really depressed. I'd just be living in the woods, making animal carvings (laughs). I would be like a scary, homeless person. Music is really it for me. I really love astronomy so when I'm crippled and can't sing anymore, I wouldn't mind looking at telescopes and studying the stars.
6. What she's like when she's in love
Really ridiculous. I don't like myself very much [when I'm in love]. I lose focus (pauses, sighs, laughs). It's just not healthy for me. I'm trying to train myself out of love right now. It's hard but I'm trying to shut the doors one by one. Stop. Thinking. About. Him. Not. Good. For. You. Doesn't. Feel. The. Same. Way. About. You. Get. Over. It. It's hard because sometimes the mind and the heart are not connected. Chocolate chip cookies are my heartbreak comfort food.
7. The kind of guys she digs
Ones that aren't good for me (laughs). I always go for guys who are go-getters, people who are really passionate and driven. I like people who have accomplished a lot and aren't set back by self-consciousness or doubts. [nextpage]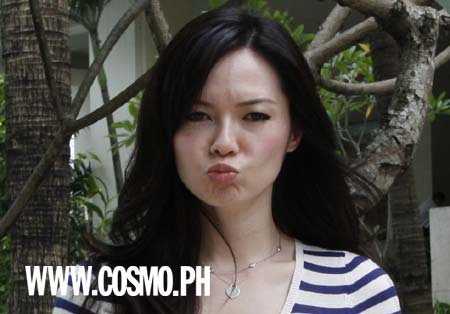 8. Deal-breaker for her

Rudeness.
9. Her beauty rituals before going to sleep
It takes too long to go to sleep; sometimes, I just wanna skip it all. Brush, floss, take my contacts out, take my jewelry off, wash my face, moisturize.
10. Her favorite fashion item
Boots. I live in boots; I don't care what the weather is
(laughs)
. I love boots.
Continue reading below ↓
Recommended Videos