Our ultra-pleasurable ideas are simple, inexpensive, and designed to give all five of your senses a jolt. Oh yeah…and they make you feel like a vixen.

1. Stash an oil burner with a citrus-scented essence in your room. This scent uplifts your mood after a tiring day at work.

2. Put on a sleeping mask after slipping into a warm, steamy bath. Eliminating one sense helps to heighten another, so you can completely focus on the feel of the soothing water enveloping your whole body. Warning: Don't try this if you're feeling sleepy—passing out in the tub is never a good thing.

3. Stick a bowl of grapes in your freezer. When you come home at the end of a humid day, let each
one slowly melt in your mouth.  

4. Pop in a sexy song on your player, dim the lights, and work your hips in a sultry striptease like no one is watching. And, um, no one is.

5. Give yourself goose bumps by sweeping a new, clean toothbrush over the curves of your neck and collarbone.

Continue reading on the next page.[nextpage]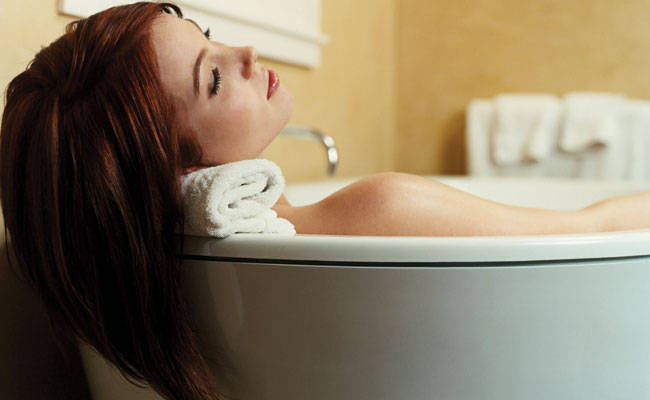 6. No more waking up to a shrieking beep, beep, beep. Set your iPod to rouse you with a song you associate with a piping hot sexual encounter or a super relaxing vacay. Good morning!

7. Some fitness experts say to do push-ups and sit-ups when you first get out of bed. Instead, stay put and work your girl muscles (a.k.a. Kegels) for a few moments.

8. After a Brazilian, slip on silky undies. The feel of the fabric against your bare, supersensitive skin? Amazing.

9. Chill your lotion in the ref, and rub it onto your skin before bed.

10. Come early evening, strip down and check yourself out in the mirror. The 60 minutes before the sun sets is referred to in Hollywood as the magic hour because of the flattering light that's cast at that time.

Continue reading on the next page.[nextpage]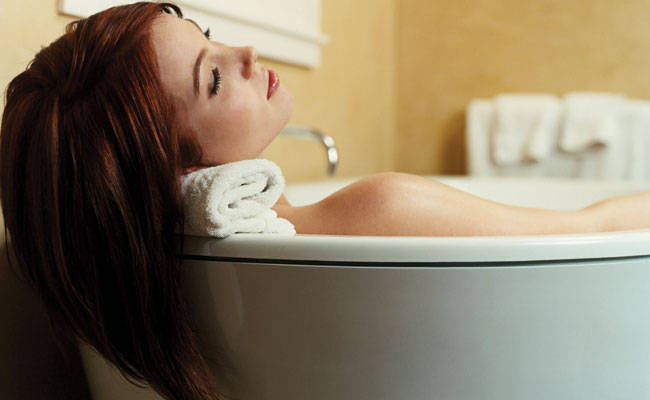 11. Snap erotic shots of yourself, and stow them away for your own enjoyment. When you're 80, you can look back and remember how smokin' hot you were.

12. For those crazy-weather days when not even a cold shower is enough to cool you down after a tough workout, shimmy into a nice, crisp robe that's been chilling in your ref for an hour or so.

13. On a night when you know you'll be dining solo, instead of settling for something that comes precooked in a can, treat yourself to a top-notch meal, like a pan-seared fillet.

14. On your next spa visit, position your bum in front of a jacuzzi's jet for a "massage."

15. Splurge on some really good ground coffee beans, and savor a cup in your own kitchen before you walk out the door in the morning. Tastes so much better when you're not in transit, doesn't it?

Continue reading on the next page.[nextpage]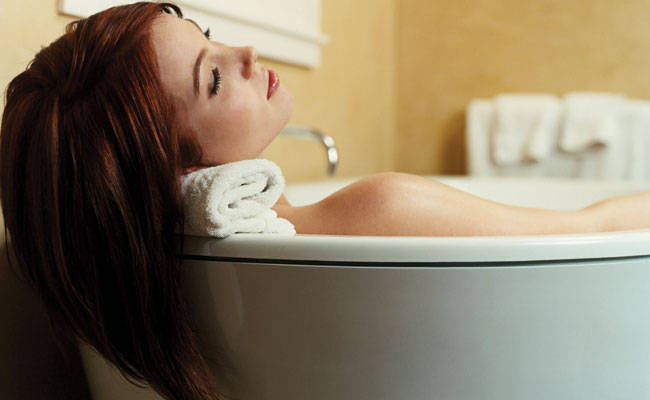 16. Work a drop of peppermint oil through your tresses while in the bath or shower. Every time you move your head, you'll get an invigorating whiff.

17. Change up your perfume— and the locations where you spritz it—daily. Our noses easily become accustomed to the same smells.

18. Take a baking class so you can whip yourself up a batch of chewy, choco-chip cookies anytime you crave it.

19. Dangle your foot above a sprinkler, and let the strings of water tickle your heel.

20. Create a cozy, relaxing nook in your place where you can go and just zone out. Fluffy pillows, a comfortable chair, and lots of light, soothing colors will help give the space a calm vibe.

Continue reading on the next page.[nextpage]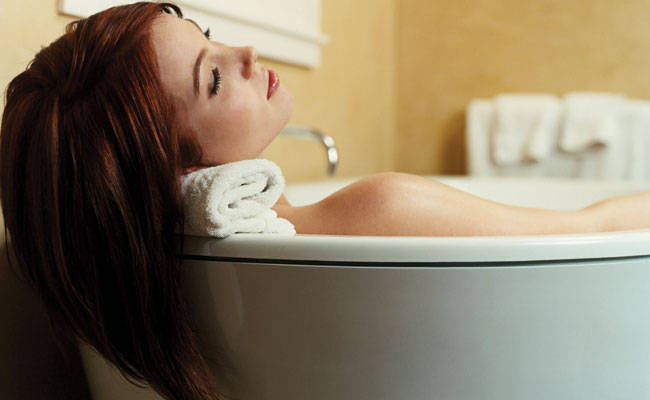 21. Use the same scent for your body wash, lotion, and fragrance. You'll love how the scent lingers on your body for hours.

22. Buy yourself a copy or two of the steamy romance novels on the bookstore shelf. At home, strip down to your skivvies and read.

23. Give yourself permission to enjoy a Hollywood blockbuster DVD that contains a tummytingling sex scene. Two of our faves? Josh Hartnett and Kate Beckinsale in Pearl Harbor and Brad Pitt and Rose Byrne in Troy. We are every bit as eye-candy hungry as our male counterparts.

24. For a constant reminder of your sexpotness, arrange your closet so that your raciest pieces—
anything red or animal print—are front and center.

25. Add a pinch of the spice saffron to a burger or bowl of soup. New research proves that it can turn you on.
Continue reading below ↓
Recommended Videos