Looking your best means something different for each woman, especially when it comes to her wedding day. Some do whatever it takes to get a slimmer figure, while others prefer to highlight their assets without pursuing any drastic changes before The Big Day.
The truth is, there is no right way to do it. You can lose weight for your wedding if you want, or you can choose not to if you love your body just the way it is. In short, you do you! Take it from these women from the bride tribe of WeddingsAtWork.com.
These six Pinays share what really motivated them to shape up before the wedding and what struggles or rewards they encountered along the way:


Ann E. Villanueva, 28, got married on January 18, 2018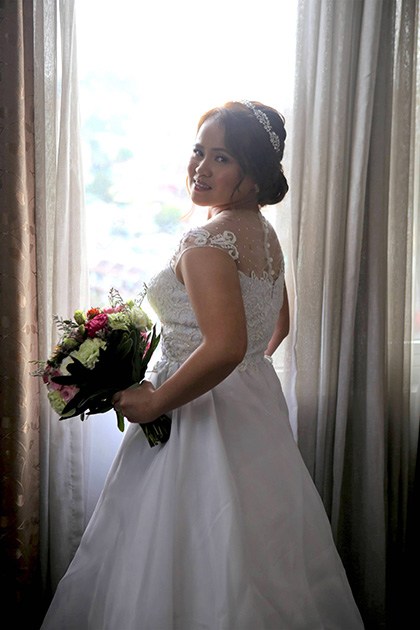 Continue reading below ↓
Recommended Videos
"I came from a family [with a lot of overweight people]; I grew up chubby and flabby. I've tried many ways to lose weight. While planning my dream wedding, I thought it was the last chance to [lose those extra pounds]. Coincidentally, I spoke to an obstetrician in preparation for conceiving, and my O.B. told me that that I need to lose weight to regulate my menstrual period.
I only started my seven-month diet regimen when I finished my vacation in the Philippines last May 2017. I enrolled at a gym and went swimming for an hour—two to three times a week. I modified my meals—less carbs, and more oats, yogurt, and nuts. I researched and read on how to change my lifestyle and routine towards my goal. There were drawbacks when I had cravings, and I almost quit because I didn't see any changes. From 69 kg, I went down to 63 kg, but it didn't look like much, and it was frustrating. But I kept on going!" 
Julianne Fernandez, 31, got married on November 29, 2017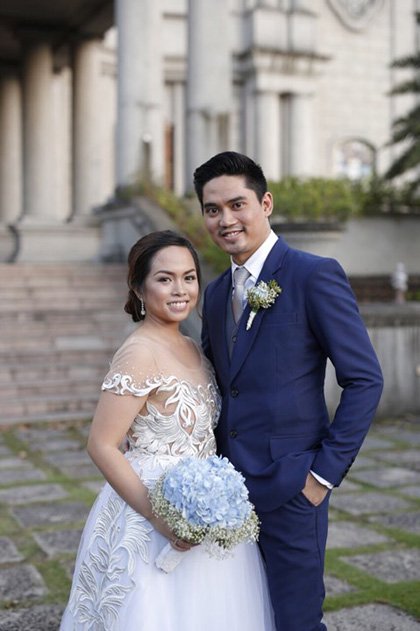 "One of the reasons why I wanted to lose weight was to look and feel amazing wearing my wedding dress. But I also wanted to have a healthier lifestyle. I had a difficult time and tried all sorts of diets and exercise. I lost a pound, but I ended up gaining it back after a week. I almost lost hope until I tried intermittent fasting and a ketogenic diet. I also exercised at least two times a week for less than two months. To be honest, I was too lazy to exercise, so for me, having a trainer also helped in the process. I initially weighed 129 lbs at 4'11", and on our wedding day, I dropped down to 118 lbs. It really takes a lot of patience and discipline. A word of advice: Never do it two months before the big day or you'll end up like me, wearing a very loose wedding dress!" 
Fae Guevara, 27, got married on July 15, 2017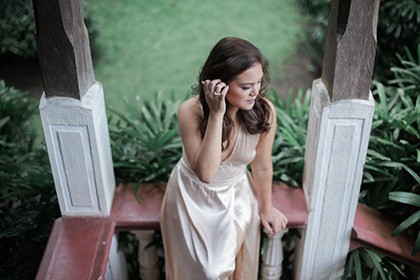 I started working in my new company the same time I got engaged. I think I weighed around 63 to 65 kg then. I wanted to look good for my wedding pictures. I went to Zumba and dance classes one to two times a week. No snacks in between meals. No chocolates or junk food! My breakfast was oatmeal; lunch was half a cup of brown rice; and dinner, ulam or soup lang ata minsan. Tapos water ako ng water nung umpisa. Then, I had cheat days during weekends kapag magkasama kami ni TJ. I didn't feel deprived because I still ate. Binawasan ko lang talaga. Tapos siyempre, pampataba ang salty and sweet food kaya iniwasan ko talaga. Before the wedding, I was at 55 to 56 kg siguro, or maybe 57 kg. Now, I'm back to 59 to 60 kg. 
Angel Calalang-Dy, 32, got married just on February 4, 2018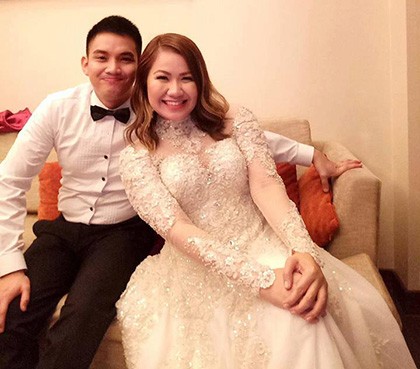 "I decided to adopt a healthy lifestyle when my boyfriend of eight years proposed to me on Valentine's day. I was depressed because I gained a lot of weight over the past six years. My self-esteem and confidence level was really low. It was a wake-up call for me to really change my lifestyle not only for the wedding but for health reasons, too, since I am not getting any younger. I enrolled at a gym on March 2017 and exercised three to four times a week. I reduced my rice, junk foods, soft drinks, and sweets intake. It was a big step, a sacrifice, and an ultimate test of self-discipline. I had cheat days during weekends and bounced back during weekdays. The sacrifice was all worth it. In the end, I lost 35 pounds. I was a 'bridechilla' because all the stress caused by the wedding preparations was transformed to happy hormones when I did cardio and strength training at the gym. But if there is one thing that really helped me successfully endure all the wedding preparations and weight loss journey, it was the love and support of my fiancé and now my husband, Fred. We became closer because he was my gym buddy and constant motivator to pursue and continue to diet and exercise not only for the wedding but to attain a healthy and clean lifestyle. It's not only for myself but for our future family."
Flor Anne Boncay-Catarata, 26, got married just on February 8, 2018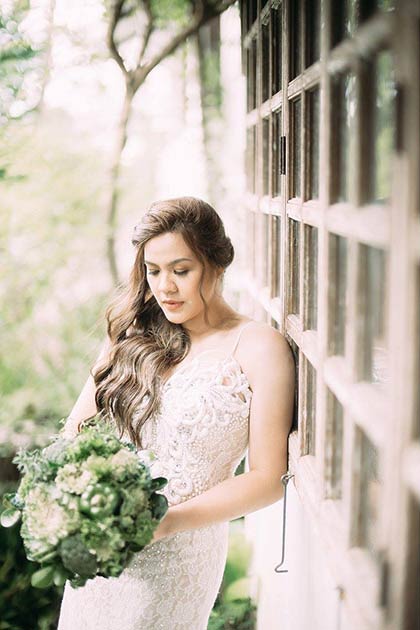 "I started at 64 kg, and I didn't lose any weight. I lost fat and gained muscles instead! Indeed, true love goes beyond the physical. No fad diets, no skipping of meals, no slimming coffee or pills. Looking healthy is different from feeling healthy. This progress is pure self-discipline and determination. I lost fats but I didn't lose energy. In fact, it improved my stamina even more! Everybody knows what a healthy diet can do, and until now, I don't just reduce what I eat and simply exercise. I eat and train! I eat five to six times a day and train 30 minutes per day for three to four times a week. I stayed away from instant foods and focused more on fresh ingredients. There's no shortcut. A day of binge eating won't make you fat just like a day of eating healthy won't make you slim."
Jacqueline Tan, 38, got married on Dec 22, 2005.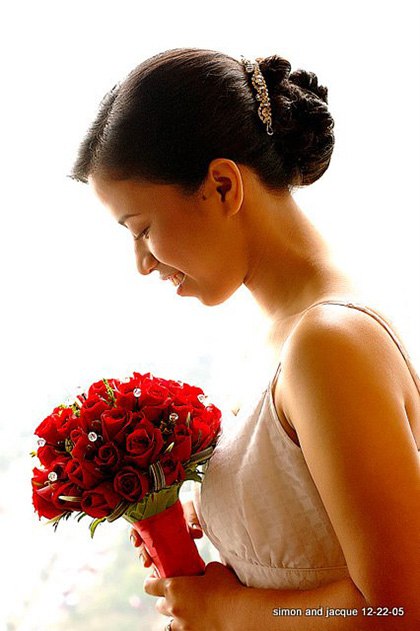 "I just wanted to be able to fit ito free-sized clothes again. That was my initial goal. But it evolved to realizing that I want to be in control of my body, take care of it more, so I can have more energy to take care of my family. Thus, I added exercise and food portioning [into my routine] for six months, six days a week. I didn't deprive myself. I still ate desserts because I loved cakes and ice cream. I took out soda and refined sugar, and I lessened my rice intake [and eventually omitted rice altogether]. But I chose a 'no-rice' diet because I can feel full without rice. What I couldn't take out is sweets, so I still had them. After six months, I maintained the weight loss with exercise (three days a week). I just followed video workouts at home. I started at 168 lbs. Now I'm at 133 lbs. My new goal is to lower body fat from 37 percent to 27 percent."
On the other hand, these four women share why they didn't pursue weight loss or a radical fitness routine before their big day:


Rachelle Bantique-Labbao, got married on October 20, 2017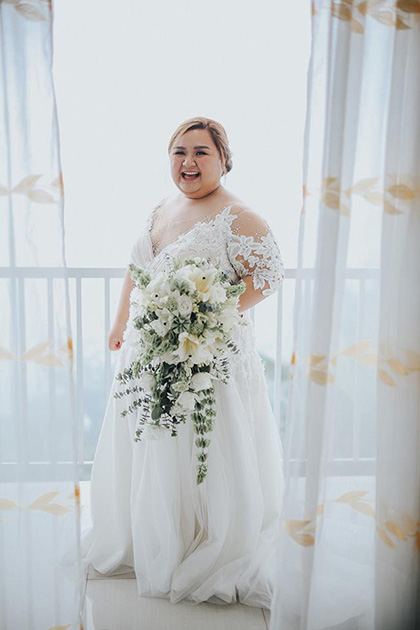 "I initially decided to lose weight for the wedding, but after about a month of working out and dieting, I got injured. While I was nursing my knee at that time, my fiancé held my face close to his and said: Tigilan mo 'yang kalokohan na 'yan. I loved you then, I love you now, and pakakasalan kita in whatever shape or form.' Siyempre, he made sense dahil although exercise makes me happy, diet makes me grumpy. Ang lungkot ko noon, and ayaw ko naman maging malungkot on my wedding 'no! But just because I am happy the way that I am, it doesn't mean I am just going let myself go. Siyempre, now more than ever, I want to be healthier, have kids, build a family and take care of them for as long as I live and I want to do everything in my power to achieve that."
Elda Almario, 30, got married on August 1, 2016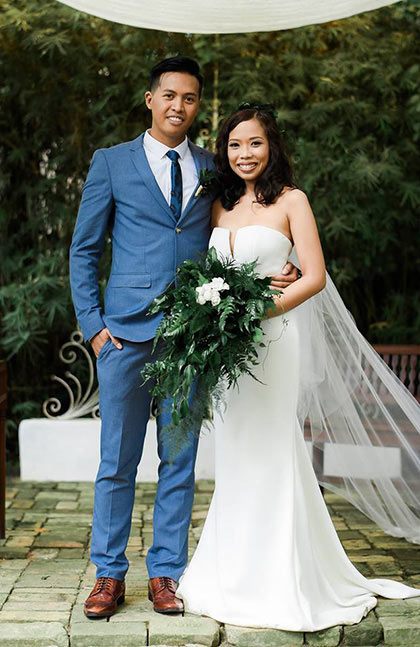 "Physically, what was important to me was to maintain a healthy and active lifestyle, with or without my wedding coming up. I trained for triathlons, marathons, and mixed martial arts in the past. I also maintained a regular yoga practice. With proper nutrition, training, and rest, my body functions in its optimum, so I didn't see any reason to adjust for a specific day. Generally, the goal should always be the sustainability of healthy lifestyle practices. If we are happy, and we can do whatever we want, I don't think we should ever be pressured to fit an expected body type."
Fayezah Limba-Poblete, 30, got married on January 9, 2018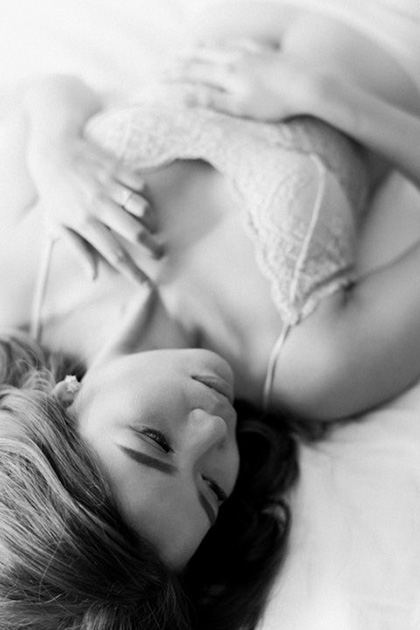 "I didn't go on a diet or made lifestyle changes during my wedding prep. With all the events over the holiday season before I got married, I couldn't even resist all the temptations! But also, I just love my body and myself just the way it is. My hubby does, too! I even had bridal boudoir during my wedding day."
Cherry Geronimo-Henson, 32, got married on February 8, 2017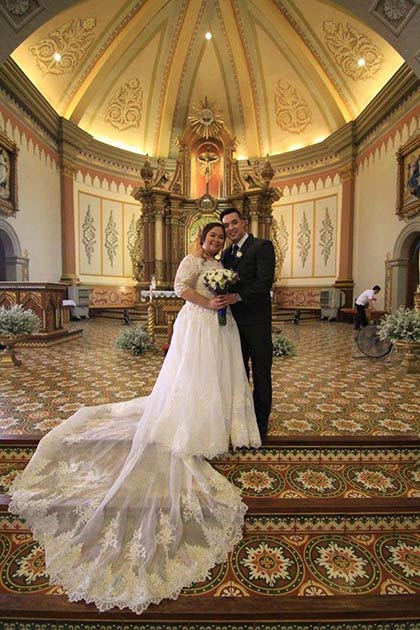 "At first, I wanted to lose weight to boost my self-esteem and to look good while wearing my wedding gown. I went to the gym three to five times a week a few months before the big day, but I did not follow any special diet. I was working full time, minsan 8 a.m. to 8 p.m. ang duty, then gym pa sa gabi, plus planning the wedding at the same time. Napagod na ako. But what made me decide talaga to not wear myself out was my husband. He reassured me that I'd look beautiful to him no matter what the weighing scale said. Kilig! But since we got married, I'm somehow trying to get healthier as preparation for when we decide to get pregnant. My husband loves me for who I am, bilbil and all, and he helped me love myself, too. I learned to love my curves, kahit madami pa sila."
Follow Ginyn on Instagram.