You will need: a yoga or pilates mat + (2) 5-10 lb. dumbbells + (1) 10-15 lb. kettlebell

A few reminders:

Stretch BEFORE and AFTER the workout.
Keep your abdomen engaged at all times.
Grip the dumbbells and kettlebell properly to avoid accidents.
Don't forget to BREATHE. 
Ready? Let's start!

1. Dumbbell Curls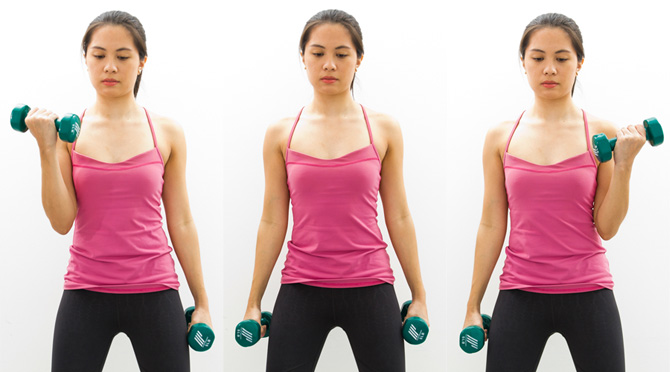 Stand with your legs shoulder-width apart and knees slightly bent. Position dumbbells on either side of your body and lift one arm towards your shoulder, then do the same for the other.
 
2. Kettlebell Swing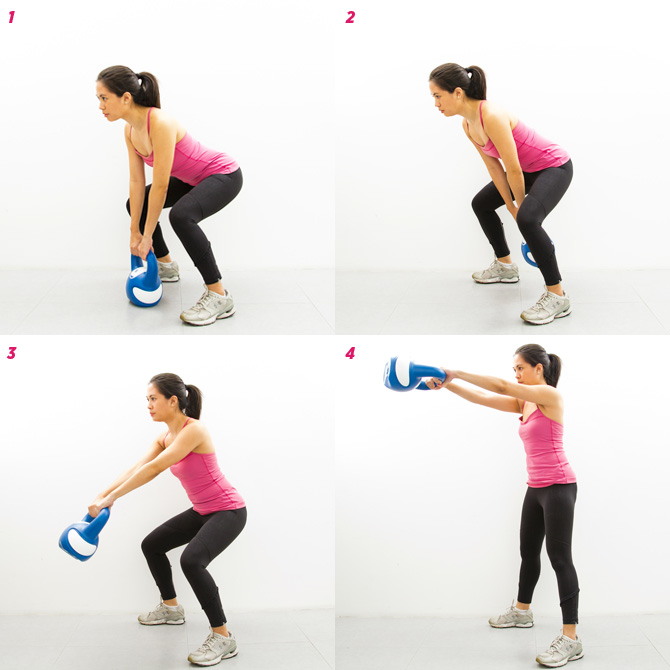 Hold the kettlebell between your legs, then bend your hips back until the kettlebell is between and behind your legs. Squeeze your glutes to extend your hips, then swing the kettlebell up shoulder-length. Repeat.

3. Forearm Plank




Face down on the yoga mat with your forearms and hands flat on the ground. Balance on your toes and keep your legs above the mat. 

4. Plank Front Raise Rotation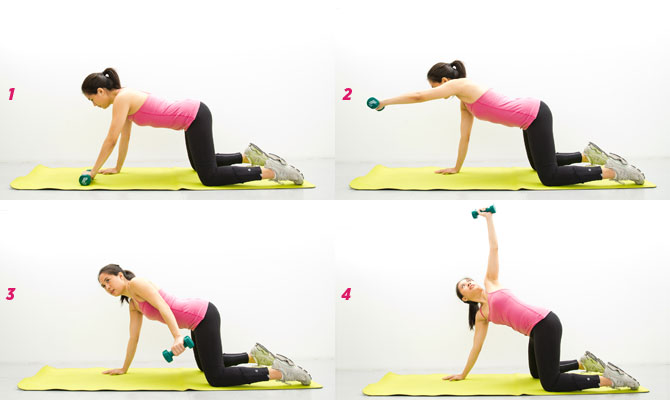 If the plank is too difficult, start in a lady push-up position. Raise one arm in front of you, then rotate it upwards towards the ceiling.

5. Side Plank Reach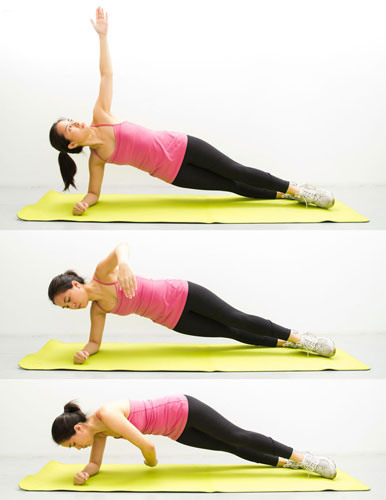 Position your body sideways and rest one forearm and foot on the mat. Raise the other hand up to the ceiling and slowly reach down under your body to complete the rotation.

More on the next page![nextpage]
6. Push-ups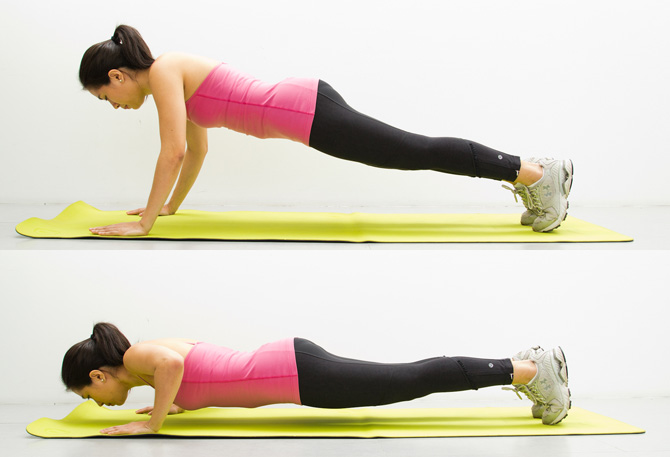 You can opt to do girly push-ups if you're a beginner.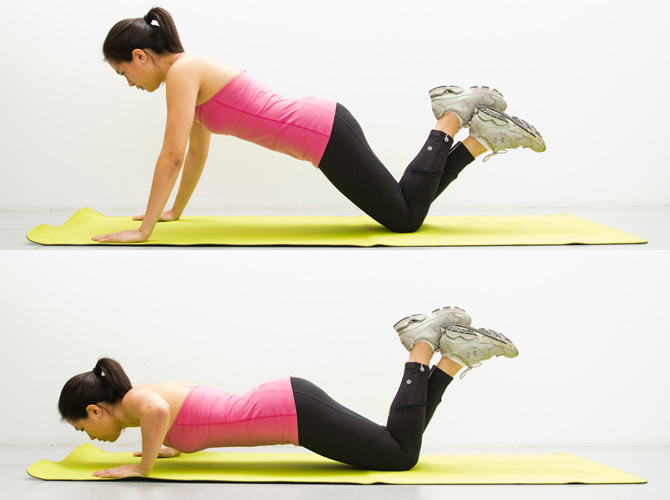 7. The Windmill
With a dumbbell on each hand, stand with your legs shoulder-width apart. Bend sideways as if to touch your toes while your other hand reaches up to the ceiling, then switch.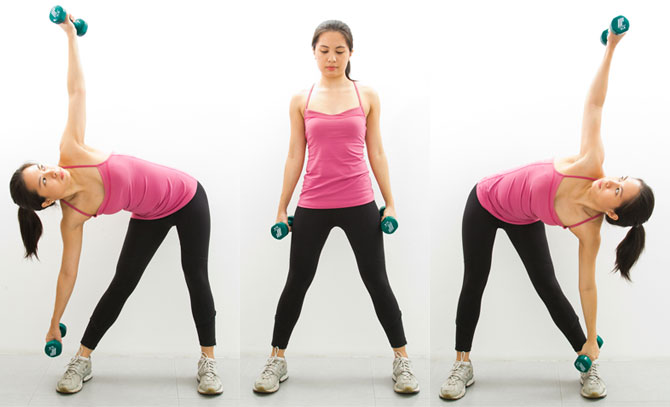 8. Kettlebell Deadlift
Pick up the kettlebell and hold it close to your chest. Bend down to do a squat while holding the kettlebell in the same position, then stand. Repeat.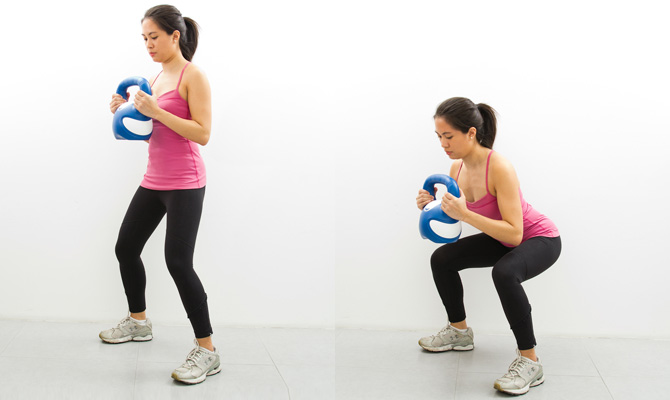 9. Dumbbell Squat
Hold the dumbbells on either side of your body and squat.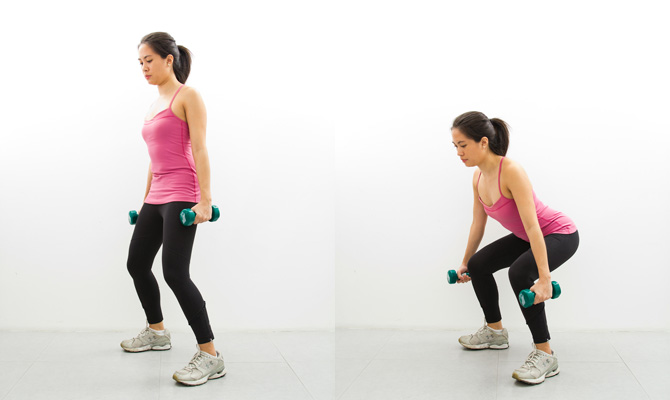 10. Shadow Boxing (with dumbbell)
Stand with your legs shoulder-width apart and knees slightly bent. Hold one dumbbell in each hand and alternate punches.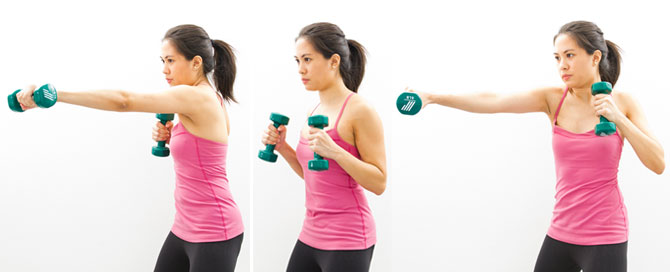 Continue reading below ↓
Recommended Videos