Whether you're itching to give your home a much-needed update or you're getting ready to move into your new place, Real Living Space: The Ultimate Shopping Design Showhouse at the Magnolia Residences (beside Robisons Magnolia Mall) is where you want to be this Saturday (October 25) and Sunday (October 26).  
Real Living has partnered with a team of amazing interior designers and decorators who came up with six to-die-for (and Pinterest-worthy) rooms at the Magnolia Residences.
Awesome news: you will also have the chance to buy the pieces featured in each room! 
BONUS: There'll be fun DIY and home improvement workshops on both days featuring only the best designers and brands in the Metro. Here's the list of workshops: 
Continue reading below ↓
Recommended Videos
October 25, 2014 (Saturday)
The Art of Color
Speakers: Nippon Paint
1:00 PM-2:00 PM
The leader in Asian paints shows us how to jazz up our home with Momento and other special paint effects.
Coast-to-Coast By Habil Crafts
2:00 PM-2:45 PM
Learn how to design your own coasters—perfect as gifts or personalized functional décor.
A very DIY Christmas By Artwine Felt Products
Speaker: Beam Mariano
3:00 PM-3:45 PM
Beam Mariano teaches you how to make DIY Christmas ornaments in time for the holiday season!
Pet Friendly Tips By ADA Philippines
Speaker: Justin Uy
4:00 PM-5:00 PM
Justin Uy of the famous nature aquariums of ADA Philippines dishes out tips and tricks on how to live comfortably well with pets—furry, scaled, or otherwise!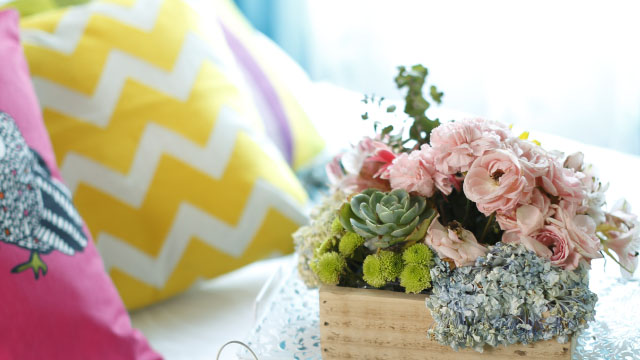 October 26, 2014 (Sunday) 
Sucker For Succulents 101
By: Jeng Cabrera
12:00 NN-1:00 PM
Jeng Cabrera of Sucker for Succulents will share tips on how to make your own terrarium.
Sewing Fun By Craft MNL
Speaker: Nikki Abelardo
1:00 PM- 2:00 PM
Nikki Abelardo of Craft MNL will teach basic embroidery. Even beginners can whip up beautiful needle-and-thread creations in no time!
Printmaking Basics By Hocus
Speakers: Andrei Salud and Sheina Tobias
2:00 PM-3:00 PM
Andrei Salud and Sheina Tobias of Hocus will demonstrate the art of screen printing. Participants will get to take home screen printed postcards, too!
Papercutting Is Love By HandsLovePapers
Speaker: Ebony Paguia
3:00 PM-5:00 PM
Ebony Paguia of Hands Love Papers will teach the basics of paper-cutting, a fun and dainty craft you can do with simple materials.
Find out more about Real Living Space at the Magnolia Residences here: http://www.realliving.com.ph/rlspace/