Together with her close friend and partner, AJ Osmena, 25-year-old Arvin Alvarez started Ilya, a sex toy shop that's all about positivity, exploration, health, and education. They launched last year as an online store, but have recently opened their first physical shop on Maginhawa St.
What was your life like before you started your own business?
I was in corporate for about three months before I got a job as a communications and branding associate for a social enterprise, which was more up my alley. It was a small company so I was in charge of all things branding and communication. It was difficult, but I enjoyed having so much freedom; it's also how I became so confident in my abilities.
What made you decide to sell sex toys?
It started when I met AJ! We became close friends and the whole idea was born from a dare, tbh. We were doing this 30-day challenge and I lost, so my consequence involved going to a sex toy shop to buy something. I literally froze when I got there. AJ teased me, "O, bakit di ka makatingin nang diretso?" I didn't know much about sex toys and it just felt like I was bombarded by too many things. As petty as it sounds, it just wasn't as fun as I expected it to be.
Continue reading below ↓
Recommended Videos
Later on, AJ joked about creating the best sex toy shop ever, one that fits our expectations. Apparently, he was serious.
Tell us more about Ilya.
AJ and I founded Ilya. We're pretty lean. We've had a few part-time staff members, but now that we have a physical store, we're definitely going to expand. I'm in charge of the brand and marketing efforts—maintaining the personality we've built, determining what works for the brand and what doesn't, etc.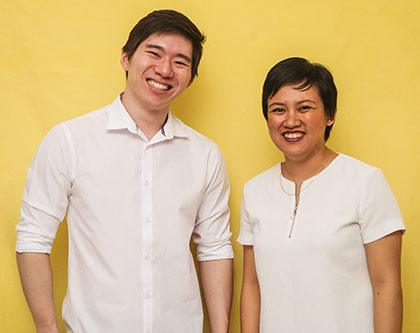 AJ covers the more technical things including operations and sourcing. In my head, he's the great enabler. Our crazy ideas would still only be ideas if it wasn't for him. We're not as harmonious and efficient as a team as some people might think, but the chaos has worked out in our favor so far! LOL! 
What was your starting capital?
I personally had to invest P500,000 into the business when we started the online shop. In retrospect, I should have saved up more because once you resign for your start-up business, you savings go pretty fast. My partner and I used our personal money to start the online shop and for the physical shop, we got investors. Before our investors came in, though, I was very cautious about our spending—even the smallest expense stressed me out! 
What steps did you take to launch Ilya?
We had a lot of learning to do. We researched products, the market, and our competitors. We also consulted people because we wanted to understand the academic and religious points of views when it came to sex toys; it's crucial if we really want to eradicate the stigma behind them.
After that, we looked for suppliers to build the brand and the site. Then, we flew to China to meet with the brands, and that trip really changed everything. Imagine this: From the very first sex toy shop we visited all the way until the opening of the online shop, it took us nine months. And I still had my full-time job so…I was exhausted!
How does your family feel about you being in the business of sex toys?
I come from a Christian family so that was an interesting conversation to have. I had a full-blown presentation pitch when I first told them about our business. It tackled things that I anticipated they would be concerned about and it ended with a strong parting statement. My dad, being the playful one, was totally supportive; plus, he saw the business opportunity right away. My mom was a bit more cautious at first. She wasn't totally against it but she shared her hesitations and concerns. Soon after, she became one of our first marketers, bringing her friend over to look at our products!
I'm lucky to have parents who trust me enough to let me explore my interests. It wasn't easy. It took them a while to understand that I really didn't fit the corporate world despite the stability it promised. 
What makes you different from other sex shops? 
We focus on the intimacy and sexual health aspects of the industry. With this approach, it allows people to be more open about exploring their curiosities. Education is key. In our opinion, not talking about sex because it's "taboo" just makes everything more dangerous.  
In terms of our products, we offer good quality toys as well as excellent service. We aren't creeps about it, LOL! Our sex shop isn't hidden—this was a conscious effort because we don't want people to be ashamed of their sexualities.
Just out of curiosity, do you have side hustles?
Haha, yes! In a perfect world, Ilya would be our only source of income, but we're not there yet. We're babies. Apart from Ilya, I'm also a co-owner of Balay Bagnet, a food stall in Maginhawa. 
Follow Ysa on Instagram.