If you've been to S Maison at Conrad Hotel or keep up with the latest restaurant openings, you're bound to have heard of Bijin Nabe by Tsukada Nojo (a Japanese hotpot that boasts of health and beauty properties with its fresh ingredients and collagen broth) and Epilogue (a bistro that focuses on Japanese European cuisine).
What you don't know about these concept restaurants with their gleaming reviews and mouthwatering dishes, is that they're run by a 25-year-old Pinay named Alyanna Uy.
Cosmo.ph chatted with Alyanna about how she got to managing two restaurants—three, before the year ends—and being the president of a restaurant group, no less.
Tell us how you got into the food business.
Growing up, I was lucky to have the opportunity to be exposed to good food. My grandma is an excellent cook and baker, and my family took me with them to all their travels. Food has always been my passion. And one of my most favorite parts about traveling is exploring the different cuisines and experiencing different cultures through food.
Entering the food business was a mix of passion and the right opportunities. I've been fortunate enough to have had the chance to dine in a lot of interesting and unique concepts abroad, and to have met the right people and partners. Those, coupled with the desire to bring back the same flavors and share the same culinary experiences to Filipino diners, helped me and my partners bring my passion to life.
My family's first venture into the restaurant industry was with Hokkaido Ramen Santouka.
It's a franchise from Hokkaido, Japan; we opened the first store in 2012 at Glorietta 4. Since then, we have opened several branches in Metro Manila, and even branched out to Pampanga, Laguna, and Tagaytay. We also brought in Mochicream Café, and started a few home-grown concepts like Katsu Sora and Siam Thai.
For Bijin Nabe and Epilogue, talks and conceptualization started about three years ago, but we didn't open until November 2016.
Did you know Bijin Nabe and Epilogue would be well received?
Continue reading below ↓
Recommended Videos
The thing about setting up a business, especially if you are the pioneer in the field, is that there is always the risk of it failing. But on the flip side, there is also the possibility of starting a new trend.
Being the first mover in a new trend will involve some form of a gamble. While we can conduct market studies to help us know if a brand will be accepted by the market or not, the studies aren't foolproof. Our main criterion is that we personally love the food, and have confidence and believe in the concept.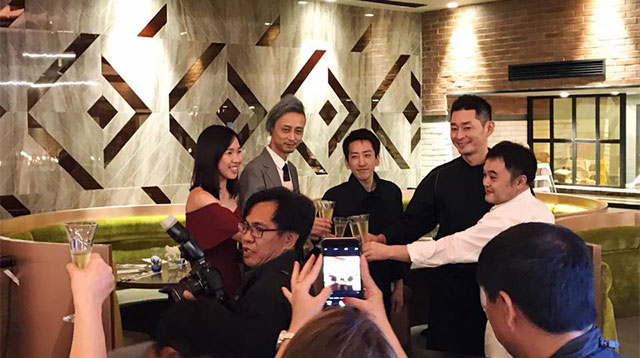 For Bijin Nabe, we were confident that the concept would be well received by the Filipinos, especially when it's coupled with good marketing efforts.
Bijin Nabe is a farm-to-table restaurant that focuses on serving good and healthy food, with emphasis on traceability of the ingredients and using only organic vegetables and fresh chicken meat. With the healthy eating trend in an upward swing in Manila, we knew this brand has the potential to be a hit among Filipino foodies. Filipinos also love soup, hence the popularity of hotpot restaurants in Manila. It was only a matter of marketing it well to communicate how unique Bijin Nabe is, from using only organic vegetables and the Jidori chicken for making the special collagen soup, down to the unique condiments you can use to season your hotpot.
As for Epilogue, we were also confident that it would be accepted because of the quality of the food served. However, it still has to be marketed carefully since we want to emphasize what each chef brings to the table and highlight what makes the restaurant unique and worth visiting: our five well-traveled chefs who work together for a world-class menu perfect for any occasion.
Did you have any hesitation about opening restaurants or being a leader at a young age? How did you overcome it?
Yes, of course! There's always the fear of not knowing how to go about certain things or making mistakes given my lack of experience. But I am fortunate to be surrounded by family and friends who are really supportive and from whom I can seek help anytime. Having people who motivate, support, and push me is key.
Being constantly reminded that I am capable gives me confidence to trust myself more.
Any big decision comes with its share of hesitations. At the end of the day, you have to take risks. It makes things more rewarding in the end.
Running a restaurant isn't easy. How did you learn to do that?
My family has been involved in the restaurant business these past few years, so I would observe them run their establishments.
However, I realized that being a spectator is very different from being fully involved in the whole business. So running Bijin Nabe and Epilogue still required learning on the fly and a lot of trial and error.
I've always been the curious type though, so if I don't know something, I will do everything to figure things out.
You have a day job as a financial adviser. What's it like juggling or balancing two businesses, working for someone else, and having time for yourself?
When you enjoy what you do, it never really feels like work. Running the restaurants feels like a passion project. Although it involves a lot of numbers as well, it also provides me an avenue to be creative—from brainstorming for marketing materials and promotions, to the menu and website designs. While it sometimes feels like I'm working two full-time jobs with the restaurants and the financial advising, they are different enough that I feel they stimulate different parts of my brain. And rather than both feeling like work, it seems to me that one serves as a break from the other.
Of course, I would really appreciate having more hours in a day, but it all boils down to proper time management. I've also learned to survive with little sleep—admittedly not the healthiest lifestyle—but I feel that while I'm young and I still have the energy, I better make the most out of it!
What's rewarding about running Bijin Nabe and Epilogue?
Those restaurants are pretty much my babies, since I was involved in the entire process—from the conceptualization and R&D, to the execution. So going through the entire journey, together with all the changes along the way, seeing how they evolved over time, and finally seeing everything come to life and the restaurants in operation, makes things feel very rewarding. Also, being able to share the food with others and having people talk about it positively make all the effort worth it.
What's the hardest part about it?
Aside from time management, I think the hardest part would be working around things that are out of anyone's control. Although I've learned a lot about leading and managing groups from school and orgs, in practice, there are a lot of things that are out of my hands. These things can be caused by unintended miscommunication; they could be unforeseen delays, for example. It's frustrating at times to not get to control everything, but that's just how things go in the real world.
What's something you wish you knew before getting into the industry?
Opening and running a restaurant is more than just having a good concept and serving delicious food. While perfecting the food and service training is what often comes to mind first when working on a restaurant, there are a lot of other things that may be overlooked but are key as well: location, financials, operations, and marketing, for example.
Rather than just getting too excited about an idea, we should remember that we have to deal with the business side as well. It takes time and we should trust the process. The entire preparation involves paying attention to every detail and being committed to the entire business. It is not just about the concept, but also building the entire value chain to get the concept up and running.
What advice can you give young women who are thinking about starting a business or who are getting into leadership positions?
Don't be afraid of challenges. Don't let your age scare you or hinder you from stepping up. As long as you're confident about yourself and your abilities, people will see you for what you are capable of, and your age will not be questioned.
Also, be thankful for the opportunities that come your way and make the most out of them. Especially at this point, everything is a learning experience, whether it's a good or bad experience. Mistakes and failures are natural and are part of the process. And they will only be mistakes and failures if you don't use them as a chance to learn and improve.
Stephanie blogs about art on Catchinglight.org. Follow her on Instagram.
EXPLORE COSMO