One look at Rima Ostwani's desk, and you'll immediately get an inkling of the sunny, classy, and hardworking girl that sits behind it everyday. Many know this Syrian-Spanish-German-Filipino beauty for her billboards or TV appearances, but despite her showbiz projects on the side, she remains focused on her corporate career and has successfully balanced both effortlessly.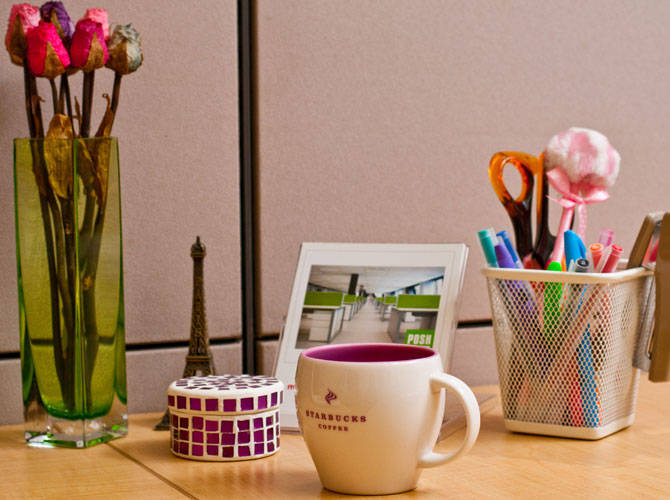 She attributes it to being very organized, as you can see from her immaculately clean workspace peppered with the cutest tchotchkes that reflect her girly personality. "I like to keep things organized. I'm very OC. I think I've had that in me since I was a kid. Whether it be my room or my office space, I make it really, really organized. Or at least, I try!" 
Continue reading below ↓
Recommended Videos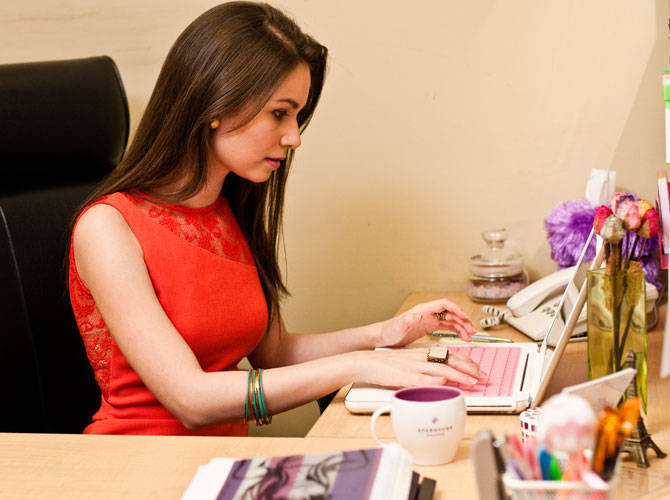 Rima is currently Discovery Primea's Deputy Director of Services, but prior to this job, she worked at Rustan's as a Personal Shopper and Customer Development Manager. She says her career shift from retail to residential has been fulfilling thus far, because if there's anything that she loves, it's a good challenge.
She tells us a bit more about what she does: "Discovery Primea is part of the Discovery Group. They also have Discovery Shores in Boracay, Discovery Suites in Ortigas, and Country Suites in Tagaytay. Discovery Primea is the flagship project. It's an 86-story building along Ayala Avenue. I am with the team that sets up the serviced apartments, so we work a lot with the technical team, interior designers, and suppliers for let's say, trimmings and fixtures for our store plan."
To get ready for work, Rima wakes up at 5:30 a.m. so she doesn't have to rush to get to Makati (she lives in Quezon City). After a long shower ("I love relaxing!") her makeup routine of "just mascara, a little eye shadow, maybe blush, lip gloss" keeps everything pretty simple. As for her outfit, her rule is "just always look elegant." Case in point: Her bright orange dress from Zara that she wore with nude pumps and a statement ring. "This is how I usually dress up for work."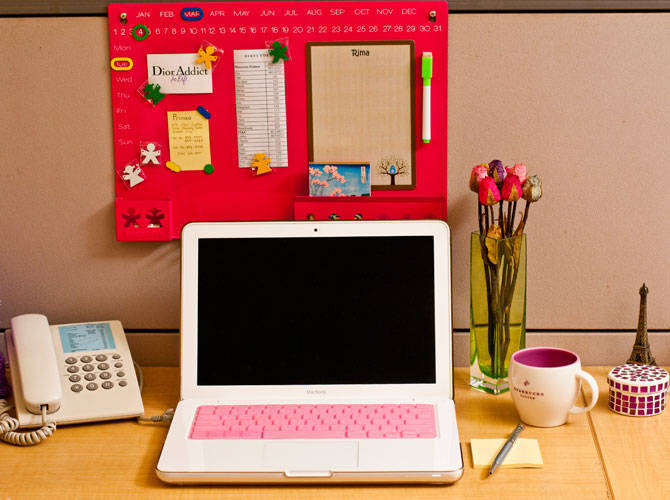 Rima tries not to place too many things on her desk:  "I know where every little thing is. It's easier to work when there's not much clutter."
On the miniature Eiffel Tower: "Who doesn't love France? I love Paris. I'm in love with Paris." (Rima can speak French, Spanish, Arabic, English, and Filipino.)

On her magnetic board: "I got it from Quirks. It's just pretty because it's pink. It has a calendar as well."
On the vase of dried flowers: "I'm so in love with flowers, whatever flowers they may be. I combined those and made an arrangement for myself. I don't think it's too overpowering for the desk. It's just something cute."

On the pink mosaic jar: "I put my push pins and paper clips there. Tiny things I need for my desk."

On her mug: "My drink of choice is hot cocoa. Although when I start feeling that I'm getting fat, I eliminate the hot cocoa for a few days!"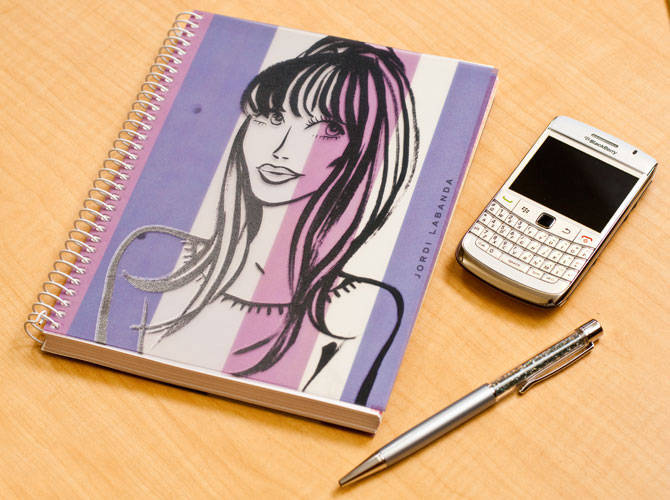 "When I need to write something, my notebook comes in handy. I use it for meetings as well. I get my emails on my Blackberry, so that wherever I go, I can respond quickly."

See that silver pen? Look a little bit closer and you'll find tiny Swarovski Crystals inside. "This pen needs to make an appearance—it's one of my favorites!"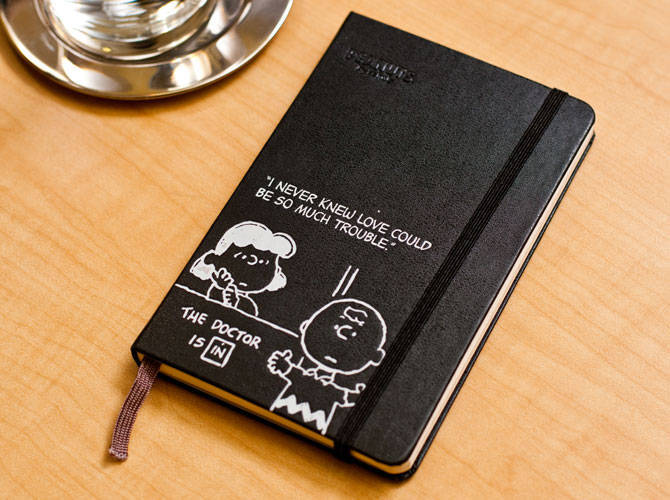 On her planner: "My planner is tiny because I carry it in my bag everyday. It has my appointments, schedules—everything!"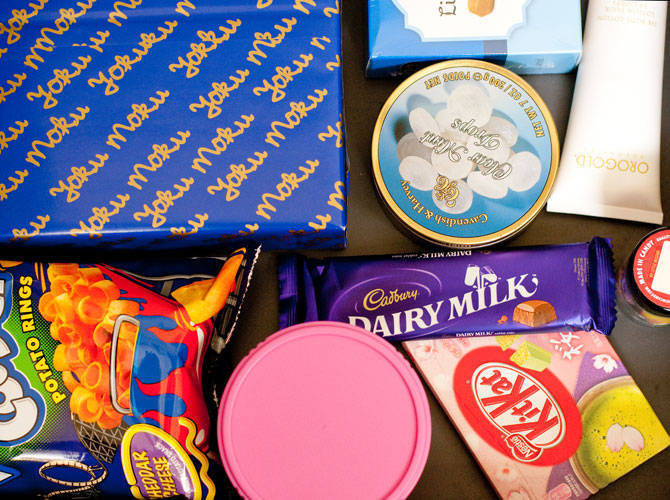 When Cosmo opened Rima's drawer, this is what we found. Yum!

"I have Yoku Mokus from Japan—my cousin got it for me. I haven't opened it yet! I'm into chocolate. I love Cadbury. And Kitkat. Kitkat came out with all these flavors, like strawberry. And of course—who doesn't like candies? And then some mints. And then some more chocolate."
For lunch, Rima usually eats sandwiches she prepares from home. "I'm working on not skipping meals. What's good about this job is there's time allotted for lunch. When you're in an office setting, breaks let you go out to have lunch. Unlike in retail—you get so busy that you could forget to eat on time."

She also always has a glass of water on her desk: "I try to make it a point to drink more than eight glasses a day because that's my mom's bilin to me. Lots of water is always good."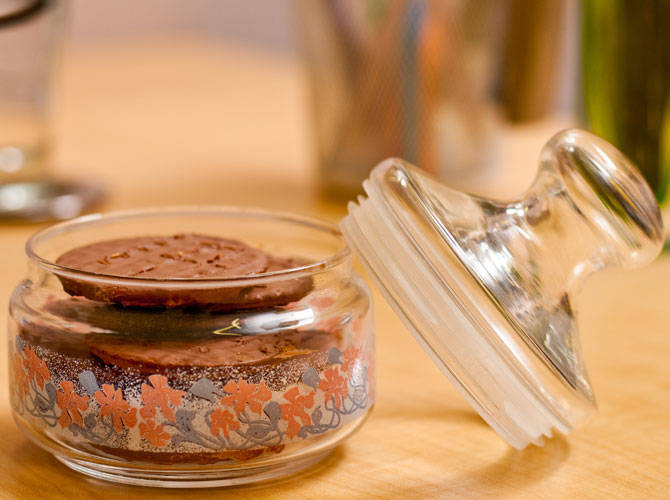 This cookie jar is the star of Rima's workspace—her officemates usually pass by her area to see what sweet treat is inside for the week! She shares, "The contents can range from cookies, to candies, to M&M's. Anything you can imagine!"

What's her advice for Cosmo working girls like herself? "Enjoy what you're doing. Every step of the way, I learn more and more, like right now, I'm involved in construction and interior design, which I previously did not deal with in my past job. Learning every detail about what you do is a good experience.

"I try to live an active and well-balanced life as well. Doing something different once in a while will do you good."

How does she balance her day job with her extra-curricular endeavors, such as modeling? "My priority is my professional career, but as long as I don't have meetings and I'm done with my day job, I can do it. I just adjust to it. I also make sure to have time for fun and leisurely stuff as well."
(photos) Jico Joson. (makeup) Christine Rojas Laviña. (hair) Samuel Matthew S. Tan.