Green Salad With Grilled Eggplant, Tomato, And Onion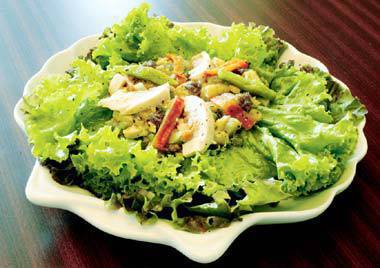 1 cup mixed greens
2 tbsp. green bell pepper
2 tbsp. red bell pepper
1 tbsp. grilled onion
1 tbsp. grilled tomato
4 tbsp. grilled eggplant
2 tbsp. salted egg
2 tablespoons of any vinaigrette dressing
1 teaspoon tuyo powder
salt and pepper to taste
olive oil
Combine all ingredients except for mixed greens and set aside. Arrange mixed greens on a plate and top with the mixture. Drizzle with olive oil. Serves one.[nextpage]
Tuna Kilawin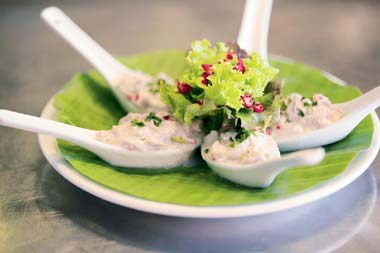 2 cups sliced tuna
1 3/4 cup coconut milk
1 cup vinegar
2 tbsp. red bell pepper, minced
2 tbsp. green bell pepper, minced
2 pcs, siling labuyo
2 pcs. finger pepper
Salt to taste
3 tbsp. chicharon bits
Combine all ingredients in a bowl and chill in refrigerator. It is ready to serve after an hour. Serves six.
Plating Tip! Scoop kilawin on little soup spoons for pass-around appetizers. Shot glasses or tiny teacups also work when paired with little dessert spoons.[nextpage]
Angel Hair Luglug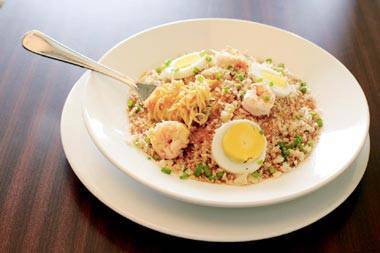 1 cup angel hair pasta
1/2 kilo shrimp heads
7 cups of water
1 cup annatto oil
White pepper to taste
1 cup water and cornstarch mixture
Salt and pepper to taste
Garnish per serving:
1 tbsp. spring onions
1 tbsp. spring onions
2 tbsp. garlic chips
2 tbsp. tuyo flakes
Chicharon bits
1 boiled egg
Boil pasta in salted water until al dente. Drain water and set pasta aside. Boil shrimp heads using seven cups of water, and mash heads to extract shrimp juice. Combine shrimp juice, annatto oil, and cornstarch mixture. Add pepper and salt to taste. Pour shrimp sauce over the cooked pasta. Top with tuyo flakes, garlic chips, chicharon bits, spring onions, and slices of boiled egg. Serve with calamansi and fish sauce. Serves six.
Shake It Up!
Cooking is flexible, allowing you to substitute ingredients. For starters, experiment with different pastas, like fusilli or gnocchi. Replace shrimp with chicken, and green peppers with apples. [nextpage]
Nata De Coco Panna Cotta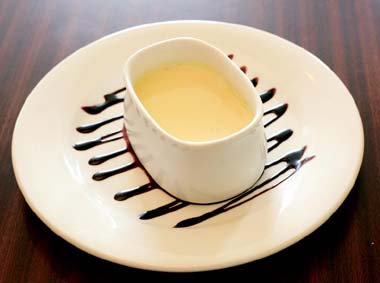 1 cup nata de coco
1 teaspoon unflavored gelatin
3/4 cup milk
1 cup cream
1/2 cup sugar
Divide nata de coco into five parts and place in small containers. In a saucepan, combine the other ingredients and let boil. Pour mixture into containers and allow to cool, then chill in refrigerator until firm. Serves five.
Big Move:
Lace your panna cotta milk with coffee!
Perfect Wine Picks:
Cosmo's resident wine expert Alex Sawit recommends a clean, creamy Italian white wine for this pasta dish, like Faccioli Bianco di Custoza. Skipping carbs? A fresh, crisp white like Monkey Bay Sauvignon Blanc is perfect for the smokiness in the salad. Available at Cyrano Wine Selections, at C. Palanca Street, Legaspi Village, Makati City. 750-2595.
Continue reading below ↓
Recommended Videos