It goes without saying that one of the most nerve-wracking and exhilarating experiences any Cosmo chick has to go through is entering the working world--coming up with an impressive resume, stocking up on stylish office wear, and acing that interview to finally land the job of your dreams.
It helps that the hottest job openings are readily available, and just a few keyboard clicks away! Jobstreet.com, the number one job site in the country, has been making it possible for jobseeking gals like you to be seen by your future employers since 1995.

Here's even better news: Jobstreet.com is bringing you even more helpful information to help you strut your way into full-on, slacks-and-heels-wearing career girl mode. Check out their newest book, Jumpstart Your Career, which gives you a glimpse into the status of employment in the country, the ins and outs of online job-hunting, how to pick the career that best suits your personality and skills, how to compose a winning CV, PLUS how to make a great impression during job interviews.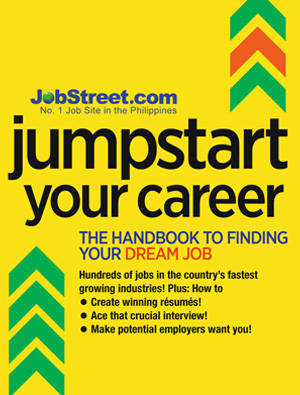 Good luck conquering the career jungle, Cosmo girls!

Jobstreet.com's Jumpstart Your Career is available in all bookstores and newsstands nationwide for P195.