For a change of pace, we took a break from our go-to milk teas to try Manila's latest craze: FRNK Milk Bar. We're sure you've seen this all over your social since the ~face~ of FRNK is none other than Belle Daza. 
Unlike your favorite milk tea spot, FRNK boasts healthier options, opening their arms to welcome vegans with their customizable drinks. You can choose to go for regular milk or a plant-based version (in brown rice or almond).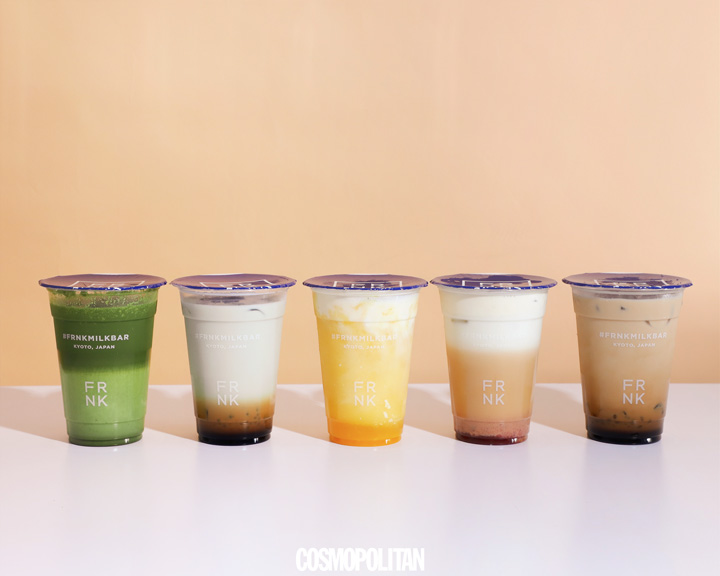 ADVERTISMENT - CONTINUE READING BELOW ↓
As the name suggests, FRNK's drinks are milk-based and simply flavored with tea. The tea comes straight from a company based in Kyoto called Morihan. Their drinks also consist of syrups, honey, chocolate, and sinkers—we're especially excited about the blue tea pearls! 
For this taste test, we got the following drinks: Mango Chizu, Cinnamon Miruku, Blue Lava Miruku, Mochi Beri Chizu, and Matcha Kukki. We also ordered the following treats: Flourless Chizu Cake, Flourless Kokoa Cake, Japanese Chess Cookies, and Houjicha Canele.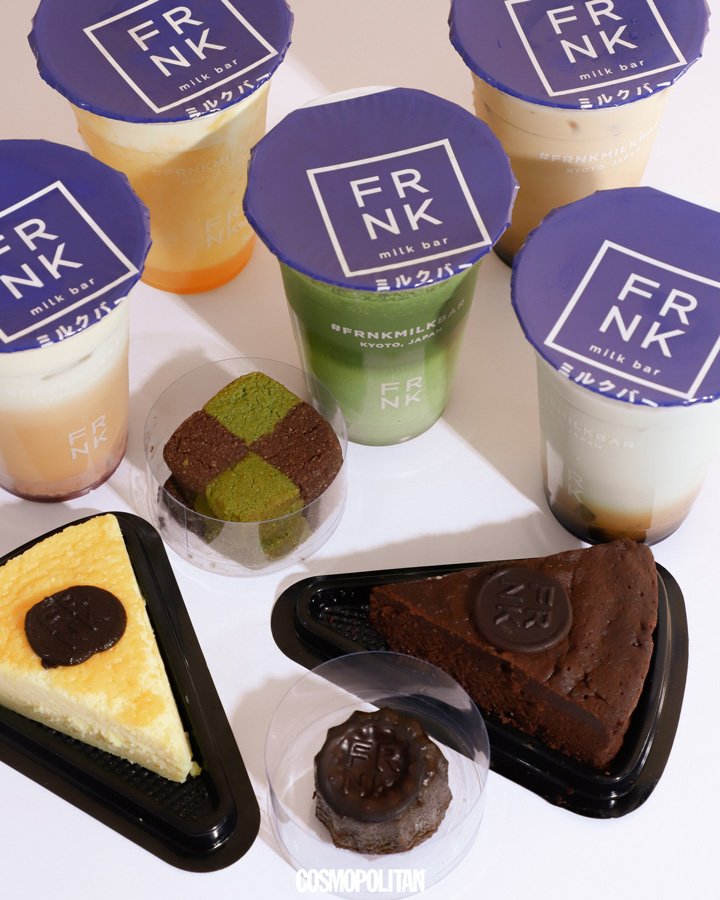 ADVERTISMENT - CONTINUE READING BELOW ↓
Recommended Videos
Our Honest Reviews Of FRNK Milk Bar

Ysa
You're probably thinking, "Here she is again. The one who hates everything." Well, not today, sucka. Your girl ordered the Mochi Beri Chizu (P145), and the first sip jolted me back to life. And this is coming from a girl who only consumes milk when it's paired with cereal. My problem with how milk tastes is that it's too overpowering, like taking the only note I hate about dairy products and exaggerating it. That was absent in this drink.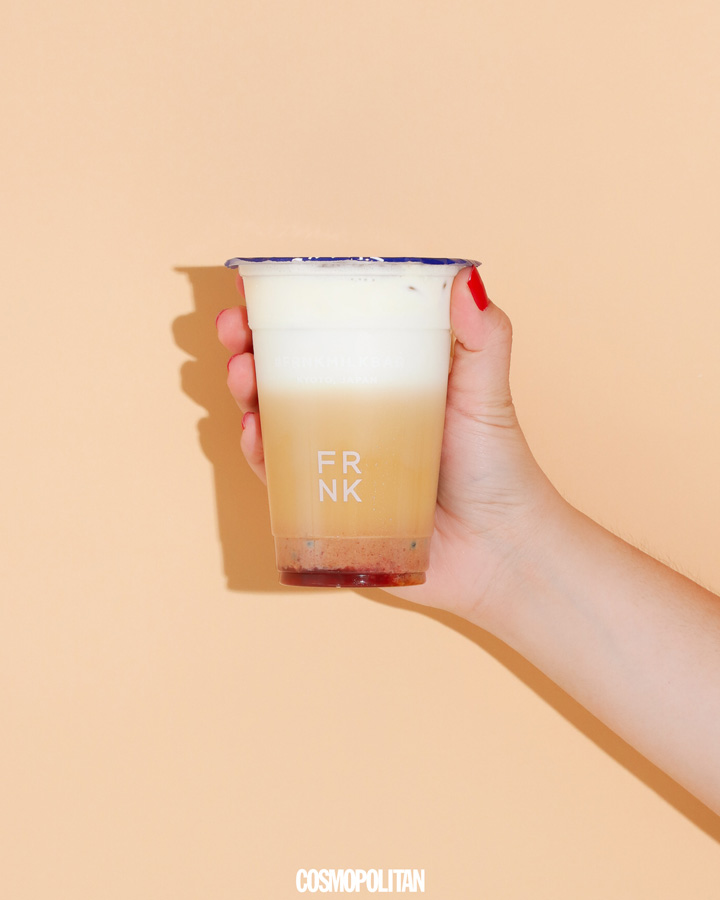 ADVERTISMENT - CONTINUE READING BELOW ↓
Priced at P145 (Tall), the drink is made up of the following ingredients (according to the menu at the store): iced shaken dark sugar, homemade strawberry jam, cheese cap, blue tea mochi, and fresh milk. The menu also informed me that this drink in this size has 303 calories—and I appreciated this kind of transparency. Unfortunately, I was unable to experience this at its best because they no longer had mochi. As a solution, they added pearls instead. I'm assuming they just didn't have any more in stock because I bought this at 11 a.m. Food-wise, I loved the Flourless Chizu and Kokoa Cakes. The Chizu Cake is light, fluffy, and hindi nakakaumay, while the Kokoa Cake is rich, dense, and perfect for when you need to eat your feelings, lol. 
Probably the only disappointing thing about my FRNK Milk Bar experience was the service. Not sure if it's because they're still new, but they seemed unattentive. Also, when I asked for the names of the desserts, they looked confused. So I reworded my question and inquired if the desserts had labels or if they were on the menu, and they said, "Wala po." Found out the names of the treats through the OR I requested. Idk, maybe they were just busy?
ADVERTISMENT - CONTINUE READING BELOW ↓
Cindy
To be honest, I didn't really have high hopes for FRNK because of how much clout it had online. I was like, "Eh, it's probs just another celeb-owned business that doesn't live up to the hype." I knew next to nothing about FRNK's menu so I just tried whatever drink was assigned to me. I was tasked to review the Cinnamon Miruku (P145) and my first impression upon seeing the drink was that it was tiny. I assumed we just got the small size but apparently this was the tall version—the bigger size. "Well, okay, might as well go on with tasting it since there wasn't much of it to begin with," I thought. Here's where I eat my own words: My first sip drew in the richest milk.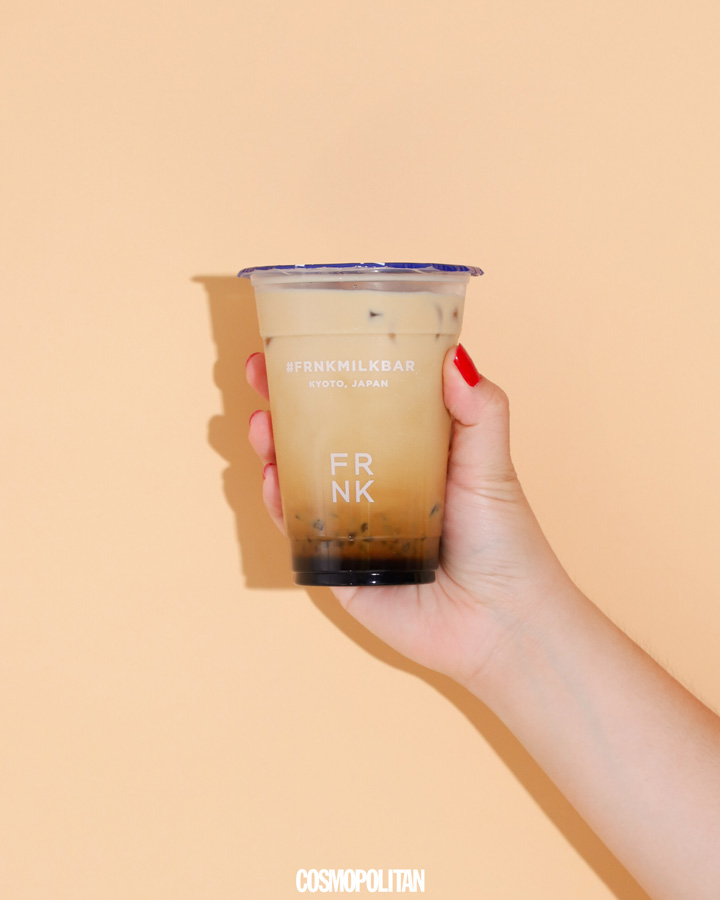 ADVERTISMENT - CONTINUE READING BELOW ↓
My second was of a deep sugary sweetness. I was like, "Fuck, THIS IS GOOD." I then mixed the drink to try how it tasted like—and it made a huge difference. I could taste all the other ingredients in the drink: the black tea (which I love to begin with), the cinnamon (it wasn't overpowering at all), and the basil drops (them chewy bits were so good!). The Cinnamon Miruku tasted like a grownup version of my childhood—it had the simplicity of a glass of fresh milk but made a bit more complex and interesting with the tea, cinnamon, sugar, and drops! My verdict: I'd totally try it out again.
Andie
I am a huge fan of dairy products in general (I love me some cheese and ice cream), so I was really excited to try one of FRNK Milk Bar's drinks. I ordered the Mango Chizu (P140) in size Tall (which is apparently 315 calories, just letting you know). Mango is probably my all-time favorite fruit, but I can be really picky when it comes to the "ripeness" of the mango. The drink consists of frozen mangoes, coconut milk, and a "cheese cap" (aka a layer of cheese on top). The moment I took my first sip, one word came to mind: REFRESHING!
ADVERTISMENT - CONTINUE READING BELOW ↓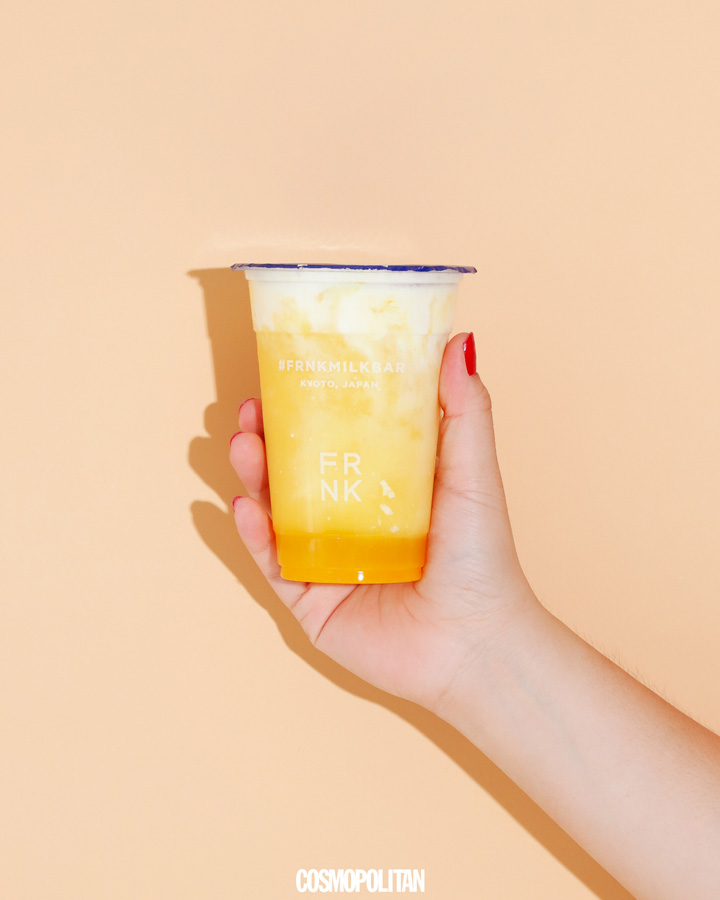 The sweet mango flavor was perfectly balanced by a hint of sourness, and I loved the additional cheese layer on top—the cheese gave the drink a richer, creamier taste, and left me wanting more. The mango drink looked naturally yellow: Not the pale yellow that screams "This is an under-ripe slush," or the nearly-orange "That's definitely an over-ripe drink." Despite the melted ice, the drink wasn't watered-down. Frankly, I'd definitely order this again!
ADVERTISMENT - CONTINUE READING BELOW ↓
Lou
When I first saw FRNK Milk Bar on social media, the first thing that came to mind was whether or not the drinks are milk tea. You see, I'm a huuuge fan of milk tea and I always find myself wanting to try every new milk tea spot that opens up in the metro. As compared to milk tea, the words "milk bar" aren't something I hear every day, so it quickly caught my attention and I was interested in what the place had to offer.
My drink was the Matcha Kukki, and it did not disappoint. As someone who likes matcha, every sip of this 344-calorie drink was a treat to my taste buds. The milk was fresh, creamy, and light. I thought I was going to get sick of the drink so quickly because of its milk-based nature, but I didn't. Even after several sips, I still found myself wanting more of the matcha goodness, LOL. The best part? Their matcha is LEGIT. For P130, I'd buy this drink again! Maybe I'll even add a few sinkers next time.
ADVERTISMENT - CONTINUE READING BELOW ↓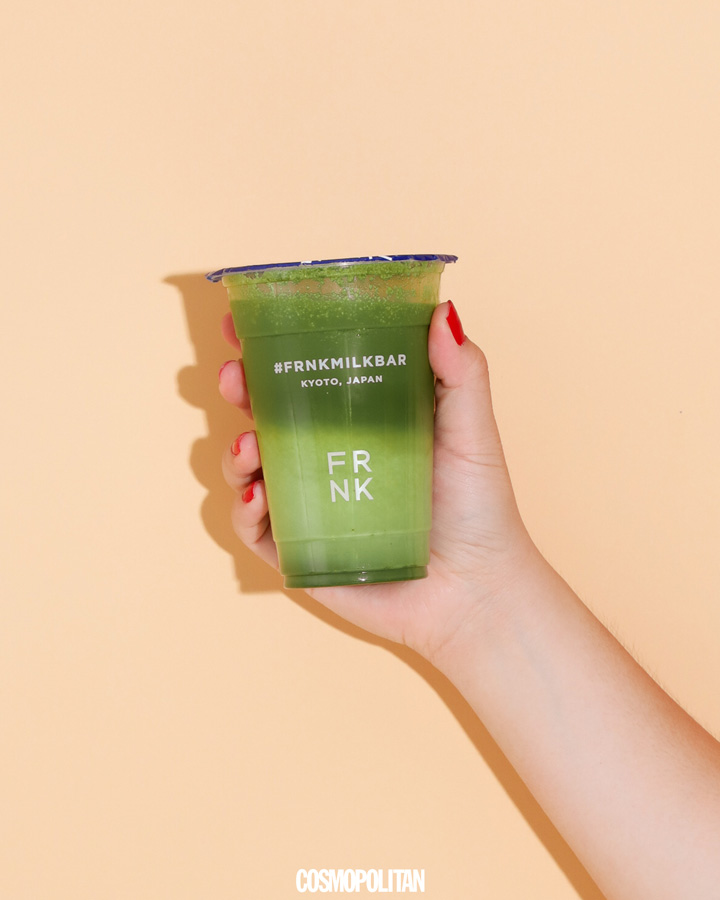 As for the desserts, the Houjicha Canele and Japanese Chess Cookies were good, but they weren't really that memorable. The cookies crumbled easily and the Houjicha Canele for me had this slightly bitter taste that I couldn't quite get. My top picks are the Chizu Cake and Kokoa Cake! Like my Matcha Kikku, the Chizu Cake was light and sweet. Its presentation was really simple but taste-wise, it went beyond my expectations.
ADVERTISMENT - CONTINUE READING BELOW ↓
Mixi
As the photographer of this review, I found the drinks of FRNK Milk Bar Manila to be very photogenic! The drinks look really good on camera...the kind of drinks that'll bless your Instagram feed, LOL!
For the drinks, the one that I tried is the Blue Lava Miruku. From its name, I didn't really have an idea of what flavor it was supposed to be. Will the flavors explode in my mouth?! Just kidding.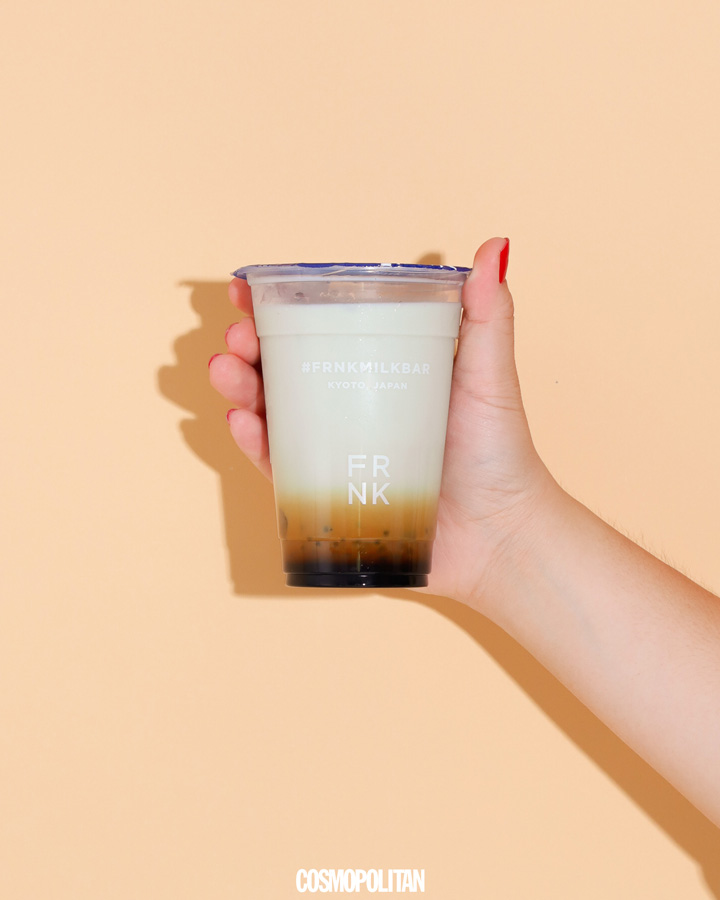 ADVERTISMENT - CONTINUE READING BELOW ↓
Upon drinking, it tasted like the milk drinks that you buy at Japanese convenience stores. It reminded me of that. It was just sweet milk. Was this drink worth the hype? This one was not for me, and if I go back to FRNK, I'd probably buy the Mochi Beri Chizu instead. 
I also tried the desserts, and I really liked the Chizu Cake because it is the right kind of sweet that is not nakakaumay. The green and brown cookies were also surprisingly good!
FRNK Milk Bar is located at Glorietta 3, Ayala Center, Makati City, Metro Manila.
EXPLORE COSMO