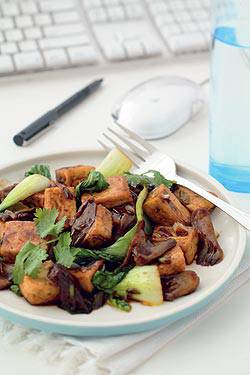 Wish you had the time to leisurely prep your lunch? Before dialing for delivery or queuing to take out, try these simple, healthy dishes you can ready in 30 minutes--TOPS.
20 Minutes: Stir-Fried Tofu With Oyster Sauce
Ingredients:
250 g tofu, sliced into bite-sized pieces
2 tbsp oil
1 clove garlic, crushed
1 tsp ginger, cut into small strips
1 tbsp oyster sauce
1 tbsp soy sauce
1 tsp sugar
4 pcs oyster mushrooms, quartered
1 stalk spring onion, cut into pieces
1 baby bok choy, quartered
cilantro leaves
Heat a wok over medium heat.
Once your wok is hot, add oil and
saute the tofu
until they're golden brown on all sides, making sure you move them around gently to keep them from sticking to the pan or breaking.
Add the garlic, ginger, oyster sauce, soy sauce, and sugar
, then toss until well-combined. Put in the oyster mushrooms, spring onion, and bok choy.
Simmer
until the sauce has reduced a little and the spring onions have slightly softened.
Garnish
with cilantro leaves. Serves two.
[nextpage]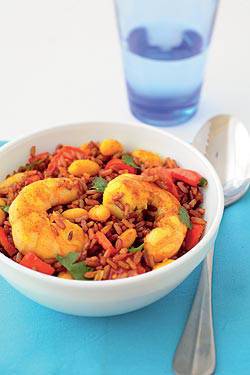 20-30 Minutes: Prawn And Bean Rice

Ingredients:
1/2 cup whole-grain brown rice
1 tsp olive oil
1 pc onion
1/2 tsp ground turmeric
1 cup chopped tomatoes
1 small red pepper, de-seeded and finely-chopped
1 garlic clove, chopped
1 cup chicken stock
1 cup canned white beans, drained and rinsed
1 red chili, de-seeded and finely-sliced
1/4 kilo cooked peeled prawns
1 tbsp cilantro leaves, coarsely-chopped
salt, ground black pepper, and coriander to taste
Heat oil
in a large non-stick saucepan.
Combine the rice, onion, and turmeric
, and cook over medium heat, stirring for two minutes.
Add the tomatoes, pepper, garlic, stock, and salt and ground pepper
, to taste. Cover, reduce the heat, and let it
simmer for 15 minutes
, until most of the stock has been absorbed by the rice.
Lastly,
add the beans, chili, and prawns
to the rice mixture and stir gently. Replace the lid and
cook for another three minutes
, or until the stock is absorbed and the prawns are thoroughly warmed through.
Stir in
the cilantro leaves and coriander. Serves two.
[nextpage]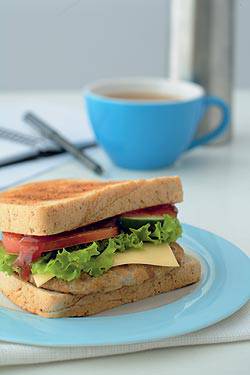 25 Minutes: Chicken Sandwich
Ingredients:
4 slices whole-grain wheat bread
2 cheese squares
1 pc large potato
1 pc large tomato, thinly sliced
1 egg
1/4 k ground chicken
lettuce
cucumber, thinly sliced
oil for frying
salt and pepper to taste
ketchup
Boil potato
until tender, peel, and mash. Add ground chicken, salt and pepper, and egg.
Form into two square patties
and fry both sides until cooked through.
To
assemble the sandwich
, start with the chicken at the bottom and work your way up with the cheese, lettuce, tomato and cucumber slices.
Add
a dollop of ketchup. Makes two sandwiches.
Lunch toting tip:
Take time to prepare your
baon
the night before and put it in the refrigerator. That way, you won't be tempted to grab unhealthy alternatives in the morning as you rush out.
Continue reading below ↓
Recommended Videos