I used to be *very* skinny. Up until my sophomore year of college, I wore a size small and I had a relatively flat stomach. Like everyone else, my metabolism slowed down with age, and I started gaining weight.
My puson is something that I've always been insecure about, even when I was skinny. Now that my tummy is no longer flat, I became more conscious of how my abdominal area looks. Because of this, I started to fear low-rise bottoms because it highlights this insecurity. For the longest time, I've worn nothing but high-waisted clothing as my attempt to hide this area.
One of my goals this year is to become more confident in my body. Body image is something I've struggled with for a long time, and this year, I'm committed to try and embrace everything about myself. Which brings us to the story at hand—I decided to wear low-rise pants to tackle my puson insecurity. 
ADVERTISMENT - CONTINUE READING BELOW ↓
How I felt before putting my low-rise pants on


This challenge was a spur-of-a-moment thing. Honestly, I didn't think this through and I thought that this would be a relatively easy story to write. But in retrospect, I realized that I postponed this challenge so many times. In the beginning, I told myself that the whole thing would be anticlimactic and there was no need for me to write about it. But in the back of my mind, I knew I was putting this off because it scared the shit out of me. I also knew that the only way for me to conquer this is to just go for it. 
How I felt during this challenge


When I put my pants on—I have to admit—I felt powerful. But that feeling only lasted for a moment, because after a few minutes, I wasn't able to mute the mean voices in my head—ones that are shouting at me, telling me that I didn't look good. I felt like I was on display, and it made me feel vulnerable. TBH, I almost changed into another pair of pants—one that would fully cover my belly, but I knew that if I didn't push through with this now, I know I'll never do it.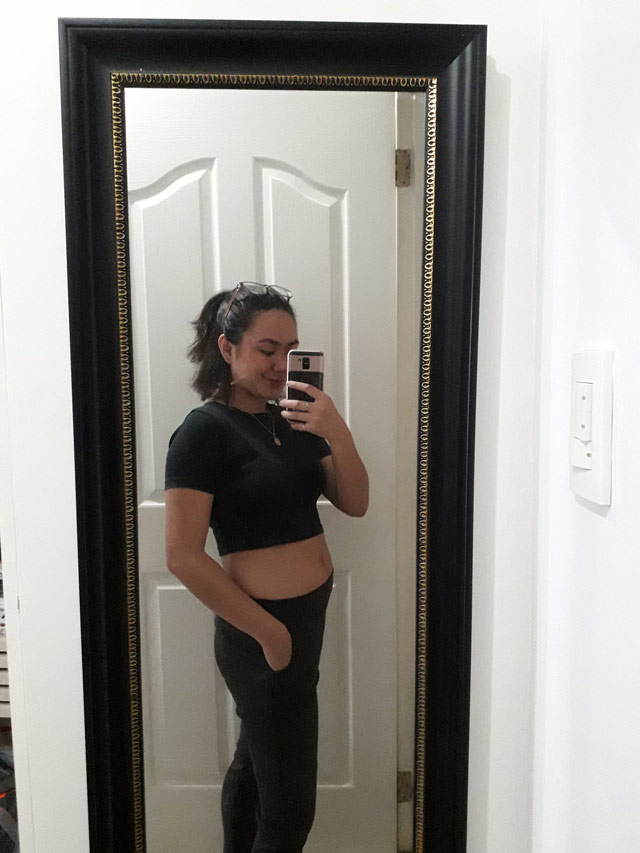 During my morning commute, I felt exposed and I had a sudden urge to cover my belly with my bag. I wondered, "Iniisip kaya ng katabi ko sa jeep na ang laki ng puson ko?"  This wasn't the first time that I asked myself this; it's not uncommon for me to wonder what other people think about my body. 
ADVERTISMENT - CONTINUE READING BELOW ↓
Throughout the day, I looked down and saw my very-visible stomach. I couldn't help it, it was very noticeable. Sitting down highlighted this area of my body. As I went about my day, wearing low-rise jeans actually started to feel normal, like it was a regular part of my wardrobe. In a way, I learned how to shush the annoying voices in my head. They're still there, but I managed to respond to them with self-love. 
So, what now?

If you were to ask me how I felt after this experiment, I would tell you that it went surprisingly great and I'm honestly considering buying more low-rise pants in the future. 
I know this may seem like such a small thing, especially for people who wear low-rise pants on a daily basis. But to me, it's an accomplishment worth celebrating because it's a step closer to loving every inch of my body. This journey is far from over and I still have a long list of insecurities to overcome. But I'm trying. I'm giving it my best shot. And for now, that's enough.
ADVERTISMENT - CONTINUE READING BELOW ↓
Here's to overcoming our insecurities in 2020! Let this be the year that we love ourselves—fully and unapologetically!
Follow Karla on Instagram.