For most of my life, I lived in the south—I grew up and went to school there. Eventually, my family decided to move to Pasig when I was in college. During those four years, I lived in a dorm three minutes away from campus, which meant I had the luxury of waking up late because my classrooms were a few steps away—as in I would roll out of bed, shower, and just walk to class!
This all changed when I graduated and had to move back to my family's house in Pasig—aka one of the most congested areas in Metro Manila. I had to get used to waking up earlier than usual to get to our office in Mandaluyong. On weekends naman, I've developed the habit of staying at home so I could take a break from all the transportation stress. Like most people, I absolutely cannot stand Metro Manila traffic and gagawin ko lahat to escape it. Sobrang sayang kaya sa oras! 
Because sawang-sawa na ako sa traffic, I knew I had to try the Pasig River Ferry. I thought to myself, "Baka sakaling makatulong sa everyday transpo stress, ma-try nga." 
Here's everything you need to know about it:
Continue reading below ↓
Recommended Videos
Where can I ride the ferry?
Currently, the ferry service has 11 stations:
Pinagbuhatan (Eusebio Avenue, Pasig City) – Near the Coast Guard Station, C6 Bridge
San Joaquin (San Bernardo Street, Pasig City) – Near Sumilan and Bambang Bridge
Maybunga (Dr. Sixto Avenue, Pasig City) – beside the Maybunga Barangay Hall
Guadalupe (J.P. Rizal Extension, Makati City) – near the MRT-3 Guadalupe Station and Commercial Mall
Hulo (Coronada Street, Mandaluyong City) – near the Parish of Our Lady of the Abandoned
Valenzuela (A. Bonifacio Street, Makati City) – near Bonaventure Garden Homes, Riverside Studios Manila and LTO Makati District Office
Lambingan (Bautista Street, Brgy. 897, Zone 99, Punta, Sta. Ana, Manila City)
Sta. Ana (Pedro Gil Street, Sta. Ana, Manila City) – near the Sta. Ana Public Market and Savemore
PUP (Mabini Campus, PUP, Sta, Mesa, Manila City) – Polytechnic University of the Philippines (PUP) and beside the Philippine Coast Guard Station
Lawton (Manila City) – near Quezon Bridge, Plaza Lawton and Post Office
Escolta (Muelle dela Industria, Escolta, Manila City) – near Jones Bridge
Source: MMDA
How much does it cost to ride the Pasig River Ferry?
According to the Metro Manila Development Authority (MMDA), the fare for the ferry rides depend on the distance between your point of entry and your destination. For example, ferry rides from Pinagbuhatan station to San Joaquin station, cost P28, while those heading to Pinagbuhatan from the Escolta station have to pay P95. You may check the complete Pasig River Ferry Service fare matrix here.
Good news: Pasig River Ferry rides are free until March 31, 2020!
What is the schedule?
The Pasig River Ferry Service is open from Monday to Saturday. The first trip from Pinagbuhatan Station going to Guadalupe Station is at 7:00 a.m., and rides from Guadalupe to Escolta start at 6:30 a.m. The last trip from Escolta to Guadalupe; from Guadalupe to Pinagbuhatan, it's 3:30 p.m.
According to the cashier at the Guadalupe station (where my journey began), they don't have a fixed schedule yet. Timetables vary from day to day, and kailangan mo muna tumawag sa station to find out what time you can catch the ferry. 
My experience:
Admittedly, I was kinda nervous about my first ferry ride. I didn't know what to expect and it was my first time to ride a water vehicle in the city.
At 4:40 p.m., I left the Cosmo HQ in Mandaluyong and walked to the nearest Pasig River Ferry station in Guadalupe. I chose to take a 15-minute stroll instead of boarding a bus along EDSA because I was afraid that the traffic would make me miss the last ferry going back to Pasig. 
When I got to the station, I was welcomed by a dimly-lit, air-conditioned waiting area. Inside, there were chairs that kinda reminded me of airport lobbies. I approached the front desk and asked kung kailan yung next trip going to Maybunga—the station closest to my house. Unfortunately, the cashier said na umalis na yung last trip at around 3:55 p.m. She suggested I ride the ferry going to San Joaquin instead, and since gusto ko na talaga umuwi, I said yes. I filled up the pre-ride form and she led me to the ferry.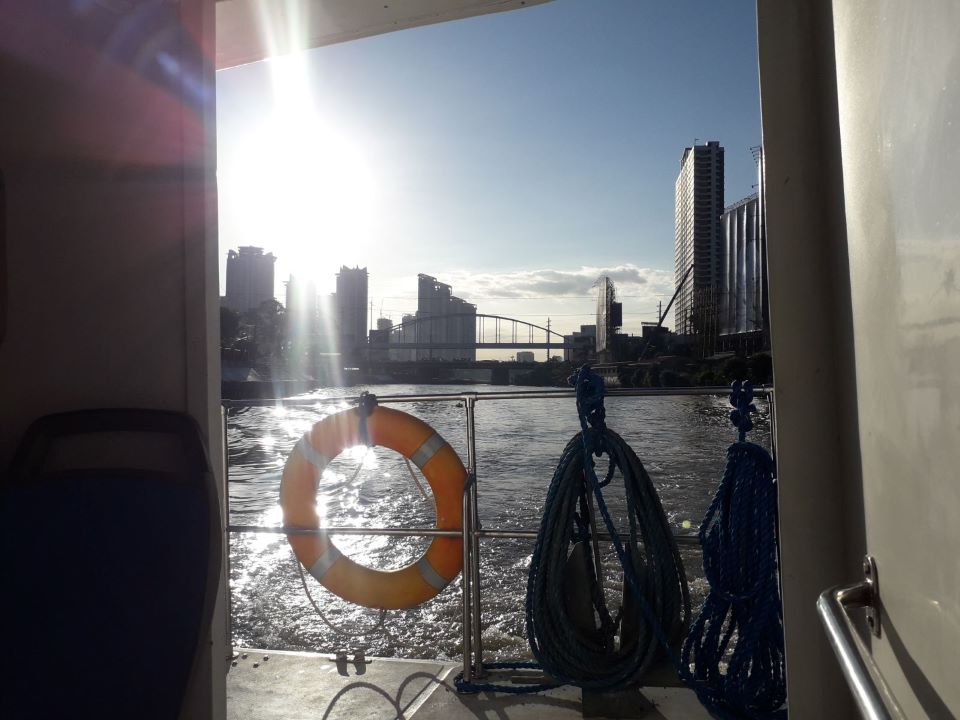 When I got to the boat, I noticed that it was clean and fairly new. I sat in the last row so I could take in the whole scenery and enjoy the ride. The ferry started moving at exactly 5:00 p.m., and TBH, nagulat ako because walang reminders or safety precautions before we left—bigla na lang umandar. There were also life vests available, but no one used them.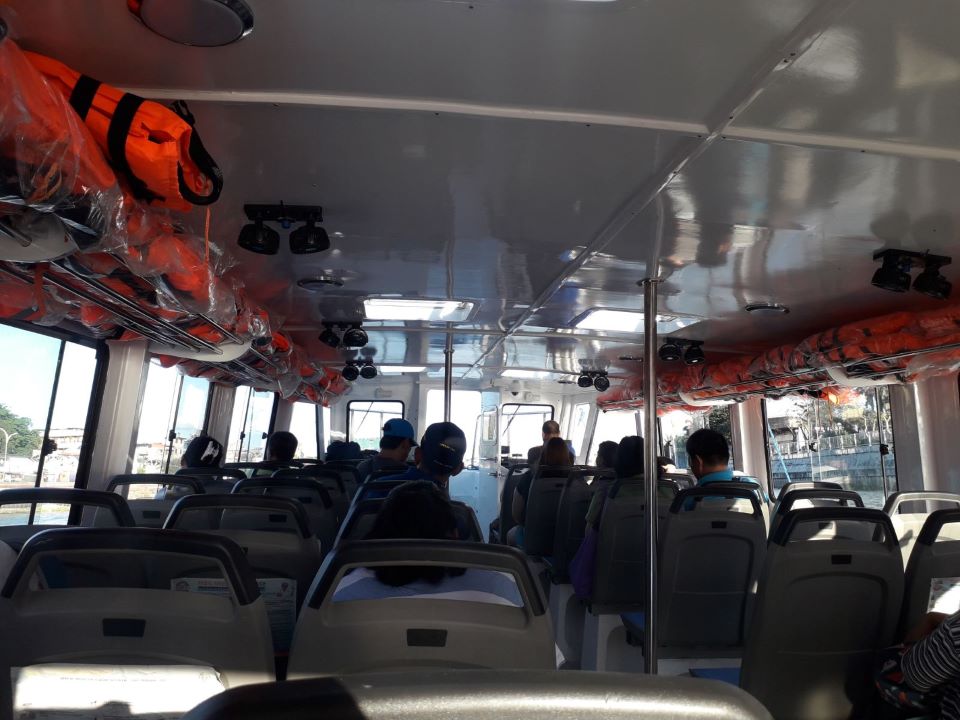 My worries were eased about three minutes into the ride—I put my earphones on and enjoyed ~the view~ outside. In fairness, okay and smooth-sailing naman. We didn't experience any trouble, and we got to our destination within 15 minutes. Grabe, I was so shocked because I thought the ride would last longer. Since I was in the last row, isa ako sa mga unang nakababa ng ferry. We had to pass through the San Joaquin station on our way out of the port and kaparehas lang yung itsura sa Guadalupe station. 
The verdict:
TBH, I didn't expect that I would enjoy my first Pasig River Ferry experience. At first, natakot talaga ako because I never thought I would ride a water vessel going home but I'm so glad I tried it! Usually, it would take me at least an hour and a half to get from the Cosmo HQ to my house. With the Pasig River Ferry, it only took me 40 minutes—including pag-lakad from my office to the Guadalupe station and the travel time from the San Joaquin Station to my house. I just wish they develop a fixed trip schedule so people coul plan their day accordingly. Nonetheless, it's a great way para iwasan ang traffic! 
Have you tried the Pasig River Ferry Service? What are your thoughts about it?
***
We are officially on Viber! Be part of the Cosmo Viber Community by clicking here! You can also visit the Sticker Market and download the "Cosmo Girl Sticker Set" here to be automatically part of the group. The stickers will only be available until April 27, so don't miss out on the fun!
Follow Karla on Instagram.