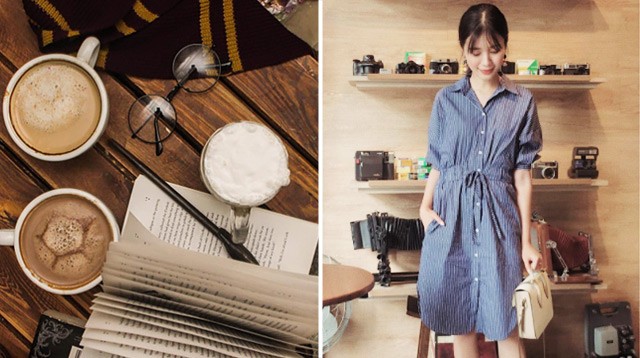 Quezon City is a big, bustling (and sometimes underrated) place—North girls can attest to that. Whether or not you consider Q.C. as your 'hood, there are many reasons to explore it—chief among them the fact that there are so many underrated, Instagrammable spots all over the city. Ahead is a list of 10 must-visit places in Q.C. for when you just need to spend a day catching up and taking selfies with your barkada:
1. Artsy Café
Maginhawa is filled with quirky places and fun restaurants, and this particular one seems simple and unassuming from the outside. The inside, however, is anything but. The colorful chairs, pretty lights, wall art, and funky tiles make for great subjects and backgrounds for your photos.
Artsy Café is located at Maginhawa Street, UP Village, Diliman, Quezon City. 
2. Quezon City Memorial Circle
Take a respite from the many malls, and explore this park in the middle of the city. Aside from many gorgeous spots for your photo shoots, they also have a lot of activities to offer. Rent a bike, shop at the tiangge, or jog and use the exercise equipment. Bring your entire barkada, and make a day of it!
3. The Nook Café
Potterheads, rejoice! This quaint café in Maginhawa is a Harry Potter fan's dream come true. Sip on Butterbeer, while taking pictures with the scarves, robes, and wands you can borrow. (Yer a wizard, Harry!)
The Nook Café is located on Maginhawa, Diliman, Quezon City.
4. Art In Island
An interactive 3D museum, Art In Island lets you and your friends experience art in an entirely different way—by being part of the artwork itself! Put your creativity hat on and snap photos in every pose you can think of!
Art In Island is located on 15th Ave., Brgy. Socorro, Cubao, Quezon City.
5. Shutter Café
Found along Scout Lazcano, this is where food and photography meet. If you and your friends are photography enthusiasts, you can count on Shutter Café to give you great spots for it. They also offer workshops from time to time—guaranteed to up your Instagram game.
Shutter Café is located on Scout Dr. Lazcano, Diliman, Quezon City.
6. Cubao Expo
A classic artists and musicians' hangout in the city, Cubao Expo (or Cubao X), is a great place to be with friends. Take photos amongst the eccentric shops and murals, shop the fare, and chill to a bottle of cold beer and some music.
Cubao Expo is located on General Romulo Ave, Cubao, Quezon City.
7. Café I'm Here
Possibly one of the coziest spots in the city, this adorable café is a must-visit for anyone looking to have a chill day. It has beanbags in little private nooks separated by bead curtains, a tent, and even spaces for groups to work in.
Café I'm Here is located in Tomas Morato, Quezon City.
8. Vargas Museum
Why not have a Museum Day with your friends? Vargas is open to the public, and they always have the best exhibits. Whether you're into paintings, sculptures, or even performance art, there's something for everyone. And yes, you can take photos.
The Jose B. Vargas Museum is located within the University of the Philippines Diliman campus, Quezon City.
9. Ella and the Blackbird
In a corner near Katipunan, you'll find Ella and the Blackbird, a small café with good coffee and hip interiors. There's an entire wall filled with customer's artworks and photos. Even their bathroom is photo-worthy!
Ella and the Blackbird is located on Esteban Abada St, Quezon City.
10. University of the Philippines Diliman
It's not a secret that UP Diliman is one of the prettiest places to take pictures in Quezon City. Filled with fields, trees, and installation art, your feed will look lit AF. Even the old hallways are prime for photo shoots. And don't forget to visit during graduation season, when the iconic sunflowers are in full bloom!
Recommended Videos