Trice, 23 and Seph, 32
Age gap: 9 years
Together for: 5 years
Seph's sister, who was Trice's batchmate in high school, used to show Seph pictures of her pretty female batchmates on Facebook. Out of all of them, Trice caught his attention. Seph remembers adding Trice on Facebook—but according to Trice's recollection, she was the one who added him because she had a crush on him, too! They started chatting online when she was in high school, remained friends, and finally got together when Trice was 18 and Seph was 27.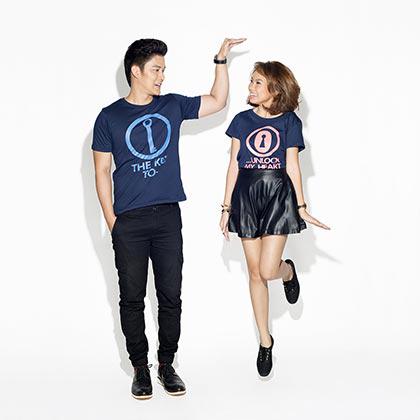 Trice: Despite our age gap, I like that he is funny and kalog like me, which is the main reason I do not find our relationship boring even though we've been together for five years. I love that he is always game to do whatever kalokohan I have in mind, and I love that he supports me in my future goals.
I like that his being older makes him mature enough to handle a serious relationship. We have a rule in the relationship that when either of us is being moody or is not in the mood, whatever comes out of his or my mouth should be taken with a grain of salt, or else it becomes a huge fight.
One tiny disadvantage I can think of: I can no longer wear too cutesy outfits because they make me look like his younger sister. Not only is he older, he's much taller than me—he's 6' and I'm 5'2"!
Continue reading below ↓
Recommended Videos
Seph: What I love about Trice is that she doesn't act her age. She's so mature that I hardly feel that I'm nine years older than her. She's the type of girl who respects me as a person and I don't think it's because I'm much older than her.
One advantage to our age gap is that, having made some wrong decisions in the past, I can teach her to avoid mistakes I've made.
Despite our age gap, we know how to respect and listen to each other. We admit our mistakes and we talk every time we have petty fights. I'm just lucky that I found someone who shares the same goals in life as mine.
***
Veronica, 30 and Mike, 41
Age gap: 11 years
Together for: 11 years
Both musicians, Mike and Veronica met one fateful day at a band rehearsal studio. Mike's indiepop band was looking for a vocalist, and Veronica was one of those who tried out. The band eventually got a different singer, but Mike and Veronica kept in touch, started going out, and the rest is history.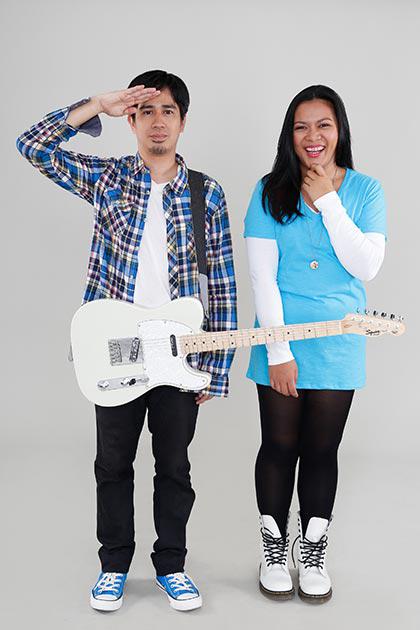 Veronica: Aside from his good looks and amazing talent, he's mature, he knows how to make me feel special, and most of all, he knows how to handle my moods. It also helps that, since he's older, he's better at taking care of me and there are less arguments mainly because he's more understanding.
I guess for the two of us, we kind of meet halfway in terms of maturity so the relationship that we have is more of a partnership in every aspect. After more than a decade together, we still make sure that we make time for each other—it could be as simple as catching the last full show when our kids are asleep, making new songs during weekends, or going out-of-town for a family trip.
Mike: Veronica's got this positive, fun, and kind personality which I easily got attracted to. Like me, she's also into music and she sings very well. Plus, I really like her pretty eyes.
As the older one in the relationship, I'm more ready to settle down so I get to teach her and tell her things about life. I think being with someone younger or older could be just what you need to keep a relationship going. Our similar interests and chemistry keep us together despite the age gap, so there shouldn't be anything stopping us from pursuing our relationship as long as we both feel that spark.
***
Fidah, 39 and Lloyd, 28
Age gap: 11 years
Together for: 9 years (married for 5 years)
Fidah would often hang out at a karaoke bar near her office after work to belt out a few songs. Little did she know that someone at the bar had been secretly admiring her looks and her singing: the manager, Lloyd. He found a way to get her number, and eventually found a way into her life.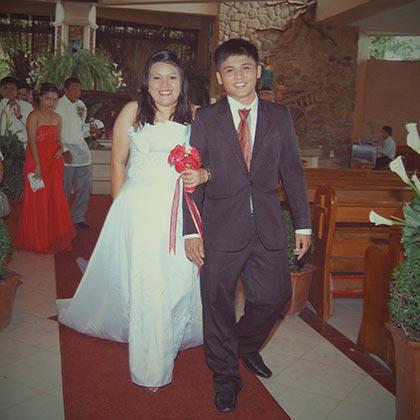 Fidah: I found him attractive at the start, but past the initial attraction, I saw how much he treated me like a princess before we even became a couple. I didn't expect I'd get that sort of treatment from someone younger than me by 11 years. Later on, I discovered that he is creative, responsible, sweet, and thoughtful.
Sometimes his age would show in his childish ways, and I end up going along with it. But ultimately we don't really feel the age gap. I guess if two people really love each other, it won't matter.
Respect and commitment are key factors that keep us together, as well as our son Luke, for whom we keep holding on through challenges. Of course, our relationship would be nothing without God.
Lloyd: When I first saw her, I did notice her great legs and that great singing voice. When I got to know her better beyond her looks, I found out that she is much more than that.
One good thing about her being older than me is that her maturity roots our relationship in reality. She does get anxious and worries about things that haven't even happened though, but in a way that also grounds me.
No age gap between me and Fidah matters because I believe we are meant to be. To me, she's a gift from God, and she and our son are my biggest treasures.
***
Joanna, 32 and Robert, 45
Age gap: 13 years
Together for: 5 years (married for 4 years)
After four years of singlehood and several failed blind dates, Joanna decided that what she wanted was a man who really valued and walked his faith. Although she was already attending a regular bible study group, she agreed to join a male friend who kept inviting her to his group because it was made up of mostly guys. Her friend introduced her to the men in attendance—except Robert, whom he thought was too old for her. Joanna had caught Robert's eye though. He engineered a little plan to get Joanna to text him, and things blossomed from there.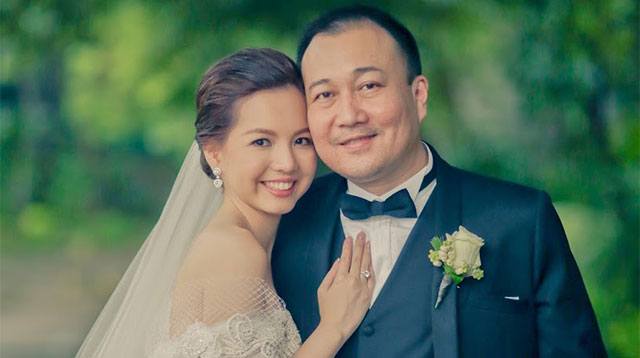 Joanna: At first I didn't like him because I found him too old for me. But later, his humor, kindness, and the way he took care of his mom caught my attention. It didn't come as a complete surprise to some of my friends, who said that I'm really into older guys—maybe because my dad was already 44 when I was born.
Robert is very mature, so we don't have petty fights. We get stared at sometimes though, and some people don't seem to believe right away that we're a couple.
The ingredients of our successful relationship are respect for each other and constant communication. And of course, acknowledging that God is at the center of our marriage.
Robert: Not only was I attracted to her beauty, I had a strong feeling that she was into older men. So I felt confident in courting her, knowing that mature single guys like me are rare—most mature men are married, separated, or widowed with kids.
One funny incident I can think of: At our wedding, an assistant of the wedding coordinator thought I was one of the principal sponsors. She must've figured it out eventually, because she avoided me right after the church ceremony and during the reception. I wasn't offended though; I just found it funny!
Whatever your age gap is doesn't dictate whether a relationship will be successful or not. A successful one all boils down to the same set of values, commitment, and Jesus being at the center.
***
Lui, 45 and Dar, 81
Age gap: 36 years
Together for: 14 years (married for 7 years)
A manager at a fine dining restaurant in Malate, Lui was working to transform the place into a bar and restaurant to attract a bigger crowd. Her boss gave her the number of a known audio expert to help her with the acoustics, who turned out to be Dar. Dar's assistant visited the resto first, after which he reported to his boss, "Sir, you should meet Ms. Lui, she's pretty and sexy!" He did, and from then on, he consistently visited Lui—even rendering his professional services for free.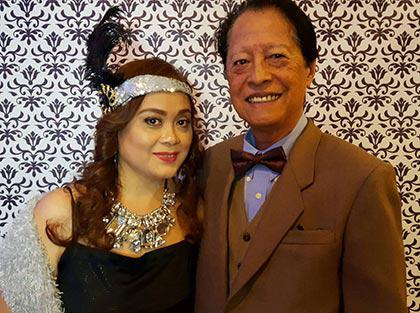 Lui: At first I didn't realize I was attracted to him, it was only when he was not visiting me nor texting me anymore that I found myself missing him. He's so thoughtful, caring, sweet, and intelligent, he has a great sense of humor, and he talks with a lot of sense.
Some perks of Dar's being older: He's mature, self-confident, and he can adjust easily to my moods. Sometimes, there are downsides, like he's less likely to share interests that are typical among people my age, and some moments his point of view is different from mine.
I worry about his health, too. We've gone through a lot together already, but I don't think I'll ever be ready to lose him.
Dar: The very first time I met her, her smile, as well as her beauty, captivated my heart.
I believe she respects me and she learns from my experiences in life which I narrate to her whenever a similar occurrence or opportunity comes forth. I always feel great whenever the "teacher" in me can help her understand the vicissitudes in our daily life.
I just tend to follow what she wants as a wife; sometimes she would comment on my attire, so I had to change to abide with her sartorial taste.
A prime factor behind the success of our relationship is understanding each other's whims or caprices. It's the give-and-take modus operandi we have that has kept our relationship sailing smoothly since the start.
Follow Cheekie on Twitterand Facebook.