Cosmopolitan celebrated its 12th birthday with Cosmo YOUniverse, held at the TriNoma Activity Center on May 16. It was a day of fashion, beauty, pampering, and boys, boys, boys! Cosmo.ph ambushed some of the Hunks lurking all over the place and got them to spill their private views on love and sex. Here's the dish:

How old were you when you first said "I love you?"

Allan Parker, 20, model: When I was 16 or 17, [I said it] to my first girlfriend. I really didn't want to say it first because I wasn't sure if the feeling was true. But it just happened naturally while we were doing it. She was actually the first one who told me that she loved me, and I said, "Yeah, I love you too, I guess."

Steve Leenders, 20, model and student: I was really young, maybe 12 years old. It was pretty childish. I wrote it on paper, something like that. I asked, "Do you love me? Yes or no." If I did it again, I'd do it to be funny, just to make her laugh, just to be cute. But when I did it then, I was serious.

Raph Almeda, 21, model: I think I was in grade six back then; that would be 12 or 13 [years old]. I had a really cute classmate in grade two and I think I actually proposed to her.

Edouard George, 19, model: I was twelve. We were standing beside the lake. I took her hand and I said, "I love you." I planned it for one month.

Jay Gonzaga, 21, model and student: I was ten, grade 4 or grade 5 yata ako. Childhood crush ko lang siya noon. Kulitan lang.
Continue reading below ↓
Recommended Videos
[nextpage]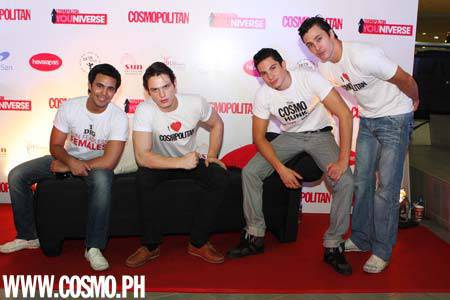 What are the things that turn you on?

Allan: I have this thing for Victoria's Secret underwear. So far it's my major turn-on. I haven't seen any brands hotter than that.

Steve: I love when she dresses really exotic, like she comes from the forest—like Jane, the wife of Tarzan.

Raph: I like girls who wear stilettos. I also find women in uniform sexy—especially those who wear a white nursing uniform and stilettos…I find that very sexy.

Jay: Girls with abs!
[nextpage]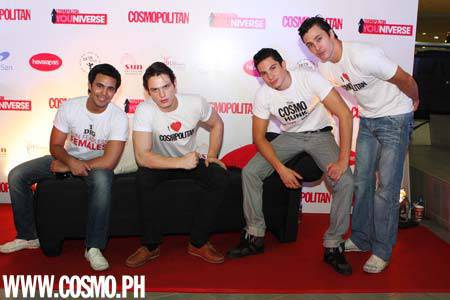 Have you ever had a man-crush?

Allan: I don't think I will ever have one. I could say that I admire [someone] for their accomplishments, but I won't say I had a crush on them. I like Pacquiao for being a hero, but that doesn't mean [I have a crush on him].

Raph: I don't think so; just more of an idol maybe. That would be George Clooney, because he has a lot of women. And for his age, they find him very sexy. And he's very stylish.

Jay: Admiration lang, like [for] Brad Pitt kasi sobrang galing niyang umarte. Nag-a-acting din kasi ako so ina-idolize ko siya. [nextpage]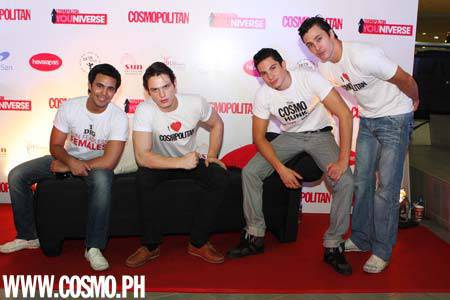 Do you like doing it with the lights on or off?

Allan: Lights on. I like visuals. If it were a one-night stand, probably if the girl is hot, lights on. Pero kasi based on my experience most girls don't like [having the] lights on. Why should you be conscious 'di ba? Kaya nga kasama mo 'yung guy because he is physically attracted to you. It means he likes you.

Steve: Both, but I prefer lights on if it's someone I really care for and love. But if it's a one-night stand, I prefer doing it with the lights off.

Raph: [I like it] with the lights on so I can see her better. If it's a one-night stand, it depends on how attractive she is.

Edouard: Anything is okay with me; 'depends on the girl if she likes it with lights on or lights off.

Jay: Lights off, para romantic. 'Tsaka gusto ko private. [nextpage]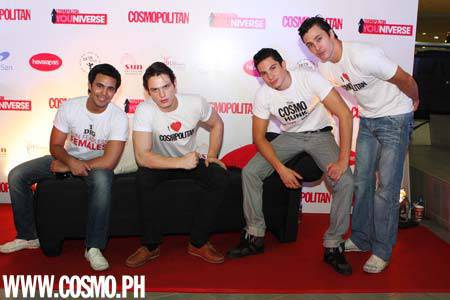 What part of your body do you like least?

Allan: My eyes. They're too small. Here in the Philippines, they find it cute. Almost all of my girlfriends are half-white. Probably [they like me] because I'm chinito.

Steve: My legs. I have small legs. I need to work on [them]. It's really hard, it takes time.

Raph: Actually, I'm happy with what God has given me.

Edouard: My abs—I have a four-pack, not six.

Jay: My height: 5'10" lang kasi ako. Gusto ko sana 6' or 5'11".
83