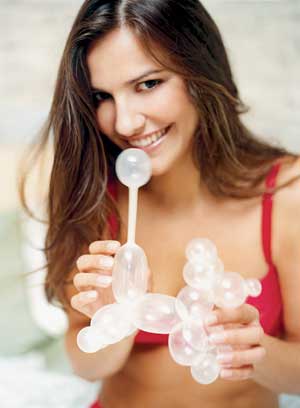 Making condoms sound playful is easy (love glove, woody hoodie, kapote...). But, coming up with cutesy names isn't enough to get a guy to like wearing one, despite the fact that they ward off unwanted pregnancies and STDs. Lucky for you, Cosmo has found ways to maximize pleasure while using protection.

"It's as simple as choosing the right rubber, making him feel at ease, and keeping the intensity high throughout the act," says sexologist Yvonne K. Fulbright, PhD, author of Sex With Your Ex. When you do all three, "he won't have the usual anxiety about losing his erection or not being able to climax." What's more, you'll be able to milk more sensations out of safe sex, too. We're sharing it all right here.

SHOPPING TIPS

Most people spend little time choosing their love glove. There's that dyahe moment behind the counter and the mad rush to head home and get it on. But, a last-minute dash to the drugstore can mean less satisfaction in the sack. Below, we explain how to pick a winner.

1. Size matters. The right condom completely changes how a guy experiences sex with a condom. One that's too tight reduces sensation, takes longer to get on (which can deflate his erection), and is more likely to break. Quick sizing test: If you can't roll the raincoat all the way down to the base of his penis, it's not large enough. That said, an oversized one can slip off, and the extra material can make your dude feel inadequate. For a right fit, get a condom made especially for Asian sizes—they'll be perfect for your mate.

2. Try a condom designed for your exact pleasure needs—it'll say so on the box, with a term like ultra-thin or dotted. These models are either made of finer material that multiplies the sensations tenfold or have a textured surface for added pleasure. Either way, feel the thrill by matching your condom to your nookie reportoire. If you feel like doing some daring bed moves, go for an ultra-thin variety. If you're in for some slow, sensual lovin', go for a dotted kind to make the experience even more pleasurable.

3. Look for plus points when choosing your love glove. Colorful rubber helps you feel uninhibited, while fruity scents whet your sexual appetite.

LET'S GET IT ON

Rolling one on doesn't have to ruin the mood.

1. The faster you can slip on a safety sheath, the less likely he is to go limp. Minimize fumbling by opening the wrapper during foreplay. Pull the condom out, and place two drops of lube inside. This increases sensation at the supersensitive head of his penis. Place the opening over the top of his shaft. Hold it there with one hand, lightly squeeze the tip of the condom, and use the other hand to unravel it all the way down to the base of his member.

2. For a treat, use your mouth. Dab your lips with lube, then lightly suck the disc into your mouth with the nipple end inward. (Grossed out? Try a flavored or scented one like the Premiere Dotted one.) Carefully wrap your lips over your teeth and put your mouth at the head of his member. Push your lips against the ring of the condom, slide it down his shaft, and unroll the rest with your hand. Ta-da!

PLEASURE-MAXING MOVES

A condom needn't come between you, him, and a climax.

1. Squeeze your legs together in missionary or doggie-style to create extra pressure.

2. Make a V with your pointer and middle fingers, then place it between your legs. Press it against the base of his penis as he thrusts. This gives him more stimulation where the condom is tightest (i.e., most numbing).

3. Buy props. To make safe sex exciting, make an effort to introduce some extras into the bedroom (read: feathered cuffs). Match this with sensual music, and you're good to go.