Those celebs can have their flash mob proposals and music video proposals—what these real proposals between real couples lack in production value, they make up for with creativity, comedy, and tons of kilig. Read on and prepare to swoon.
Pats and Jason
Jason had brought me on a surprise trip to Pearl Farm Beach Resort in Samal, Davao del Norte with two of our closest friends. I wasn't feeling well then, so when we got there, I just slept the whole day.
In the evening, when I stepped outside our cabana for dinner, I was shocked to see all these paper cranes suspended from above and scattered on the floor! Like a scene in a movie, there were candles, too, and a man standing in front of me: Jason.
"A thousand paper cranes means you can make one wish," Jason said. "But before you do, I was hoping that you would make my wish come true first." He got down on one knee and asked me to marry him.
I found out that the paper cranes—all 1,000 of them—were made by his family. I felt the presence of his family even though they were in Manila and I was in Samal, and that made the moment even more special.
Continue reading below ↓
Recommended Videos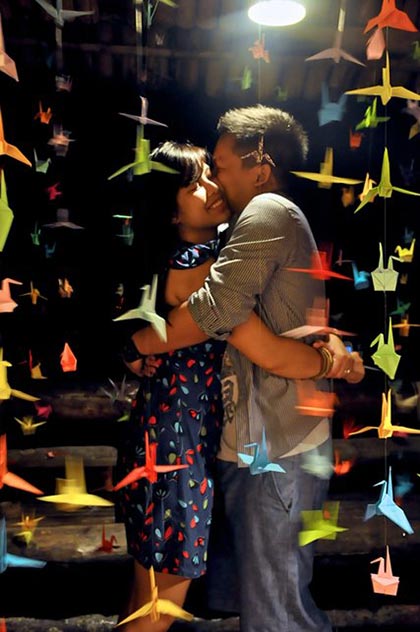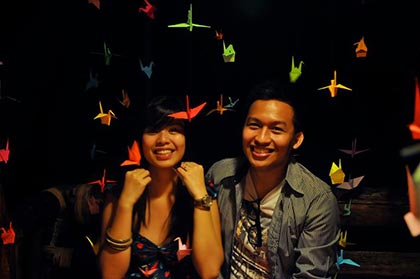 Nikki and Leo
Nikki: Leo and I were already based in Canada when he brought me along on a trip to his hometown in Cebu.
One day on our trip, we were supposed to attend a debut. Leo, however, kept disappearing that day. I feared that something was up, since he had been acting weird the entire trip. I even wondered if he was seeing another girl.
When we finally arrived at the debut, it turned out there wasn't a debut at all.
Leo brought me to a table bearing a "reserved" sign at the front of the restaurant. I said, "Reserved 'yan; wag tayo dyan." But he said, "Sa atin 'yan."
Someone came over to us with a guitar, and the next thing I knew, Leo was serenading me. He asked me to stand, and I could sense what was happening next. He took out the ring…but then dropped it by accident.
Leo got down on one knee, surreptitiously looking for the ring on the floor. I saw the ring first, though. I picked it up and handed it to him first before he could hand it to me.
Awkward ring-giving moment aside, to cut the long story short, I said yes!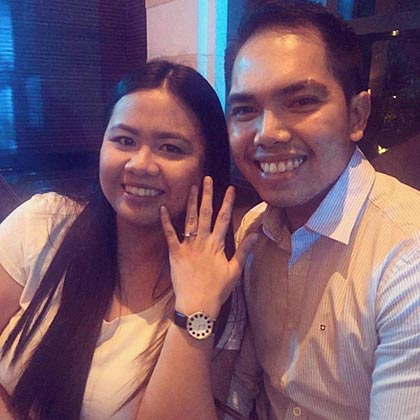 Angie and Guido
Angie: Guido and I met on the mountains. I had joined a Trail Adventours trip to Batad in July 2015, where Guido happened to be the lead guide. By December 2015, we officially got together.
Guido had planned to propose in December 2016 in Mt. Daraitan in Rizal with our closest family and friends waiting by the Tinipak River. But it was a rainy weekend, so the day before he proposed, they had to change plans at the last minute. On the day of the proposal, he invited me to have brunch at Rustic Mornings in Marikina instead.
When we got to the restaurant, I saw about 15 of our closest friends standing in one corner and his brother playing "Moon River"—my favorite song—on the sax. One by one, our friends started giving me pages from the Dr. Seuss book Oh, The Places You'll Go. Guido had rewritten parts of the book, put our photos in it, and had the pages printed! He handed me the book's last page then popped the question.
Now, we're on our way to planning our greatest adventure yet.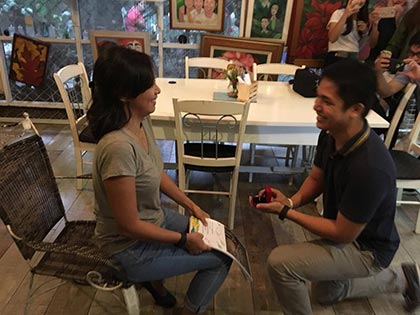 Tiff and George
Tiff: George had been planning to propose in Boracay for months. He wanted to include my friends in the plan, so he shared his plan with them and even shared a photo of the ring. That same week however, a friend spilled to me about George's plan to propose. I asked him about it, but he was just deadma and denied it.
So George was forced to think of another plan: To propose at the Summit Media office where we first met.
One afternoon, he went to our department bearing a bouquet of tulips, accompanied by his colleagues and his boss. My first reaction was: "Awww, para kanino ang flowers and anong mayroon?"
Then George suddenly gave a speech and knelt on one knee. People around us started screaming, so Summit Media's big boss went out of her room to see what was happening. She then started screaming herself and rushed over to different departments shouting, "There's a proposal happening right now!" Our other co-workers ran over to see what was happening.
Couldn't say yes right away because I was so distracted by all the commotion—but I did say yes, of course!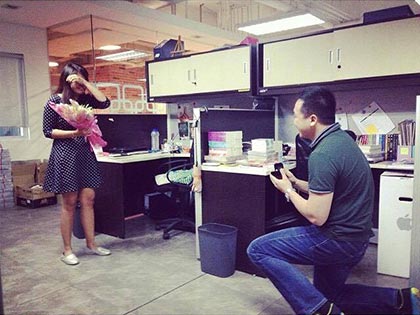 Nikki and JD
Nikki: It was just a normal day, apt for the usual movie date. The Amazing Spider-Man had just premiered, and being Spidey fans, JD and I watched it and enjoyed it. As usual. What followed, though, was far from usual.
As the credits rolled, a music video suddenly took over. To my astonishment, it was JD's song—the one he recently wrote for me! Visually complementing the song was a storyline about a piece of paper that got lost, was swept and crumpled, yet was eventually restored as a neatly folded paper boat.
As the music faded, I turned to see JD down on one knee with a ring and the paper boat from the video in his hand. He unfolded it, revealing two words scrawled across the paper, two words that changed my life forever: "Marry me."
Sobbing with joy, I could barely say "yes." When I did, party poppers popped and confetti dropped as the people around us in the cinema—who turned out to be our friends and family—cheered boisterously.
Jamie and Louie
Jamie: We had decided to go to Mt. Pulag for a weekend. Apparently, a lot of other people had the same idea, so we had to stay at the bottom of the trail and had to wake up at midnight to start the hike to the top station.
Aside from the early call time, we had to deal with cold, rainy weather due to a typhoon. It was slippery so Louie slipped a million times, and the strap of our bag—which contained the ring!—broke. By 6:30am, we were almost at the top, but we couldn't see any sea of clouds. I asked our guide if we'd ever see it; apparently, it won't appear because of the bad weather.
It was really frustrating for both of us, but I imagine more so for Louie given the pressure. He had had the ring for months already and was just waiting for the right time to propose.
In the end, we decided to sit on a small hill to rest and not proceed to the top anymore, since we wouldn't be seeing the sea of clouds anyway.
And he proposed there. We just laughed and cried. Going down became more bearable because of that.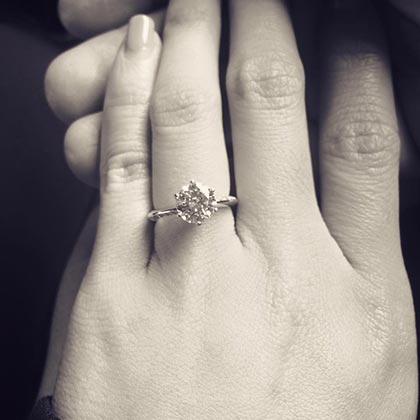 Gen and Jardine
Gen: Jardine and I had our usual date night a day before New Year's Eve.  On our way to his place after the date, he blurted out of the blue that the coming year was going to be MY year. I just scoffed.
Jardine never lets me open the door to his place, but this time, he let me do it. Lo and behold, when I opened it, a throng of semi-drunk people composed of family and friends yelled "Surprise!" and started singing the Happy Birthday song, my birthday being a week prior. All along, I thought something felt really odd, but I went along with it.
Suddenly, Jardine genuflected, fished out a red box from his pocket, and started reciting some gibberish. I just caught the last few words: "Will you marry me?" I looked around and saw people recording the moment, taking pictures, semi-crying, and smiling, and all I could think were "OMG, I didn't even retouch my lipstick!" and "My nails aren't properly done!"
But I couldn't believe it—friends I hadn't seen in years were in the room, my future in-laws were there. In the thick of the commotion, I managed to say yes.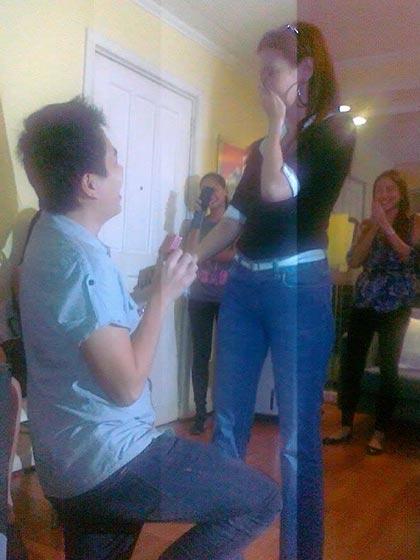 Cel and Randy
Cel: Randy and I met as baristas at Starbucks Glorietta 4 in 2005. By 2012, we were already living in Singapore, but Starbucks still played a role in how we sealed our union for the rest of our lives.
Randy had bought the ring on a Friday. He asked me out to dinner that day, after which we went to a Starbucks upon his suggestion. The next day, Saturday, we had dinner out again, after which we ended up dropping by a Starbucks again. On Sunday, we once more had dinner out, during which he suggested dropping by Starbucks again.
On Monday, Randy took me out to dinner yet again, and again insisted we go to Starbucks. Once we were settled at a table, he presented me with a Starbucks cup and said, "Open it!"
I knew what it was right then and there. Plus, I could see from the hole in the cover that the dark box inside was definitely not coffee! Turns out, Randy had wanted to propose since Friday, only the timing hadn't felt right until then.
Even though we were no longer in Makati, Randy proposed where it all began: a Starbucks inside a mall.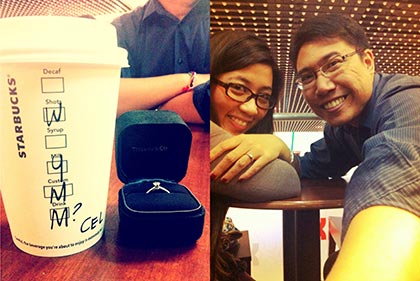 Gerlie and Byron
Gerlie: In the early hours of January 28, 2017, I was finishing my last shift for the week when two friends texted me, asking to meet up. The three of us ended up at this 24-hour coffee shop in Davao City.
While at the coffee shop, both friends left me alone at the table to go the balcony. While I was alone, a familiar face appeared: my boyfriend who was based in Qatar, Byron!
Byron hugged me, kissed me, then sat in front of me while I stared at him speechless. I asked, "Why are you here? When did you arrive?" He didn't answer and continued with his speech.
Then I saw my sister, my brothers, my mother, and Byron's mother approaching with balloons that spelled out "MARRY ME." They all stood next to me as Byron knelt and asked for my hand in marriage. He was so nervous, he put the ring on my finger before I could even say yes! He had traveled 13 hours from Qatar to Manila to Davao for the proposal to happen.
I said "yes" at 2 a.m. Byron had timed our proposal for our monthsary that day. Needless to say, it was the best monthsary ever!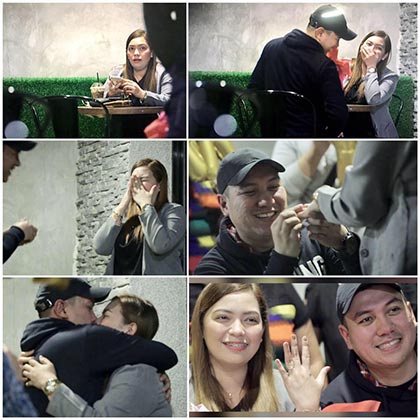 Jillian and Chris
Jillian: Cosmo.ph's then-publisher Risa scheduled a team meeting in the Summit Media office on September 2, 2013 for an upcoming project. Thinking it was a "real" meeting, I was pitching ideas and prolonging everything—little did I know that right next to our room, my closest friends and co-workers were all gathered for the surprise.
After the meeting, Risa asked me to stay behind because she had a presentation to show me. She played a music video instead, and literally ran away! So I was alone in that room, watching the video of "Jillian," which Chris recorded for Sponge Cola's Palabas album. It was also the song he played when he told me he liked me back in college. He even got his old bandmates to cameo in the video! When it ended (the last frame showed Chris picking up a box), the real Chris went inside the room!
I honestly do not remember what he said, but the first thing I asked him was "Does my mother know?!" Of course she did. Everyone did, including my awesome team!
We were about to celebrate our ninth anniversary as a couple the next day. I said yes.