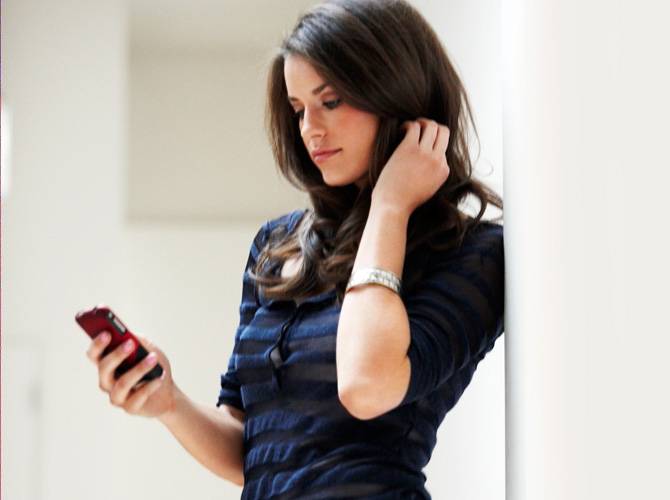 It's already 4:30 p.m. and Stella, 25, an advertising executive, stuck at her desk with dozens of unread emails and unchecked items on her day's to-do list, receives a text message from her boyfriend: "Cum over. I want u now." 
Stella whips up a short but sweet reply. But, merely five minutes later, her phone vibrates and once again, it's her boyfriend: "Can't wait 4 u to cum here 2nyt. Wut r u wearing?"
It's no surprise that mobile phones have become more than a communication tool; they have also evolved into a medium for seduction, a relationship-boosting gizmo that can do wonders for you and your guy.
Texting...With Benefits
Exchanging fun, flirty, naughty text messages with your beau can definitely give your humdrum nine-to-five job a jolt, and your relationship an added seductive fire.
Sure, sexting may sound like a simple—even banal—gesture. But, never ever underestimate it, since "a frisson of safe excitement can brighten [your love] life, and casual flirting makes a mundane chore a lot more enjoyable," says Dr. Sabina Dosani, co-author of Re-energize Your Relationship: 52 Brilliant Ideas To Relight The Passion. Maintaining an LDR with your boy? Then, treat him to constant kinky wordplay! Stuck in a droll relationship? Let sexy SMS spice things up!
Tried And Sext-ed
Why does titillating through text work? Simple: "You don't have to be in the same physical location to get turned on or to turn on another person," explains Asst. Prof. Eric Manalastas of the Department of Psychology in University of the Philippines Diliman. "You can express things that might otherwise be awkward or embarrassing to initiate in person, therefore [sexting] opens up more possibilities for sexual pleasure."
When  your boyfriend gets an intimate text while in a public place—saying you can't concentrate because you're thinking of him and you can't get over the crazy, hot time you had last night—the brain will visually process this naughty message despite the setting. "This will activate images of you and him," explains Manalastas. "Images of what transpired in the evening, what  you might be wearing or doing...Then, the brain will start sending signals all over the body, turning him on." This proves that pleasure, a very powerful force, reins over the mind and body, no matter the circumstance.
When you sex-text, you create intimacy despite being surrounded by other people or getting stuck in a boring rut, like a five-hour boardroom meeting or a two-hour traffic jam. The risk involved (What if your boss suddenly looks over your shoulder and spots the X-rated text message?) adds to the thrill and makes the flirting more pleasurable for both parties. Naughty little messages also lock your man's one-track mind, making him look forward to catching up with you at a later time.
"Sexting makes me feel juvenile again when the craving for sexual stimulation was very much stronger and uncontrollable," shares Brent, 27, telemarketer. "My girl and I exchange sexual banter—how horny we are, how torrid we want to go. It keeps things exciting. It makes her more exciting, and that makes me such a lucky guy."
Also, sexting allows you to easily heat things up—especially when your relationship is starting to hit a dry note. Just send in an unexpectedly steamy message like "Miss your hot naked bod" and expect your guy's libido to shoot up immediately, race for home, and ravage you senseless. Such activity requires minimal effort, and yet contributes so much to reviving the sexual thrill for you and your guy.
Typing In Your Fantasy
If you're one of  those shy, quiet girls who can't articulate what they want in bed to their boyfriends, sexting may be just what you need. Heed this advice from Laura Berman, author of The Book Of Love: Every Couple's Guide To Emotional And Sexual Intimacy: When sexting, "be as naughty and salacious as you like. The idea is to excite your partner and get him in the mood for sex. If your lover pounces on you the moment he walks through the door, you'll know that your sexy texts have had the desired effect."
Just remember to pick the right time to sex-text (not during a make-or-break meeting), and know when to stop elaborating (do you really have to point out which toe?). You want to turn on your boyfriend, not bore him to death with your four-message-long, how-to-touch-me-there SMS.  
Seduction is Key
As Cosmo has taught you since day one, seduction plays a major role in keeping a relationship strong and spicy. And, sexting is just one of the many ways to turn yourself into a certified temptress. So, don't be scared to suggest, or in this case, text extra-randy messages to your man. As Manalastas emphasizes, "In sexual pleasure, there is no single exclusive means to achieve sexual satisfaction. There are so many ways to be turned on." So, take advantage of today's tech hype. Who knows? One message may be all you need to add that much-needed oomph to your relationship.                      
Recommended Videos