She's 15 and killing it: Emmy nominee, UNICEF Goodwill Ambassador, pop culture icon. You know her as Eleven, that nose-bleeding, dimension-crossing Stranger Things character you'll probably attempt to impersonate this Halloween. But beyond these facts, who is the real Millie Bobby Brown? 
One of her latest projects is a partnership with Pandora Me, a collection of micro charms, brooches, and mismatched earrings to celebrate one's individuality. Cosmopolitan Philippines got dibs on some v interesting snippets from the campaign shoot, where Mills was able to reveal things about her ~*charmed*~ life.
1. "My first kiss was onscreen. Boy, was that awkward!"
Millie shared that her first kiss was on set with her Stranger Things co-star, Finn Wolfhard, during the first season of the show. In a video, she recalled that it was so "awkward" because she's never kissed a boy before. And even though it was just a peck, they totally overprepared for it (She talked about how she wanted to make sure she had fresh breath!).
Then, in season two, they had to kiss again and this time, they were surrounded by hundreds of extras who she could tell were all "MiLeven" shippers (That's Mike + Eleven, Finn's and Millie's characters on the show!). Cute!
2. "I was in Palm Springs and it was the first time anyone asked me to take a picture with them, and I freaked out!"
Although Millie had a few acting stints before Stranger Things (she appeared on Once Upon A Time in Wonderland, Modern Family, and Grey's Anatomy), it was the Netflix show that really put her name on the map. So we can only imagine 12-year-old Millie freaking out over a fan coming up to her and asking for a photo! Millie is also known to be super close to her fans, as she regularly posts updates on her social media accounts and generously holds live sessions so she could interact with them. But as with any celebrity, Millie also knows how to draw the line when it comes to her admirers. In an interview with Refinery29, she opened up about wanting to remind people that celebrities are people, too. "I try to inform fans that I'm a person and I'm going through something extremely overwhelming sometimes. I'm a very anxious person, I will never hide that from people, but I think as long as you inform them and start making them understand, then they'll be fine," she said.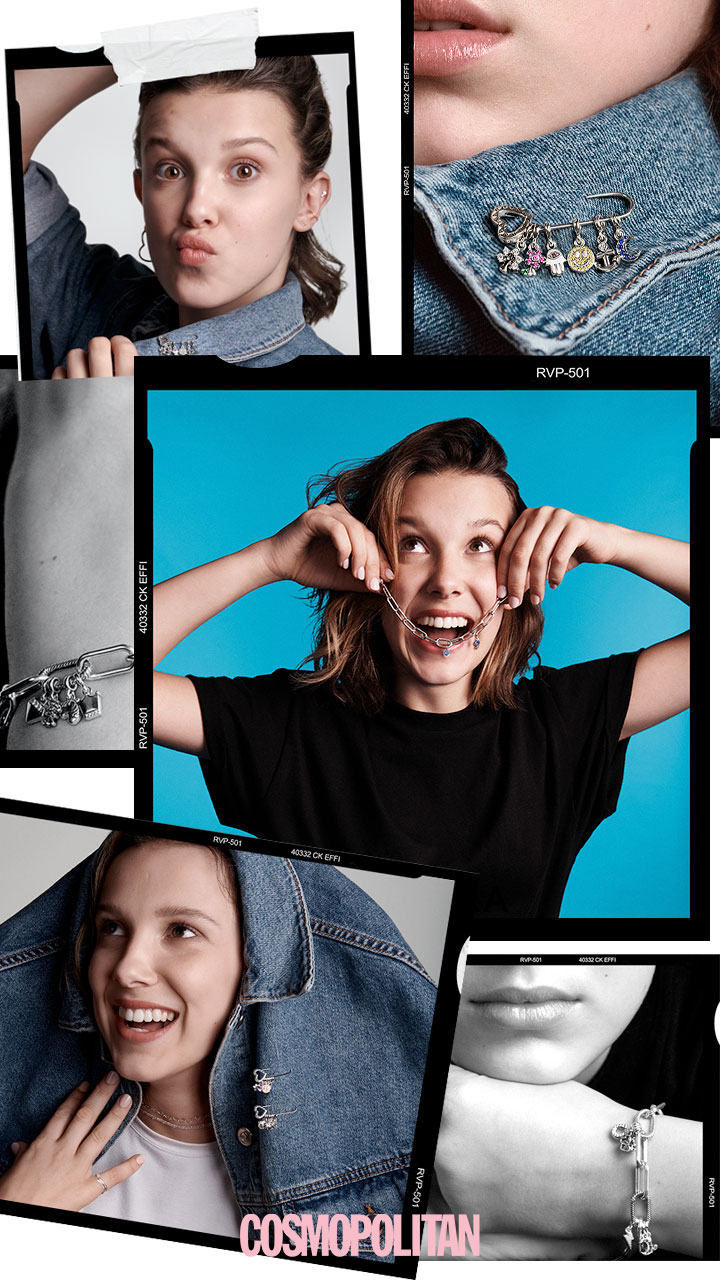 3. "Family means a lot to me.  I love my brothers and sisters, and my parents mean the world to me."
Millie is the third of four kids. She has two older siblings, Charlie and Paige, and a baby sister named Ava. Here's a totally adorable snap of them with the caption: "Ava, my baby girl. Paige, my best friend. Charlie my bro 4 L. Love you nutters forever."
4. "The unicorn reminds me of my baby sister. She loves unicorns at the moment, and so do I."
Millie is a big sister to Ava, who turned seven years old this year. She loves posting their adorable photos together on social media, and we, in turn, love seeing how close they are!
5. "The first blue moon in 2004 was on February 19, which was the day I was born."
If it hasn't sunk in yet, here's a reminder: Millie is only 15 years old (She's also a Pisces!). Did you know she was actually born in Marbella, Spain? Her family moved to the U.K. when she was four years old, and then eventually to Orlando, Florida. Millie's British, though, in case you get confused!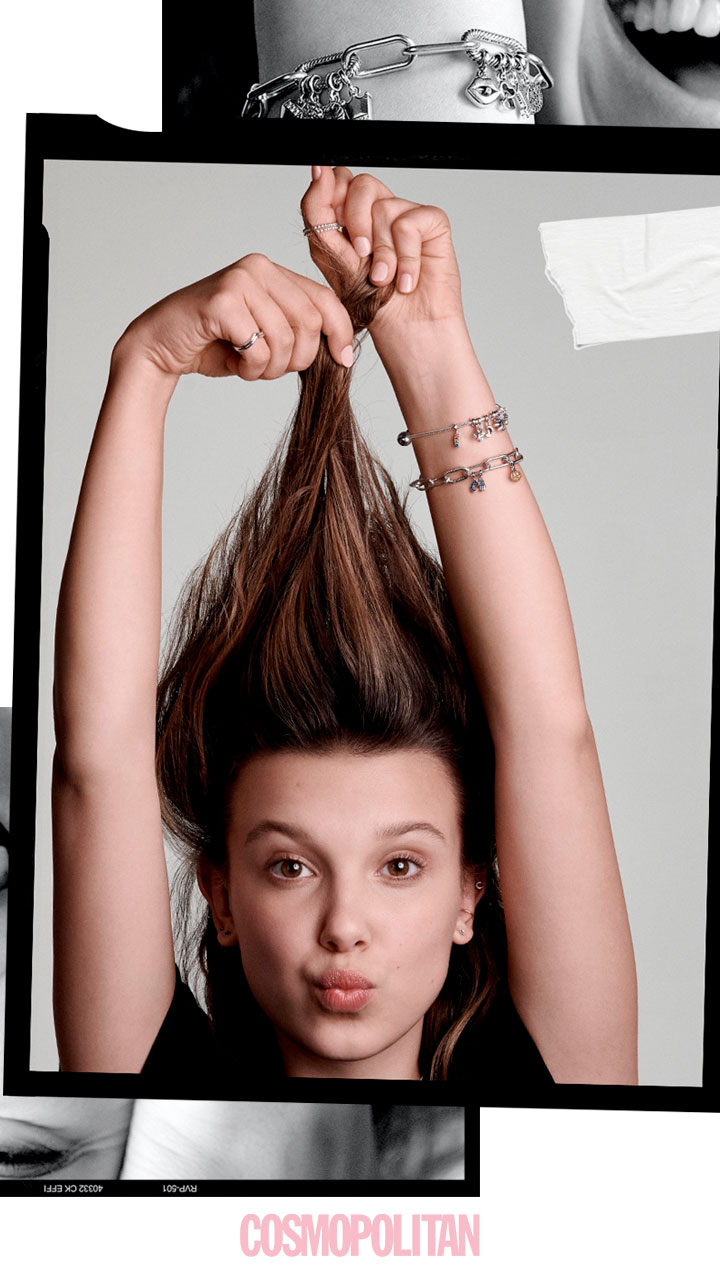 6. "Music has a huge place in my heart. I am the kind of girl [who knows] every line to every song."
Aside from being a fantastic actress, Millie can also carry a tune. In a video with W Magazine, she revealed that she actually wanted to be a singer when she was younger. PSA: She was obsessed with High School Musical! Who can also forget her iconic guest appearance on The Tonight Show where she surprised everyone with how good she is at rapping? Our jaws dropped when she suddenly rapped Nicki Minaj's hit "Monster!"
For more, here she is rapping a recap of Stranger Things season one:
7. "I think we all need to remind ourselves what our hearts are meant to do, which is to love. Love is what we've been given, we [have been] given a heart to love, but we haven't been given anything to hate."
Love, not hate! Millie recently launched Florence by Mills, her skincare line, but she encountered a slight backlash over a video gone wrong. In case you missed it, she got flak for a "nighttime skincare routine" video wherein she wasn't able to fully demonstrate the proper use of her products. Millie acknowledged the feedback on Insta and said, to quote, "I'm still learning the best way to share my routines as I get to know this space better—I'm not an expert... I understand, I appreciate all of your feedback on this journey."  What a class act!
Earlier this year, she was also scrutinized online after she posted a photo of herself wearing a body-hugging midi dress, with people telling her to "dress her age." Instead of throwing more hate, Millie clapped back by posting an Insta story that said: "If we could spread love as quickly as we spread hate and negativity, what an amazing world we would live in."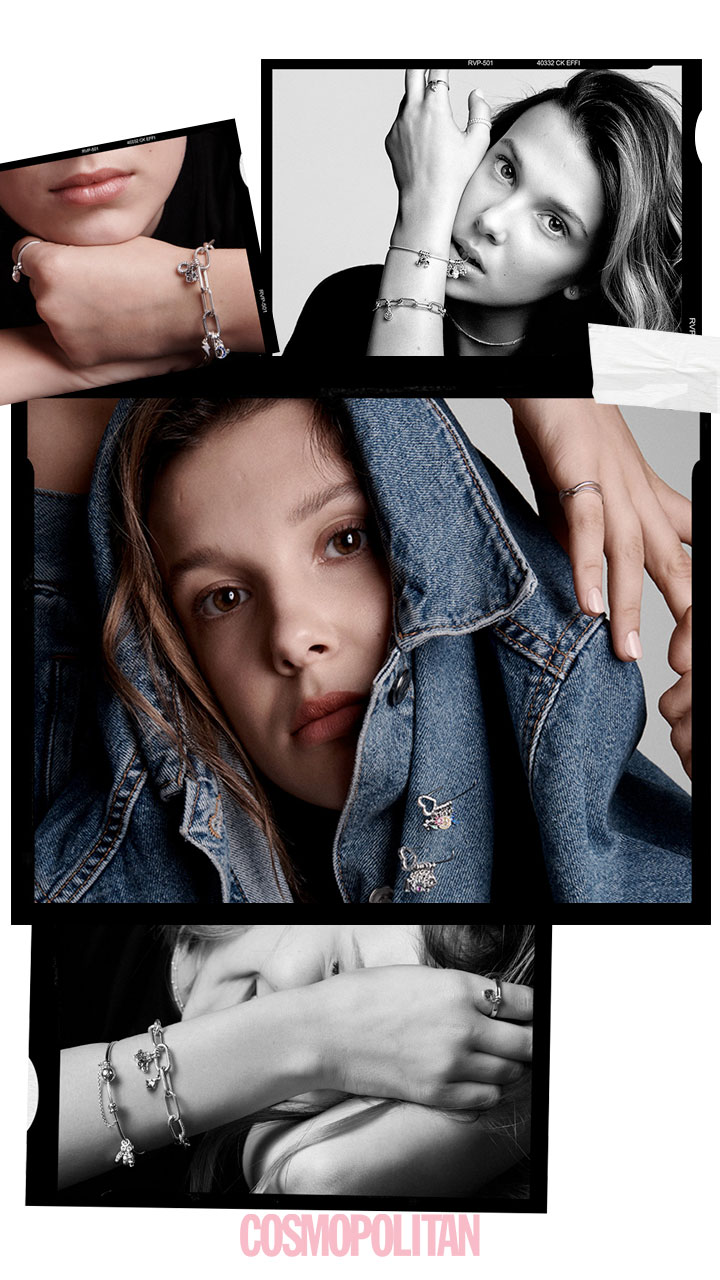 8. "One of my favorite things about being a girl is how strong we are and how powerful we are and how beautiful we are as human beings."
Speaking to Glamour UK, where she was featured in their Activist Issue, the UNICEF ambassador had this message to young people: "My message is always to spread love, light, and positivity. The world can be a scary place sometimes, but it's important to remain hopeful and to be kind to others."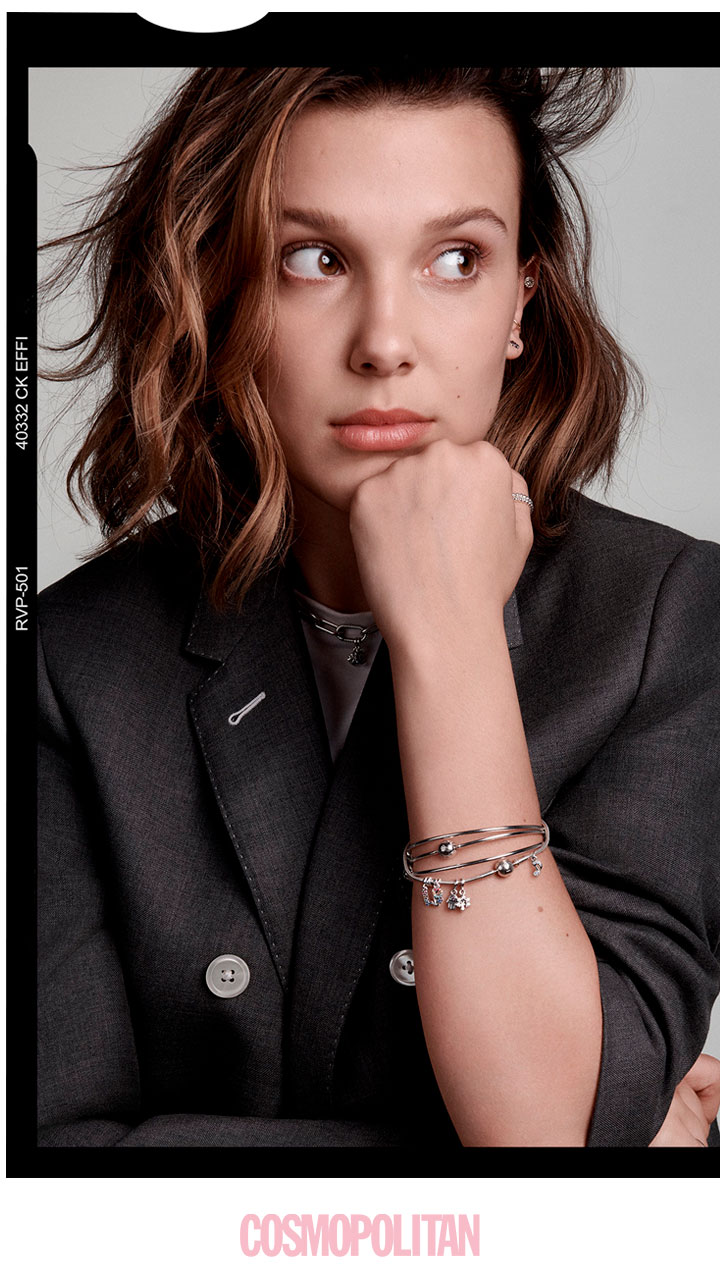 9. "I feel empowered when I'm surrounded by strong women, when I'm doing what I love, when I'm being myself."
In 2018, Millie sat down with W Magazine for an interview. Her father, Robert Brown, sat in the sidelines while a then 14-year-old Millie spoke with confidence. When asked if she ever "wanted to go crazy, be rebellious, and run away" the star replied yes, but backed it up by saying that she can't be too much of a rebel. She's a good girl and has never been grounded by her parents. She ended with, "But I do believe in making noise, in being loud."
As one of UNICEF's youngest Goodwill ambassadors, Millie uses her platform to fight for children's rights such as education and safe places to play and learn, and raise awareness on the impact of violence, bullying, and poverty.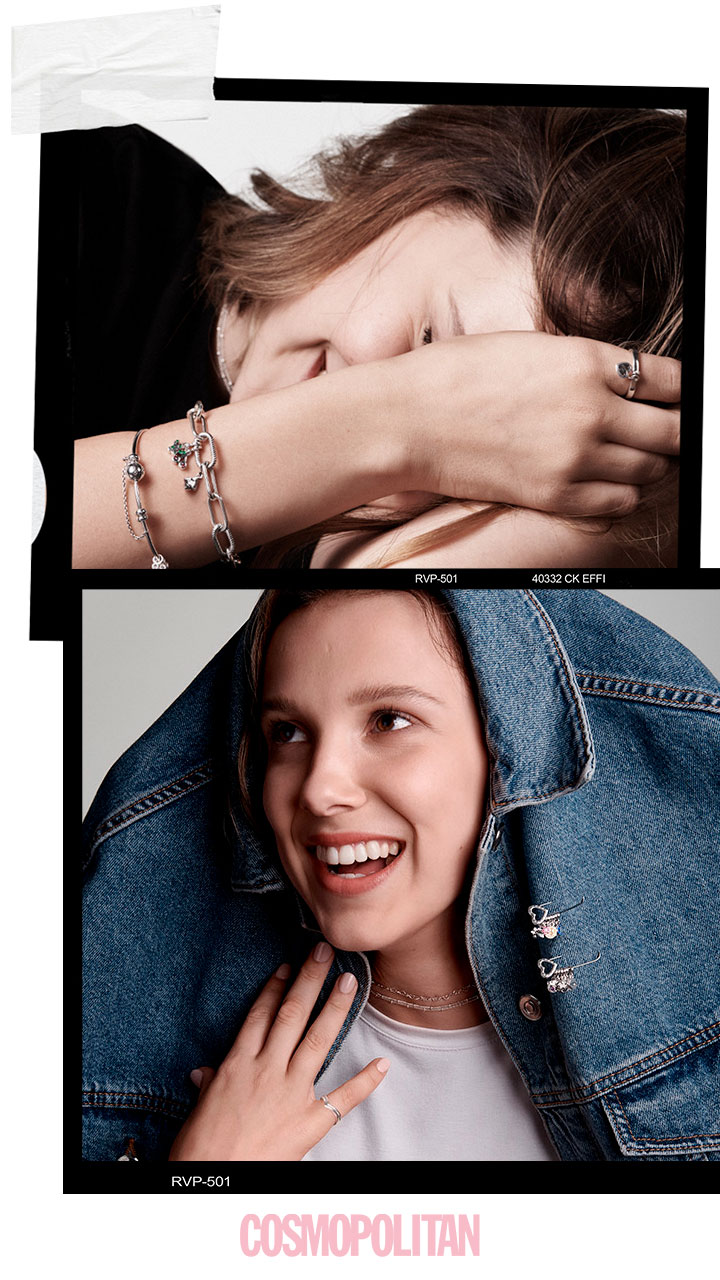 10. "We're two powerful girls in real life, and we're two powerful girls in the show."
Here, Millie is referring to Sadie Sink, who plays Max on Stranger Things. The two are besties IRL, so ignore all those rumors pitting them against each other! Millie shares, "Putting two powerful forces—female forces together—is smart. [We see] girls that are tomboys like Max and girls that are a little confused like Eleven [can be] best friends. It's really awesome to see that."
11. "Being a young woman today, I guess is [about] learning and developing, but mostly learning about what I deserve."
In a recent interview with Seventeen, Millie shared how she's learning how to cut out the negativity from her life for her own sake. She's learned to block people and things that aren't contributing to her happiness.  "You need to put yourself in a happy space. And make sure that you love yourself and that you're doing things that are ultimately going to make you happy. And once you do that first, then you will find your self-confidence and self-love throughout that journey," she said.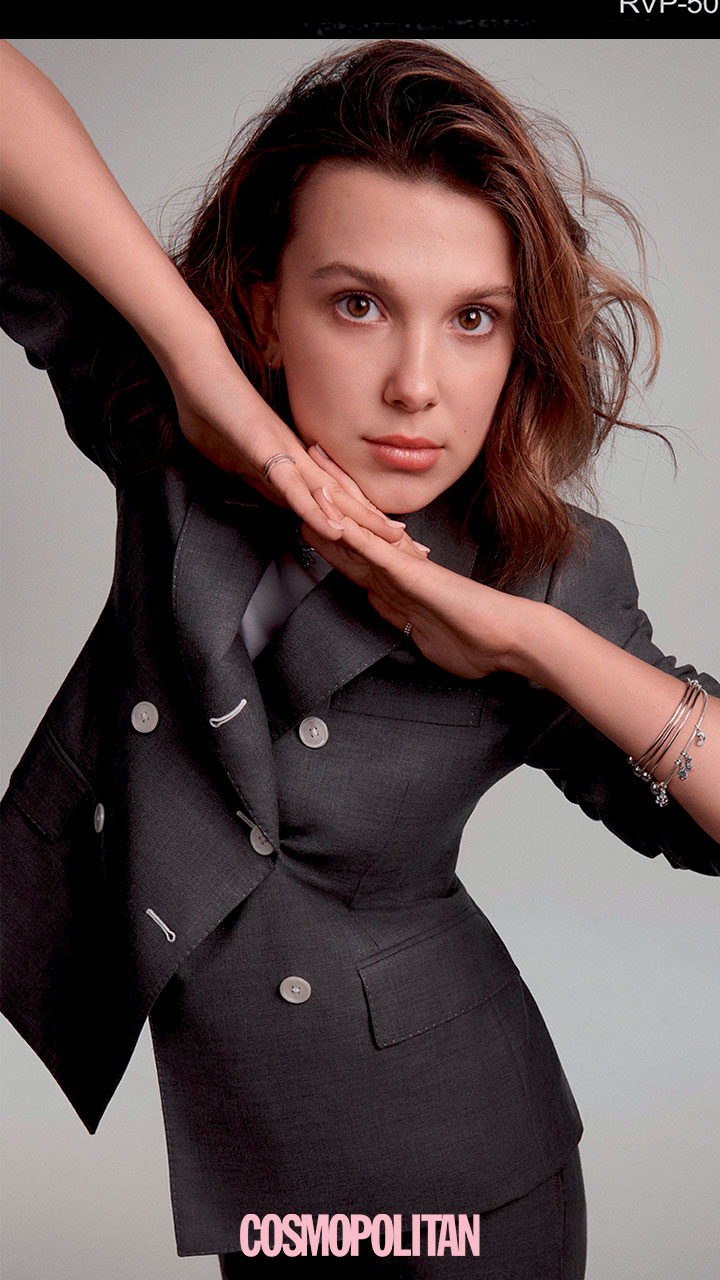 Millie made her film debut this year with Godzilla: King of the Monsters, and has a lineup of movies in the works, including Godzilla vs. Kong, Enola Holmes, and That Thing About Jellyfish. Stranger Things season 4 has no release date yet, but it's safe to say Millie's going to be back (at a rumored $250,000 per episode!). With everything on her plate plus more projects lined up, Millie, like her character on Stranger Things, is truly a force to be reckoned with.
Follow Retty and Jillian on Instagram.
***
The Pandora Me collection will be available in Pandora stores in October 2019.