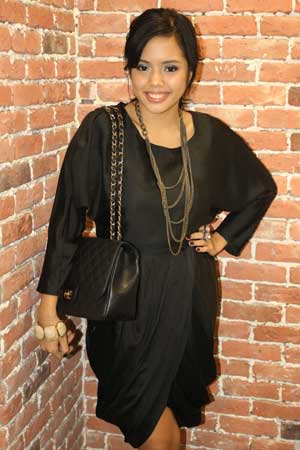 Regina Belmonte is one busy gal.
She runs a much-followed blog where she posts makeup reviews, rants and raves about social and cultural issues, and shares anecdotes about her daily life. She's tried her hand at singing and amateur photography. She's a former Cosmo.ph staff writer, too. But it's through her day job as Cosmopolitan Philippines' assistant beauty editor that she really shines. Through her monthly features in each issue of the mag (and her posts right here in Cosmo.ph!), she inspires Cosmo girls to embrace their inner beauty with a little confidence...and a lot of red lipstick.

At the office, Regina is always dressed to the nines in a stylish outfit, a pair of heels, and a fabulous bag—usually one large enough to hold all her essentials. As a member of the Cosmo team, she has to be ready to run off to impromptu meetings, photo shoots, press conferences, and parties at the shortest of notice. She's ever the Girl Scout, as she describes herself.

So what exactly does this writer take with her when she goes off on these beauty expeditions? We caught up with her before she headed out to an event and got her to spill her everyday must-haves. Her trademark red lippy was curiously absent from the day's collection, as her smaller purse required her to pare down to basics. Instead, she stuck with classic cosmetics that are tried-and-true favorites of beauty experts, and toted them all in her snazzy Chanel purse.

Click on the gallery below to view the contents of Regina's bag, along with funny comments she makes about each item!
Continue reading below ↓
Recommended Videos
1034