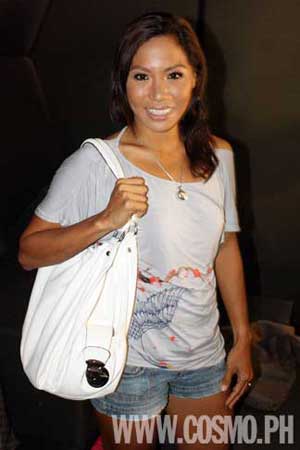 Ani de Leon has many things to be proud of that keep her on her toes all the time. Aside from her many championship titles, sports training centers, and fitness campaigns, she's also expecting her first child! (She revealed this exciting news during the Fun, Fearless Female Awards panel discussion!)

Because she maintains such a physically active lifestyle, Ani brings only the essentials needed to get by daily. Mind you: her essentials are quite comprehensive, as you will see in the gallery. She arrived at her Cosmo Fun, Fearless Female photo shoot wearing a pair of Adidas trainers, a simple People Are People graphic tee shirt, and a pair of Hydraulic Jeans shorts, and carrying with her a crisp, white Parfois hobo bag given to her by her husband. She looked comfy and ready for whatever we had planned for the shoot.

With more coaching programs ahead of her (not to mention preparations for motherhood!), Ani knows how to pack light. She brings along accessories such as sports watches and eyewear, and personal care products to keep her fresh and pretty for any activity that lies ahead--athletic or otherwise.

Launch the gallery to see all the practical things we found when we peered into this Amazing Athlete's bag!
Continue reading below ↓
Recommended Videos
1231