Last night, our feeds were flooded with updates about the #PureMagic2019, dubbed as "Star Magic's New Year's Party." And even if we're at the tail-end of January, the event, which was organized by Keren Pascual, gave the celebs a chance to ring in 2019 with their fellow Star Magic artists.
Since it was a holiday party, most attendees opted for festive looks—but we zeroed in on a particular celeb, Maris Racal. The Kapamilya actress and singer wore a sequined lavender mini dress with clear strappy heels. She topped off her look with relaxed waves and next to zero accessories. What makes it so special though is that it's an ode to one of our favorite movie moments in Miss Congeniality.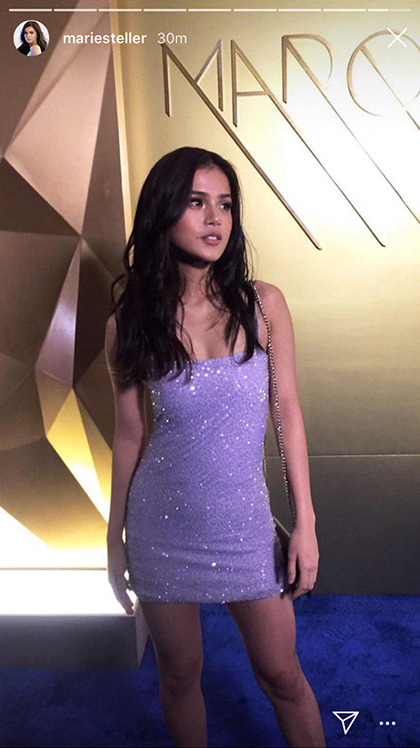 ADVERTISMENT - CONTINUE READING BELOW ↓
Don't remember the movie? Here's a refresher: Miss Congeniality, released in 2000, starred Sandra Bullock as FBI agent Gracie Hart who had to go undercover as a contestant for the Miss United States pageant for an important mission.
The look Maris paid tribute to was Sandra's ~*iconic*~ post-makeover reveal where she says, "I am in a dress, I have gel in my hair, I haven't slept all night, I'm starved, and I'm armed. Don't mess with me!"
ADVERTISMENT - CONTINUE READING BELOW ↓
Recommended Videos
And the concept for Maris' Pure Magic look wasn't coincidental at all! In fact, it was totally her idea. Speaking to Maris' fashion stylist Ryuji Shiomitsu, we asked how they collaborated on it, and he revealed it all started with Bird Box, Sandra's 2018 Netflix thriller!
"When we were talking of a concept for the #PureMagic2019 she sent me a video of the iconic Sandra Bullock walk in Miss Congeniality—it was the time people were obsessed with Bird Box—and we thought it would be fun to do. Thus, the search for the lavender dress!"
Finding the dress proved to be difficult because it was past the holiday season, but "luckily fashion designer Patty Ang had an available dress in the same shade and agreed to lend it for the event."
ADVERTISMENT - CONTINUE READING BELOW ↓
What Ryuji loves about Maris' look is that it's "simple yet impactful, thanks to the lavender." And we couldn't agree more!
Follow Jacinda on Instagram.
EXPLORE COSMO