Fact: There's no stopping BTS and the boys' brand power. Proof: McDonald's Philippines has sold almost 3.5 million chicken nuggets on the launch day alone of The BTS Meal!
Last April 19, ARMY was ~high like the moon~ when it was announced that the fast-food chain is releasing a special menu with the record-breaking K-pop group. Come May 26, The BTS Meal—which included 10 pcs. of chicken nuggets, medium French fries, a medium drink, and sweet chili and Cajun sauces—was introduced to the world, and it was made available on the same day in other countries. In the Philippines, this special menu was released last June 18.
P.S: While you're here, we'd also like to ~explain~ why The BTS Meal is extra special: Aside from the purple packaging (the color that the boys are known for), the words "sweet chili" and "Cajun" are written in Hangul and there's also "borahae" (I purple you or I will trust and love you for a long time") in the chicken nuggets' box. Furthermore, it was reported that McDonald's is committed to embracing the Korean culture and so their employees wore T-shirts with BTS' name in Korean! Daebak.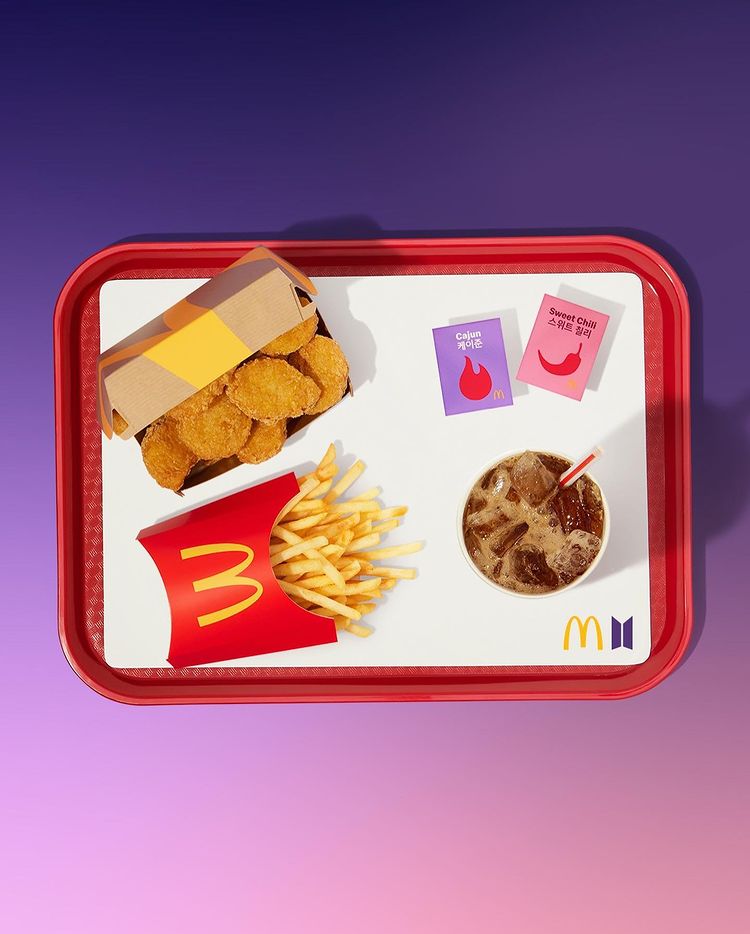 Continue reading below ↓
Recommended Videos
Margot Torres, the managing director of McDonald's Philippines, shared in an interview with ANC that their Mcnuggets sales increased up to 1000%, with 3.5 pieces sold on the launch date. She also added that The BTS Meal was sold close to a million since its release: "It was phenomenal. We were so surprised. It was a fantastic launch day on June 18. We really painted the town purple."
The McDonald's and BTS collab was also successful in other countries, such as South Korea. Soompi reports that over 1.2 million BTS Meals were sold since its launch on May 27 and that's just in SoKor alone! McDonald's Korea is expecting more buyers to line up for the meal until June 30 after "customers of all ages and genders have been enjoying it."
So, what does this mean for RM, Jin, Suga, J-Hope, Jimin, V, and Jungkook? More $$$ in their bank accounts, of course! According to The Korea Times, BTS is poised to receive around 10 billion won (or a whopping P430,000,000) for this campaign. Get it, let it roll, boys!
Hobi was really right when he said (sang) "And you know we don't stop"—BTS will continue to melt our hearts into two and this collab is evidence that they're here to stay for a long, long time. Now if you'll excuse me, will continue creating my own BTS merch using The BTS Meal.
Follow Hanna on Instagram.