It's a well-known fact that Pinoys are creative. And merch-loving Pinoy BTS fans (ARMY) who lined up for the BTS Meal? Plus the same fans who wish there are official photocards that come with the meal? Their creativity can be high like the moon.
So it's no surprise how imaginative local ARMY was in preserving the non-edible parts of their latest budol, inspired by borahae*. The limited-edition meal definitely made them happy, and making DIY merch out of it extends the happiness even when all the nuggets, fries, and drinks are consumed.
P.S.A.: Borahae means "I purple you." The colorful expression of love was made popular by Kim Taehyung or V, one of the BTS members. Borahae is actually printed in hangul in the BTS Meal McNuggets box and paper bag. So cute!
Check out these easy DIY merch ideas using the BTS Meal packaging that might just melt your heart into two:
A hotter, sweeter, cooler tumbler
Drink your everyday beverage in a special purple cup. Look for a customizable double-wall tumbler and slip your BTS Meal paper cup in the middle. Display it with your prized merch collection, like this one by (pseudonym) Park Sarang.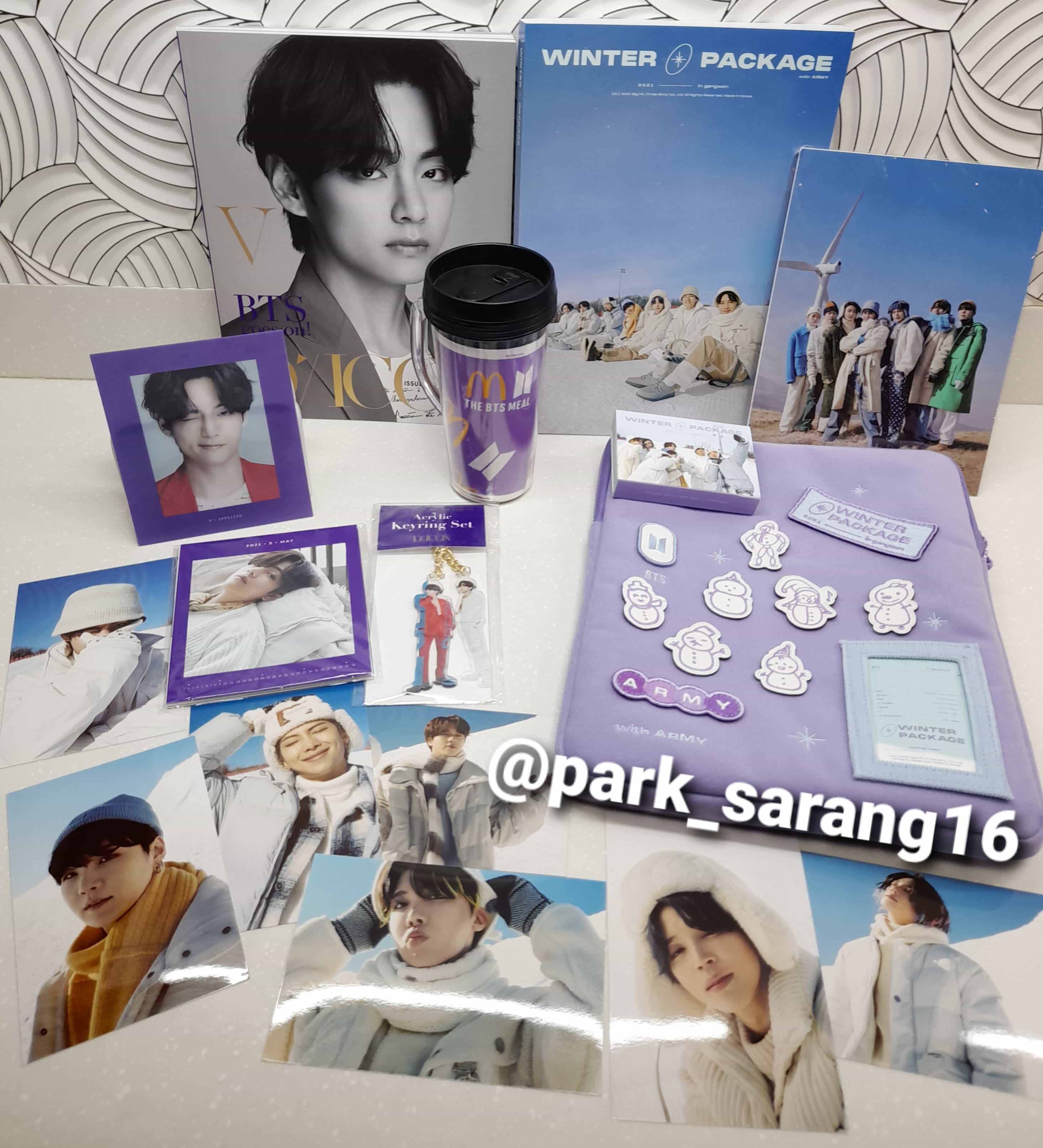 Continue reading below ↓
Recommended Videos
Tip: If you're grabbing a BTS Meal via dine-in, takeout, or drive-thru, bring your own tumbler for the drink and get the cup separately. Same goes for the nuggets—just have them placed in your own container so the paper box doesn't get oily.
Phone case to match the ice on your wrist
ICYMI: Pastel-hued beaded bracelets are uso again. Match yours with a purple-toned phone case! Trace your phone and camera onto BTS McNuggets box or paper cup, then start cutting! Check out how @cutiemich17 made a clear phone case much cuter.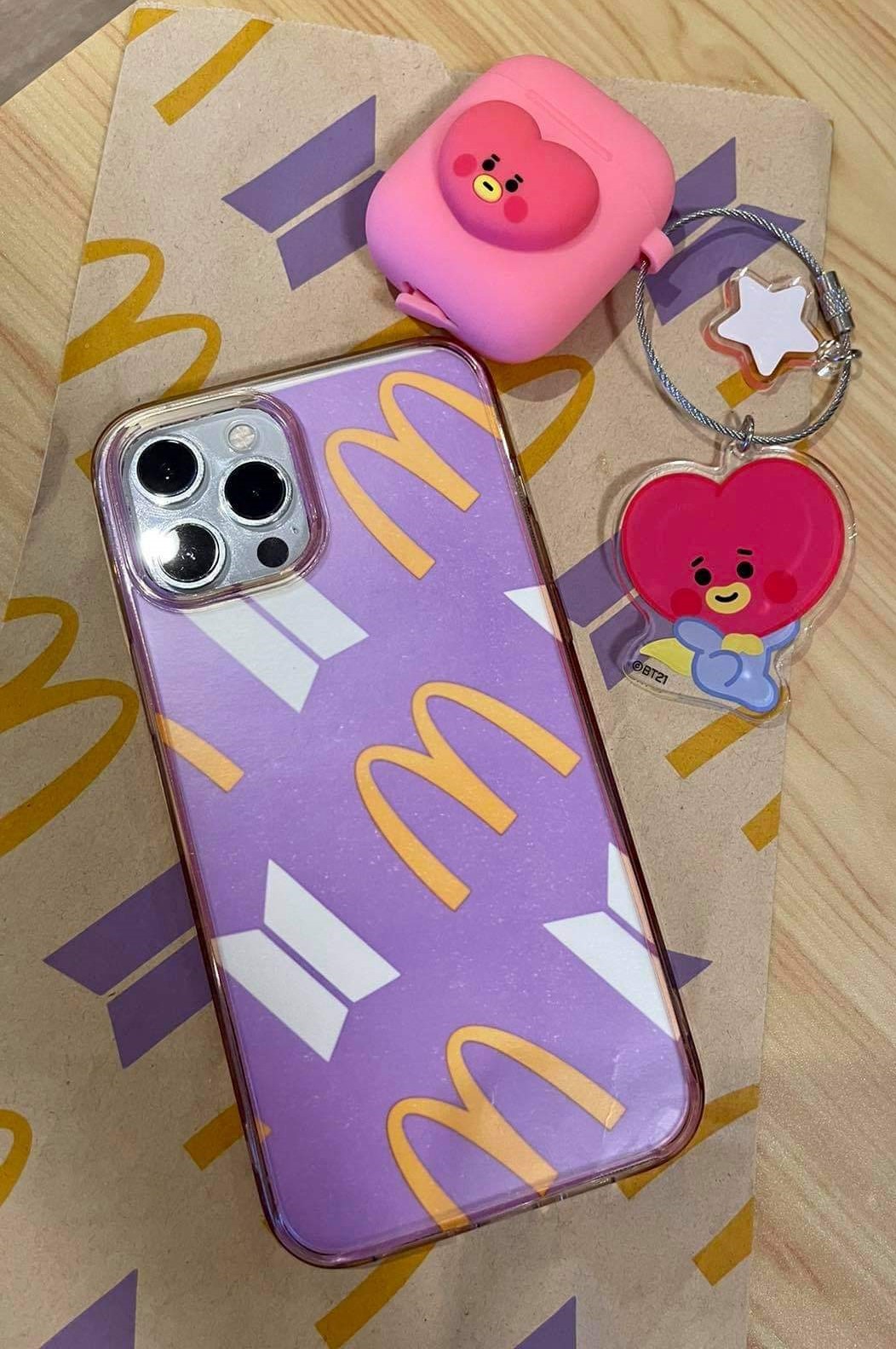 Tip: Another idea is to use the dip covers or the paper bag patterned with the logos of McDo and BTS. And if you're into resin crafts, you can make a jelly or hard case, too.
Resin keychains that are smooth like butter
Recently, resin crafts have been poppin' poppin' up on our TikTok and IG feeds. The technique is actually a great way to preserve the BTS Meal cajun and sweet chili sauce covers. Gelin of papercrane.crafts made these beautiful accessories for her cousin. The dainty purple flower looks like a match made in Hybe heaven with the BTS logo. She even included a couple of nuggets!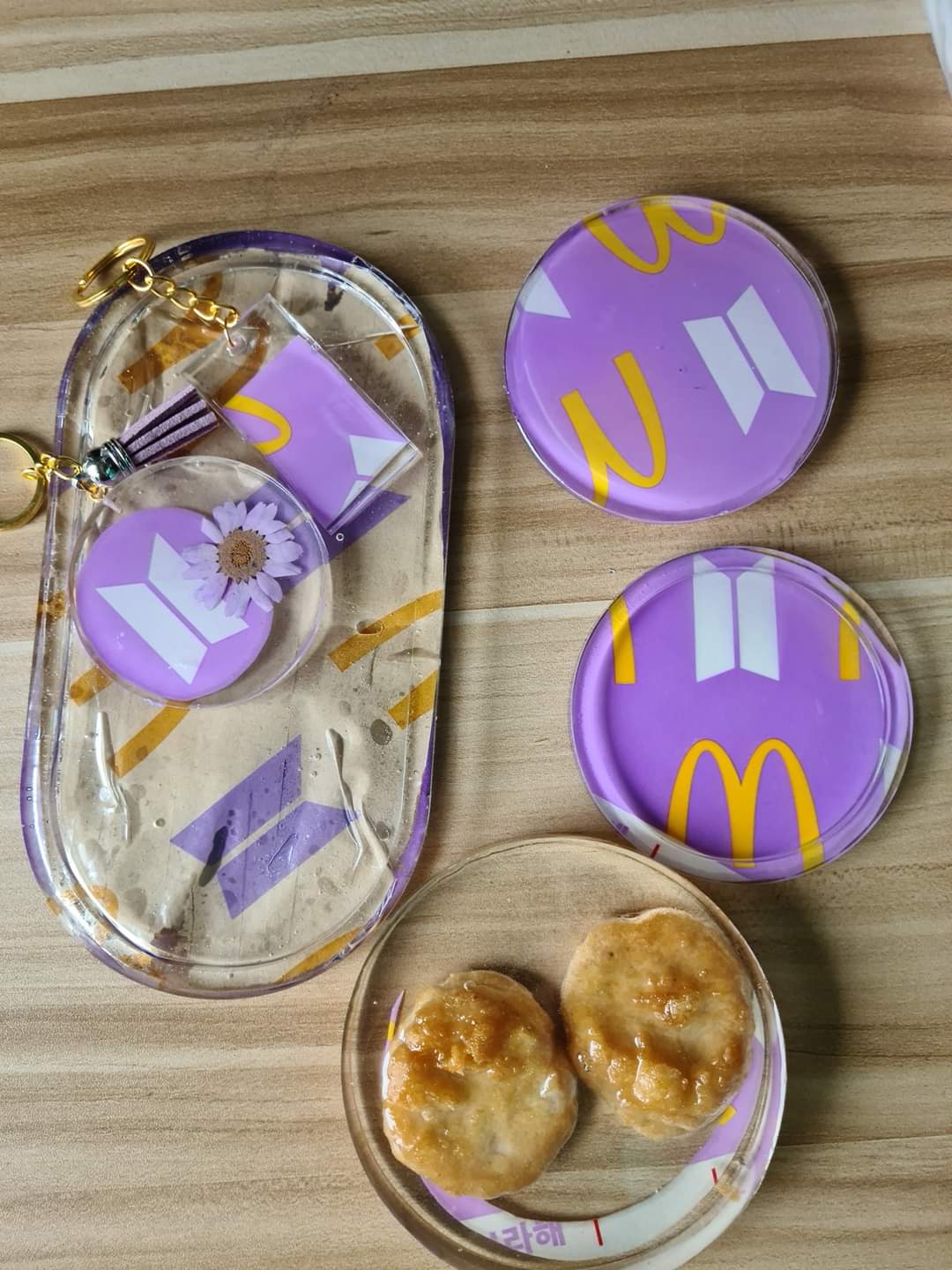 Stickers in cool shades—stunner!
Cover your planner with the hottest softcover this summer: the BTS Meal paper bag. Or, cut out the prints and turn them into stickers. Alternatively, use paper bag as a base and frame it. Check out these DIYs by If you're pushing through with the feature, Shey Velasquez of Sheycology Arts, (the husband of) Nicolette Marasigan-Restrivera, and (the lolo of) Justinne Ongmanchi Macabebe.
P.S. We stan artistic ARMYs and supportive relatives alike!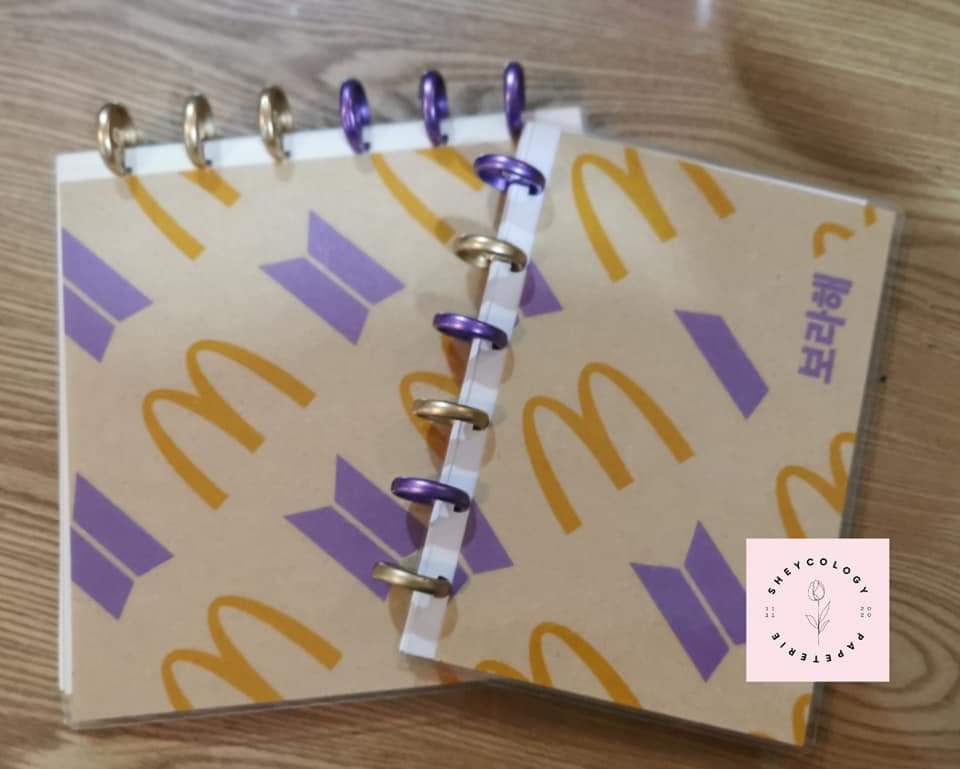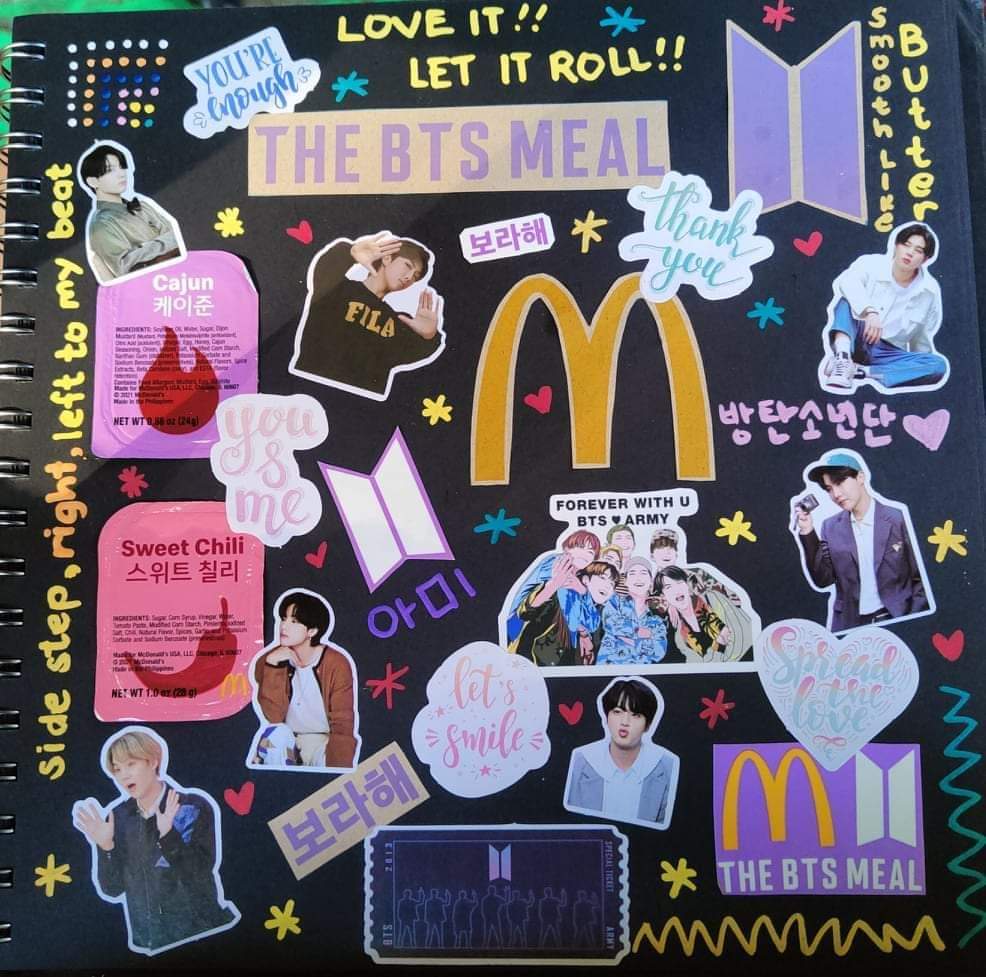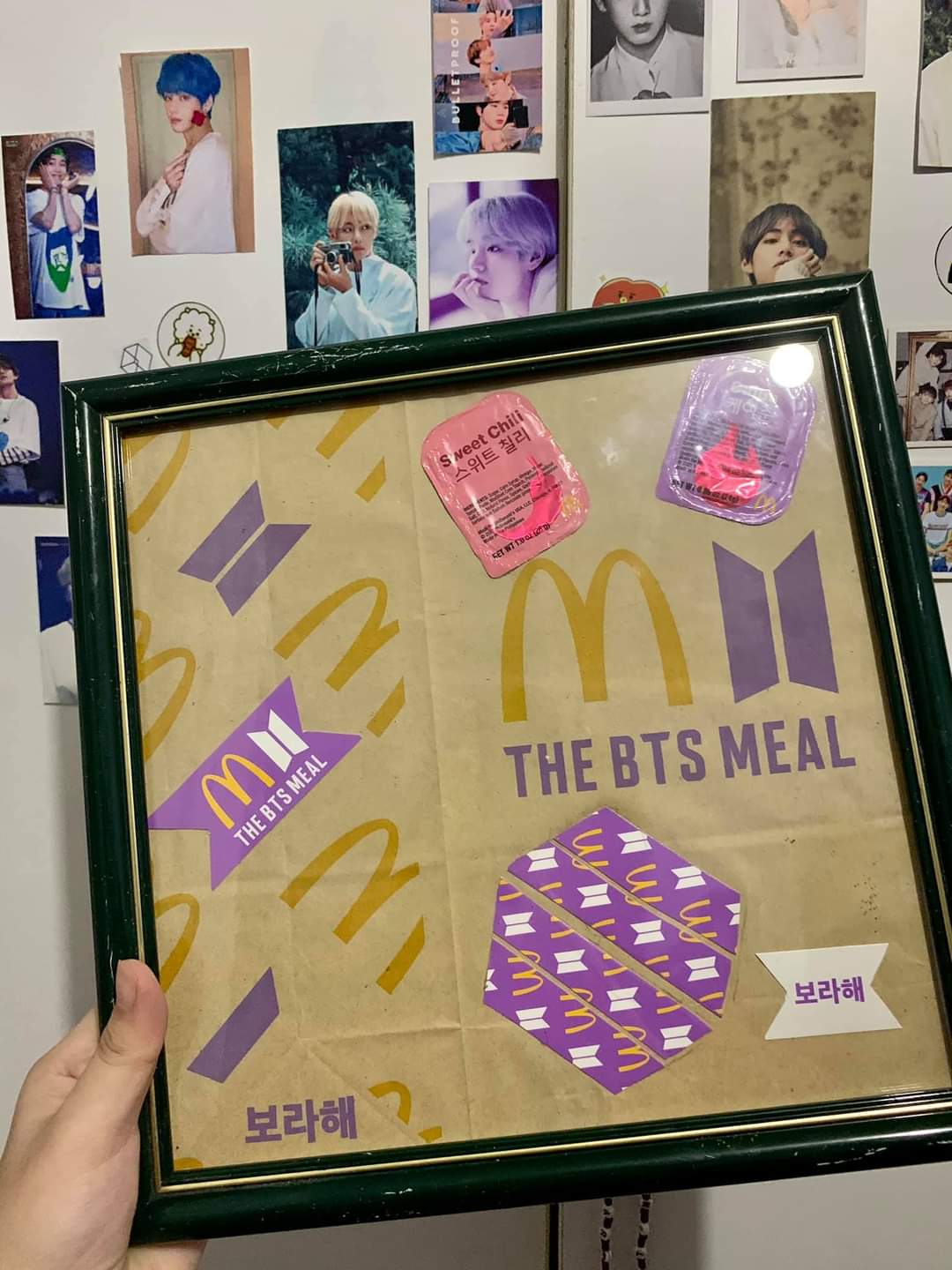 Mask holder with a superstar glow
This one is pretty useful considering the pandemic. It's also very pretty—period. Jessee of @taettokkii used folder scraps and holo film to create this prismatic mask holder. Seokjin will be proud.
More DIY merch ideas using the BTS Meal packaging
As an ARMY, an avid DIYer, and a random merch collector, I couldn't let the weekend pass without trying some projects of my own. I made sure to choose ~methods~ that required the least effort, money, and damage (save for the last one).
Statement earrings that will rock with me, baby
You know those clear protective cases of SD cards? They fit the BTS Meal dip covers. I hooked one of its tiny holes to my earring—and voila: a new saucy accessory! Perfect for all the Zoom meetings you don't mind being spotlighted on.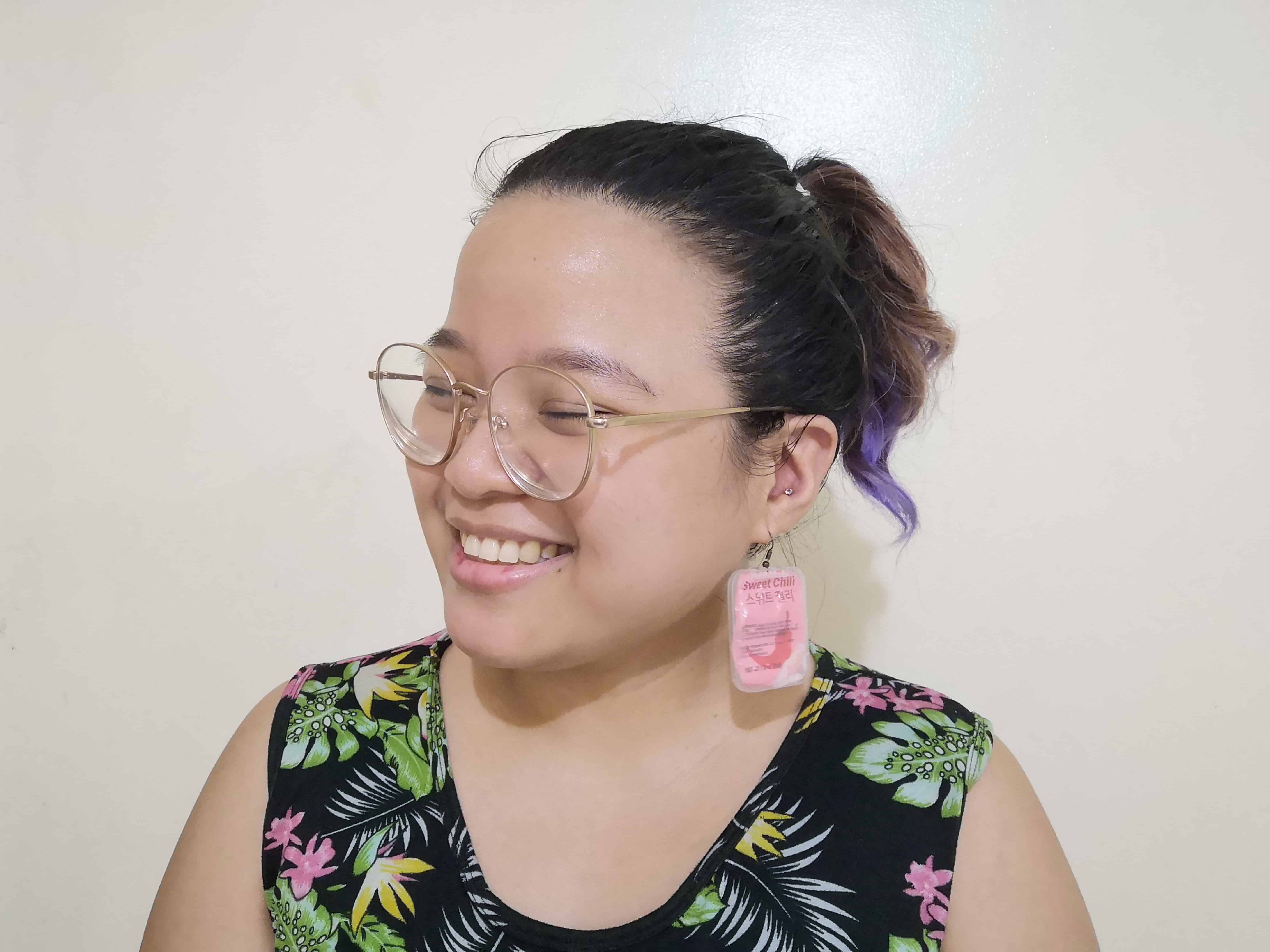 Keychain accent that's gon' make you bounce
This time, I used a micro SD cardholder. There are many ways to display it but I settled on making it an accent for this unofficial BTS alcohol spray from my chingu at @calliquote.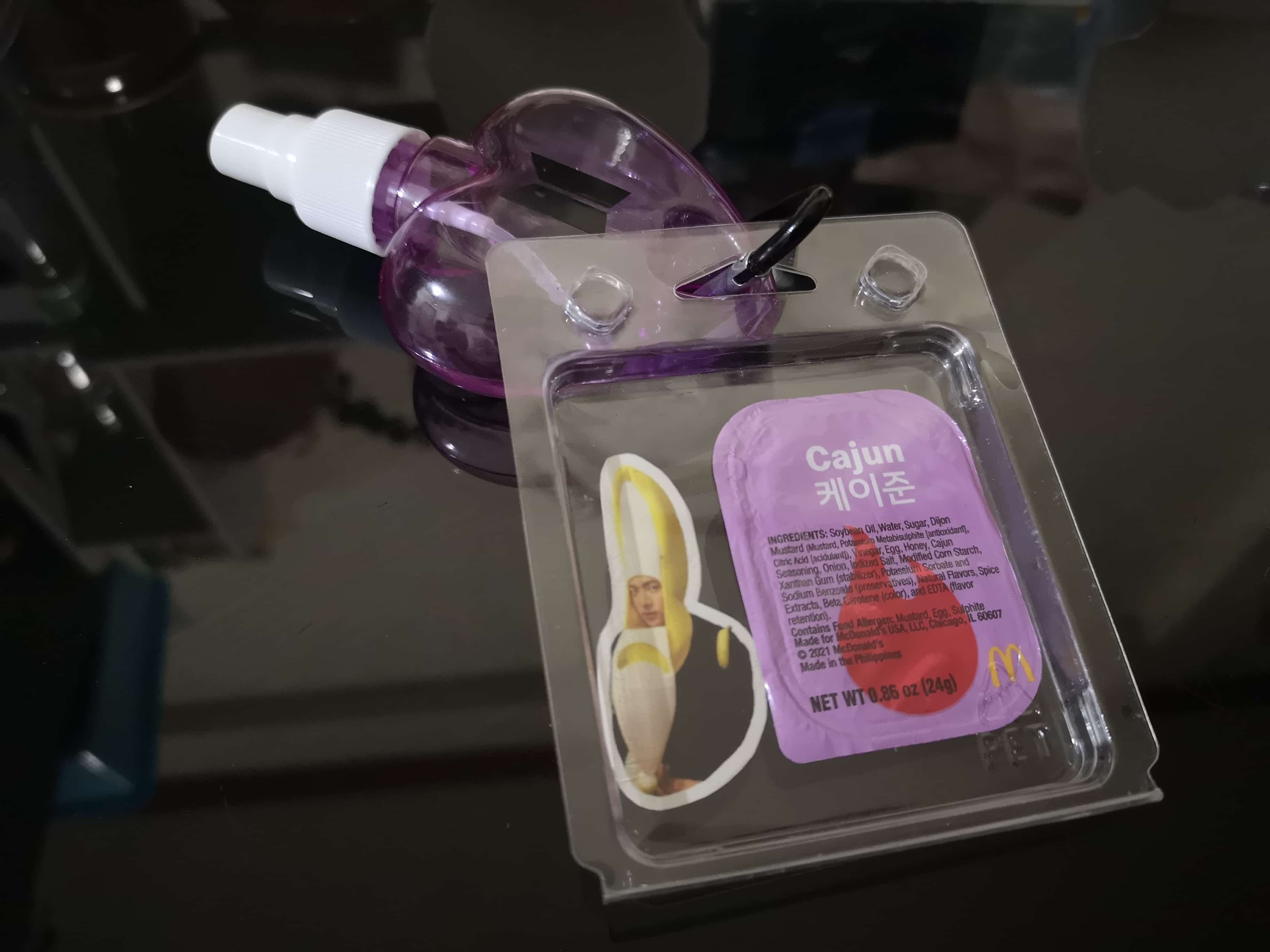 Frame for when I look in the mirror
The nuggets box was tough to upcycle without cutting. It had potential as a baguette bag but I couldn't figure out how to do it without spending more (look up acrylic bag templates online if you're interested). Then, I remembered I had a small mirror that needed a stand. I turned the box into a stand. May this make Mr. Worldwide Handsome proud!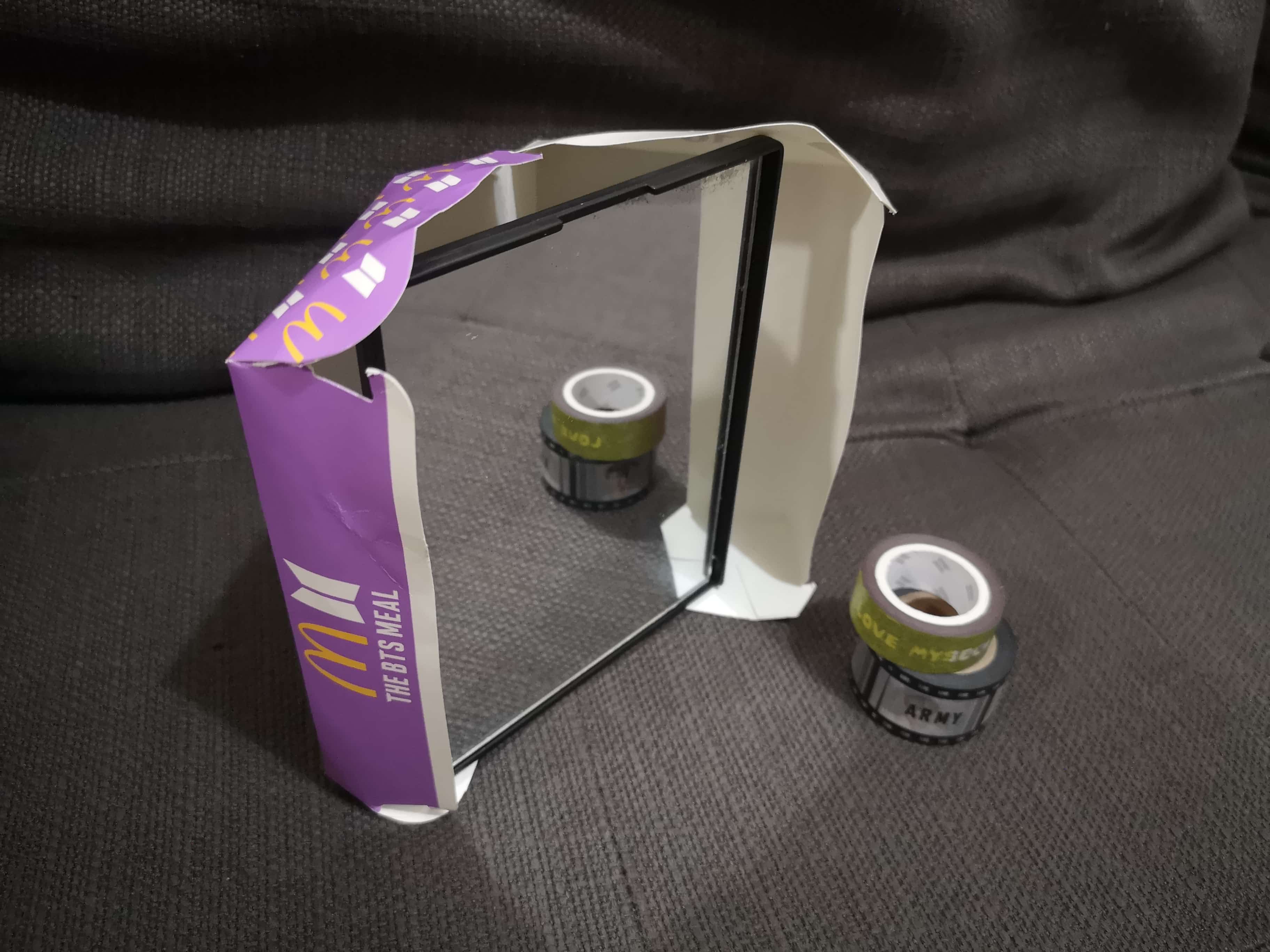 Ain't no other hanger
One of the budols I'm not giving into is the hangers decorated with BTS heads. They're such a fun sight, but I have enough hangers. However, my stash is plain, so why not jazz it up with the McNuggets box? There's a mysterious slot on the box where you can easily slip in your hanger. (DM me for any leads on the actual purpose of that slot. LOL. But seriously.)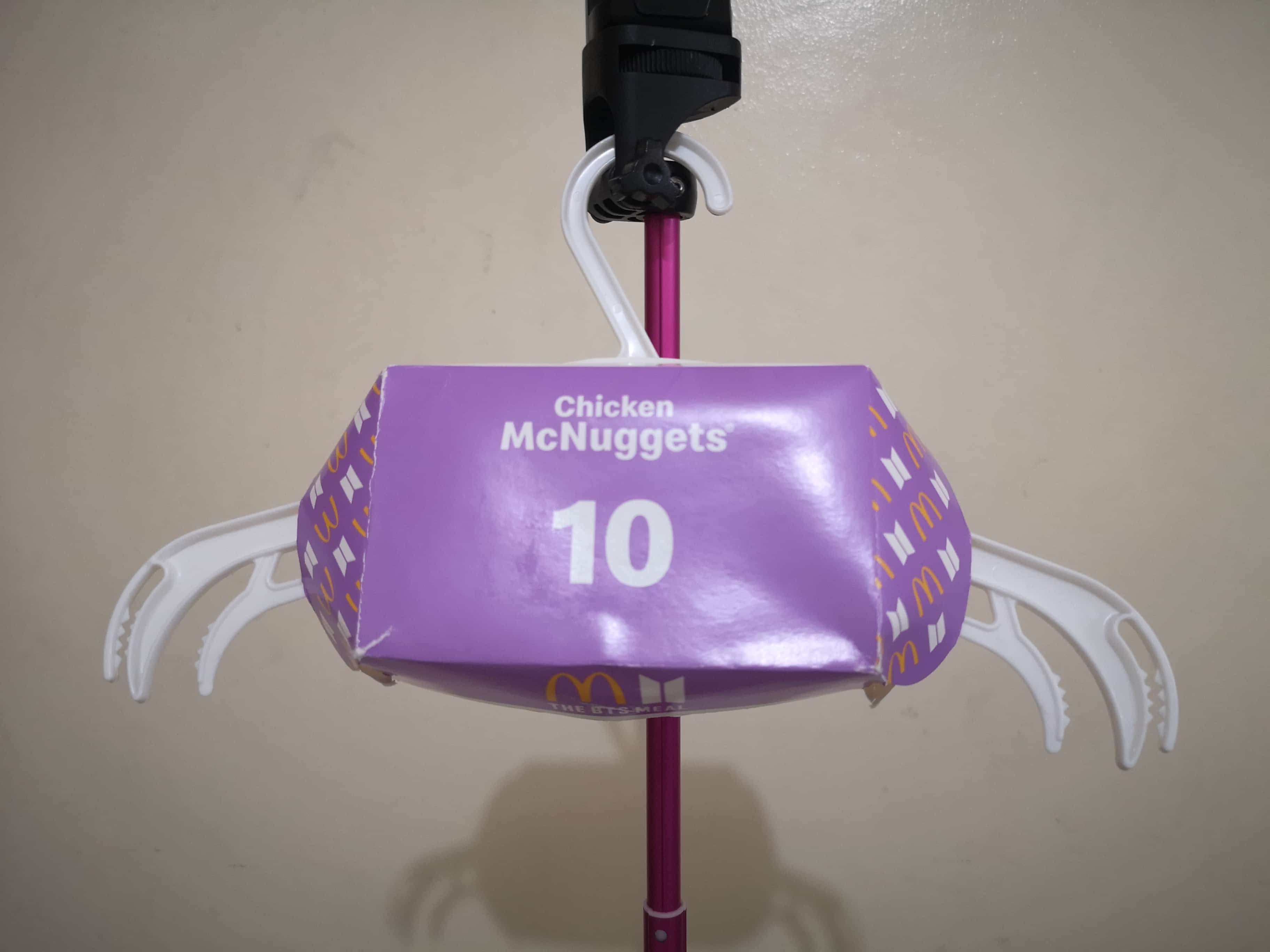 Coffee nook décor that got the right vibe
I really wanted a BTS Meal tumbler, too, but my nearby presyong Divisoria tindahan failed me. Instead, I upcycled a broken insulated cup (16oz) as a filter holder and a grande-sized plastic cup for sweeteners. For the dip containers, I scrubbed and dried them well then placed them in a small glass jar (200g). I turned it into a lantern with a tiny bookmark lamp inside. Then for the paper bags, I simply used an old certificate holder (size A4).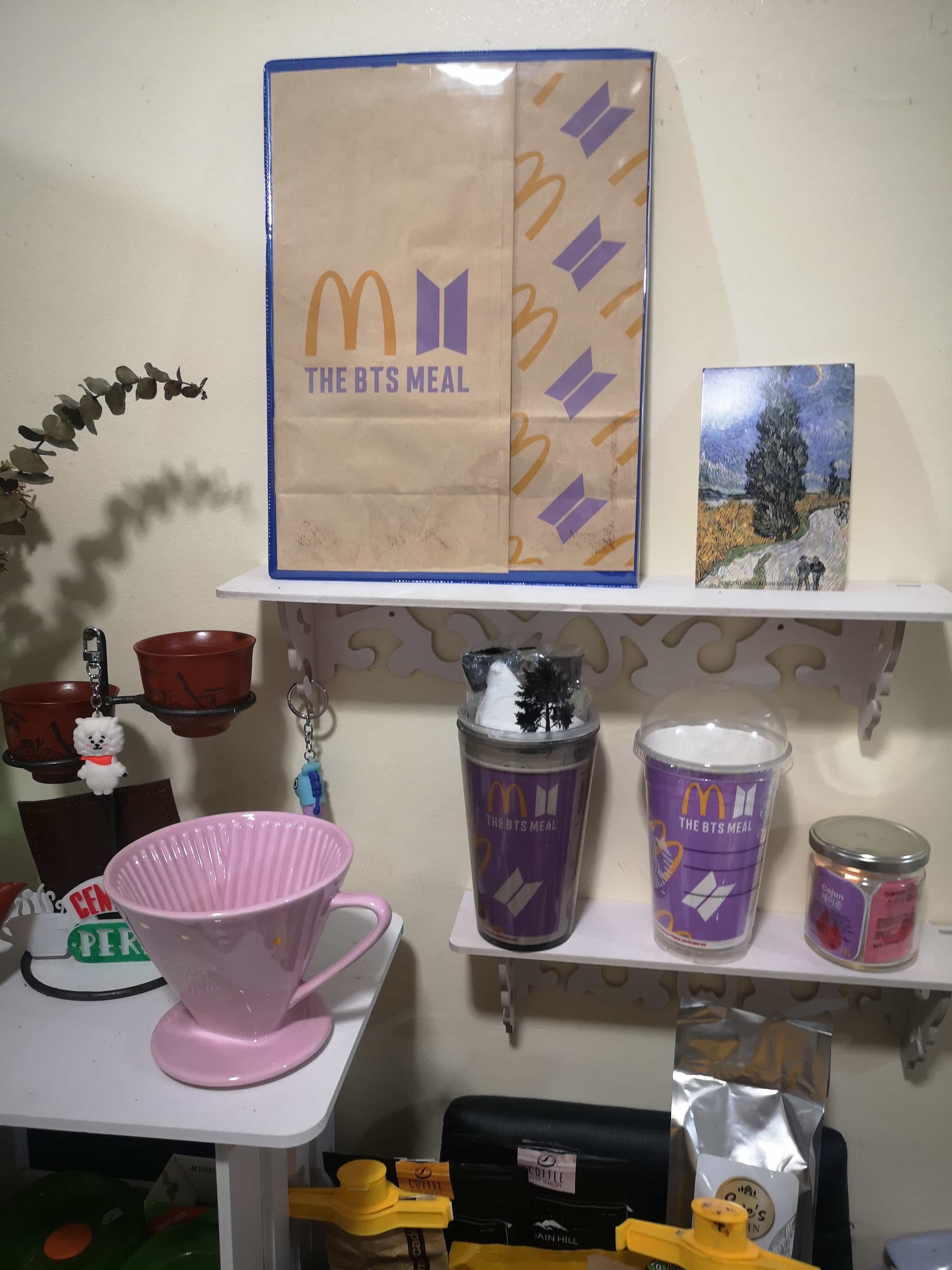 Ice on my wrist
If you're okay with cutting your BTS Meal Packaging, turn it into cute accessories! Make charms for your chain bracelet. I simply covered the borahae and logo cutouts with clear "magic tape" from Shopee. Then, I turned heart-shaped keychain clasps (also from Shopee) into a bracelet and hooked the charms onto it. If only I could send Suga, Taehyung, and the rest of the boys' gifts…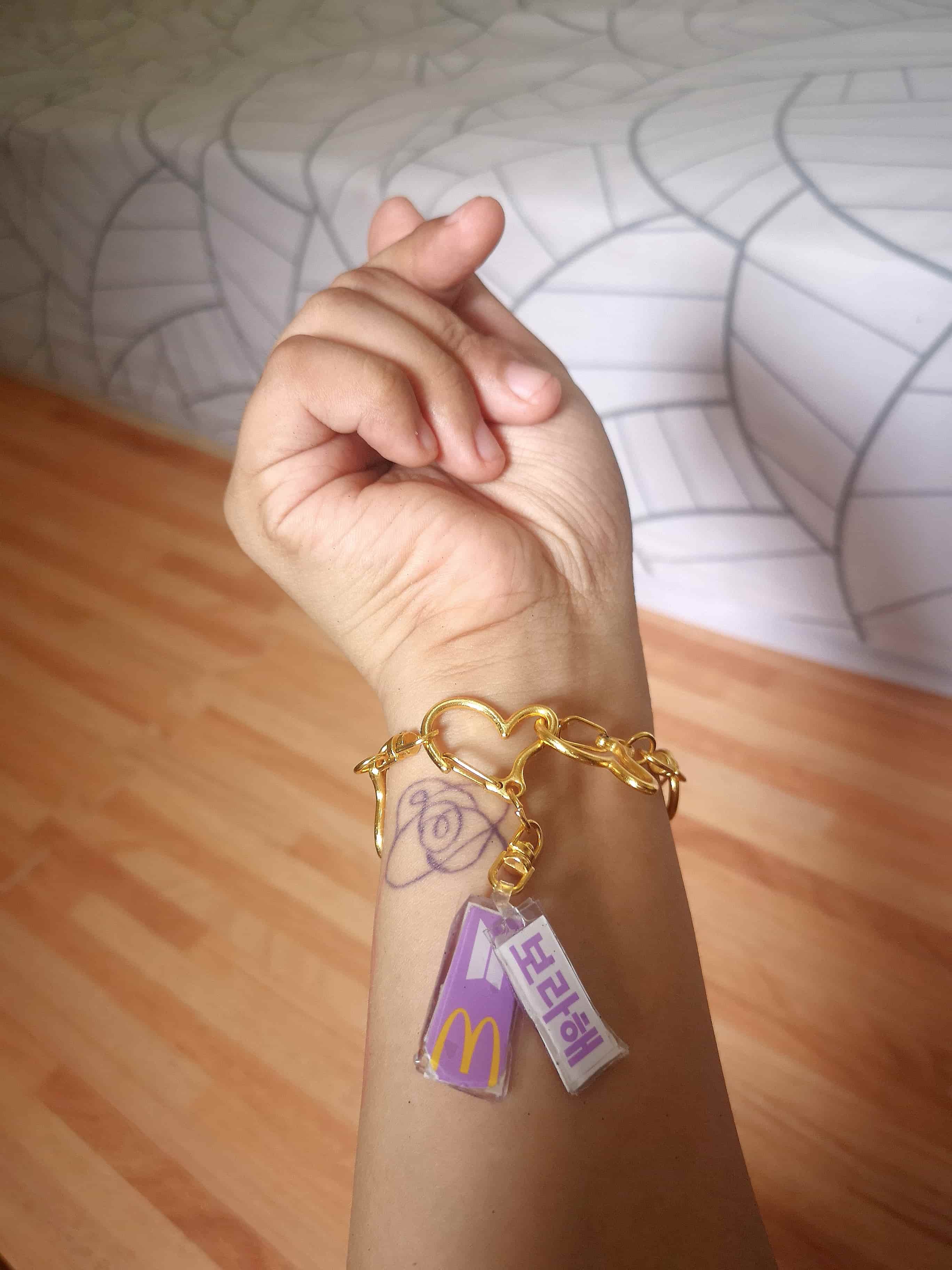 Got the right (cross-)body (bag) and the right mind
Here's a hotter, sweeter idea. Who says you can't upcycle the French fries box, too? When I saw that it was part of the meal, I immediately thought of the adorable red bags that BTS were toting around in the Love Yourself concerts. So, I got a dupe on Shopee. I also bought a blank acrylic keychain (add "photo insert DIY" when you look it up). I used it for my extra Sweet Chili cover that matches the bag and fries box colors.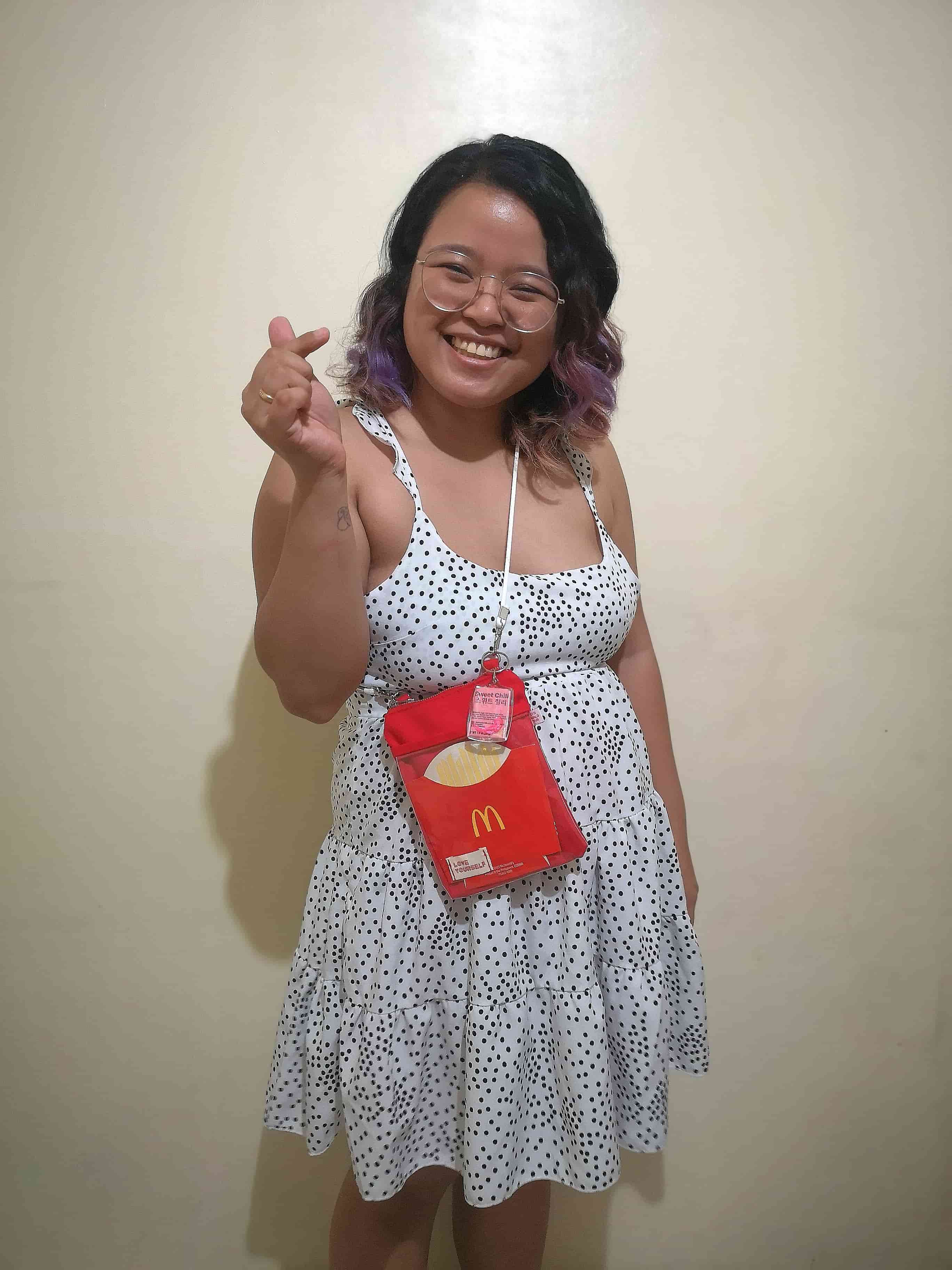 Bonus: Phone speakers to do the boogie like…
Okay, it's not actually part of the basic package, but an Oreo McFlurry is the only add-on for the BTS Meal. We're sure it's not a coincidence because of one of the most adorable Taehyung moments for ARMY. During a Bon Voyage trip, V flexed his English skills and ordered it at McDonald's with the now-famous phrase, "Oreo McFlurry one, please." So of course, I had to order it (my hubby, who's also an ARMY did, too).
I didn't feel that bad cutting into the McFlurry cups since we can order them again in the post-BTS Meal era. But you can do this with the purple cups, of course. I also had a box for their spaghetti, which we added for merienda. (Too bad there's no lachimolala at McDonald's.) Anyway, with these cardboards, I made speakers for my phone. OMG I was so surprised they worked well! Placed this in my coffee nook, too. Now we're ready to side-step, right-left to the beat!