I'm the kind of lunatic who starts conceptualizing a Halloween costume as early as July. By August or early September at the latest, I'll already have a concrete idea in mind so that, by October, the result will be flawless.

My obsession with Halloween stems from my love for reinvention (Madonna-style), my love for makeup, and my status as a bona fide geek. (I'm not ashamed! You'll spot me at Comic Quest on the third week of every month to pick up the comics I subscribe to; I'm probably the only patron there in high heels and red lipstick, leafing through Batman or Justice League. I'm secretly a guy.)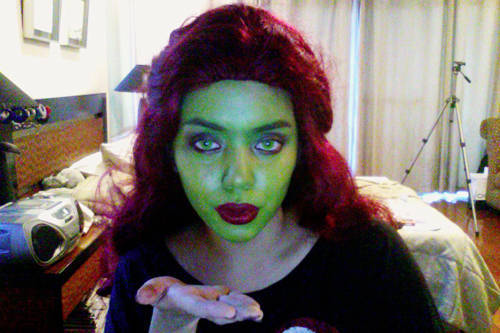 I'm forever talking about the incredible way makeup can transform the way you look and feel, and that's never more obvious than on All Hallows' Eve. I always go for makeup-intensive looks because it's just so much fun to be creative, using the resources I have at hand (all my makeup) to turn myself into a character straight out of a beloved book, TV show, or movie.
[readmore]
Also, most of us have makeup lying around on our counters, so we don't have to shell out so much money on elaborate costumes. (And, affordable makeup is readily available at the nearest department store in case you need something you don't already have. Convenient, eh?)

It's the one day in the year that I can pretend to be my favorite characters. I get to be a kid without feeling guilty! Isn't it great? Haha! On days that aren't Halloween, though, I'm a huge fan of just being myself. Check out our beauty editorial this October, "Sexy Glow," (pp.154-157) where we give you makeup and skincare tips and tricks based on skin color and skin type.

Launch the gallery to check out my Halloween look last year, and see a few of the options I played around with for this year's trick or treat. Tell me in the comments below who you're going to be this Halloween!
Continue reading below ↓
Recommended Videos
1585