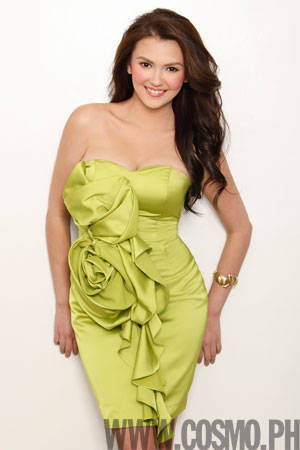 Some celebs rely on heavy makeup and good lighting to make themselves look flawless on screen, but Angelica Panganiban is one of the special ones who possess natural beauty--with or without much primping. She just looks great in anything.

When the 24-year-old actress showed up at 55 Events Place for her Cosmo cover shoot, we saw firsthand exactly why she is the latest beauty muse of some of the country's biggest brands--particularly for their natural line.

Angelica arrived looking fresh and radiant on the set of the shoot in her casual clothing--which coincidentally fit the color scheme of the shoot. As associate art director Paula Pangan explains, "For our August cover, our theme is natural beauty, so we chose green as our main element."

Associate fashion editor Happy Lopez interpreted this theme with fun, fresh, and flirty outfits that she pulled out especially for Angelica's shoot. Happy says, "We picked a lot of soft, feminine, flowy dresses...We have short dresses and long dresses, gowns that are asymmetrical, and sweetheart and tube cuts [which suit Angelica's curvy form]."

The wide variety of clothing styles called for an equally impressive stock of accessories to match the outfits. In fact, Happy brought along 17 pairs of colorful shoes—from killer heels to funky platforms—and a ton of chic accessories to enhance the beauty of the dresses!

Launch the gallery to see which outfits made the cut, as well as the rest of the wardrobe options that were considered for the shoot. PLUS, see all 17 pairs of shoes and the accessories that took over Angelica's dressing room! You just might pick up some fab outfit ideas for rocking our August cover girl's fresh green look!

Watch behind-the-scenes footage of Angelica's shoot in CosmoTV! Don't forget to grab a copy of Cosmo's August 2011 issue, which has a bonus Cosmopolitan Beauty mag insert also featuring Angelica on the cover!
Continue reading below ↓
Recommended Videos
1410