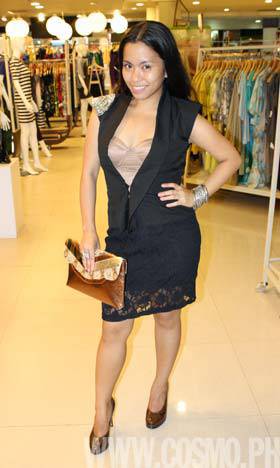 I love dressing up. And I hate it. I love it when I get compliments on the clothes that I wear, but I hate the tedious process of shopping for clothes. It can get frustrating sometimes—I could spend all day trying on dozens of dresses, tops, and skirts, without finding anything that suits me. Ironically, I can easily tell what's fab from what's not, or which pieces go well together...on other people. But when it comes to picking outfits for myself, I am, most of the time, totally clueless.

Good thing Cosmo came to the rescue. In line with Cosmo's fashion theme this November, Cosmo went shopping with me at The Ramp Crossings, while associate fashion editor Happy Lopez gave me personalized fashion advice. As we went through racks of clothes, Happy gave me practical and useful tips on what colors, styles, and fabrics to wear based on my skin tone, body type, and height. Let me share some of them with you:


Continue reading below ↓
Recommended Videos
Start with the right colors. Pinays who have morena skin can go for warm colors like maroon, red, brown, orange, and beige, or pastel colors like yellow and pink. Neutral colors like black, white, and cream are the safest bets for any skin color.


If you're petite, avoid clothes that have too much fabric. Before I learned this, I'd usually pick dresses with draping here and there—I thought they could strategically conceal my so-called problem areas. Although draped dresses and loose tops may look good on some people, I realized they can overwhelm petite figures like mine, and it'll only make me look smaller or stockier. Petite women should choose well-fitted, body-hugging clothes that fit just right around their curves.


You might ask, "How can I wear body-hugging clothes if I have bilbil?" Well, I learned that nobody has to hide under so much draping, or hold her breath when in a body-con dress with this fashion secret: good shapewear. It doesn't have to be expensive, Happy said. Just invest in a few good pieces, and you can confidently pull off the most flattering outfits.


Emphasize your assets. If you have a well-endowed chest, go for sweetheart cuts or V-necks. If you have nice shoulders, go for halter-tops or off-shoulder styles. Asymmetrical necklines can flatter ANY body type, by the way.


Anyone can look taller and slimmer without diets or surgery! Don't worry if you don't have the most supermodel-esque figure. You can easily create the illusion of a more slender silhouette with just a few fashion tweaks. A mid-thigh skirt, for instance, can create the illusion of longer legs. And no matter how fasyon those ankle boots may look, they may appear to "cut" the legs, making them look shorter--avoid these if you want to look taller. Go for skin-toned or nude high-heeled pumps instead. If you're not used to wearing high heels, start with a shorter heel, then just go for a higher heel as you get used to it.


Most importantly, be more fearless with the clothes you wear. They say the best way to learn anything is through experience, so go ahead and experiment with different clothes, shoes, and accessories! We're not telling you to buy everything--just try as many pieces as you want until you find someting perfect for you! Then, before you take anything to the cashier, ask yourself how it makes you feel. Does it make you feel sexier? More powerful? Prettier? Or so-so? When in doubt, ask your most fashionable friend to help you out. And, your clothes should make you feel great!

It did take me hours to pick an outfit that looked and felt right for me. But the time we spent surely paid off—now I know what colors and styles to pick from the racks before I even try them on. That can save me a lot of time when I go shopping again. The most important thing I learned from this makeover, though, is that you don't really need to have a mannequin's body to look good in clothes. It's all about dressing up for the body that you have now, and of course, wearing the right clothes with the right attitude.

Click on the button below to see which outfits Amie tried on among her endless fashion choices at The Ramp Crossings.
773